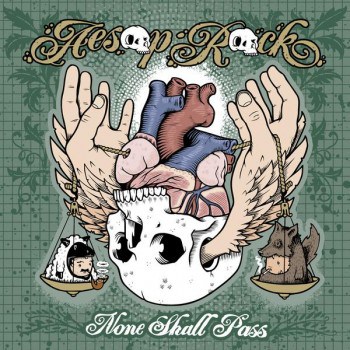 There are some artists whose names are total head scratchers for me. Broken Social Scene (a band I adore) fits that category. The name distorted my expectation of their music. I expected something more hardcore, or at least, something obnoxiously emo. Conversely, Ian Matthias Bavitz's nom de plume, Aesop Rock, is a perfect moniker for the MC. He adopted "Aesop" from the name of a character he played in a movie he made with some friends. Considering how descriptive and visual his rhymes are, it's certainly fitting that it stuck following a role in a movie. It's also fitting that he has adopted the name Aesop since, like the historical fable teller, Bravitz's raps poetically express the truth through absurdities. He only later added "Rock" to the name after using it in rhymes, but again, it is fitting. Bravitz grew up listening to the Dead Kennedys & Fugazi as well as Public Enemy & Run DMC, influences which should surprise no fans of his music.
None Shall Pass, the MC's fourth full-length (released in 2007), finds him stepping outside his comfort zone. Indeed, he'd recently literally left his comfort zone having moved from New York to San Francisco before recording the album. But lyrically Aesop Rock had left his comfort zone as he'd decided he wanted to approach his story-telling from a different direction than he had on prior albums. He'd explained in interviews that he'd worried that his prior albums were a little to high on the soap box, and that he didn't want to repeat that this time around. Similarly he wanted to avoid the cliche "in rap music where a solo album is a record not only by a guy, but about the guy." Instead, he wanted to tell vivid stories that could teleport the listener to another place.
And, generally, he appears to do that. Aes has always rejected the proposition that his lyrics are nonsensical or merely pieced together to create interesting phrasing. His stories have narrative and meaning, but it can be incredibly difficult to decipher in most cases – especially on None Shall Pass. The exception here is "The Harbor Is Yours" which is by far the most straight-forward track on the album telling the tale of a doomed pirate who falls in love with a mermaid only to die alone on a beach. Aside from that track, I'd be lying if I said I could decipher his lyrics on the album, and thus I'll have to take his word for it when he says the album isn't about him and is less preachy (not that I personally ever found his album all that preachy).
Nonetheless, despite the lyrical density, I feel pretty confident saying that Aes still finds times to throw a few sharp barbs on None Shall Pass. A prime example is the single "Citronella" in which he calls out religious fundamentalists, the media, politicians, and "the garish who keep charity in the parish while profiting off the lack of a marriage amongst the classes." Similarly, the most likely interpretation of "Catacomb Kids" is that it's, at least partially, about his own teenage years growing up in Long Island. Regardless, the lyrical density is highly engaging and allows the listener to provide their own interpretation of the lyrics. It's been a favorite of mine ever since it's release five years ago.
When I was looking for a pairing for Kasey's Slow Cooked Beef Tacos with Quick-Marinated Radishes recipe, Aesop Rock's None Shall Pass just felt like the perfect Musical Pairing. When I think of tacos I think of street food. Similarly, when I think of hip hop I think of street music. I wanted something with an upbeat groove but that was still meaty and complex (like the recipe). Although the album is neither new nor old (again, it was released in 2007) and the man's new album is about to drop in a few months, None Shall Pass just fit that bill too perfectly to pass up.
Buy None Shall Pass on vinyl from Insound. Then head back to the Kitchen to read Kasey's recipe for Slow Cooked Beef Tacos with Quick-Marinated Radishes.