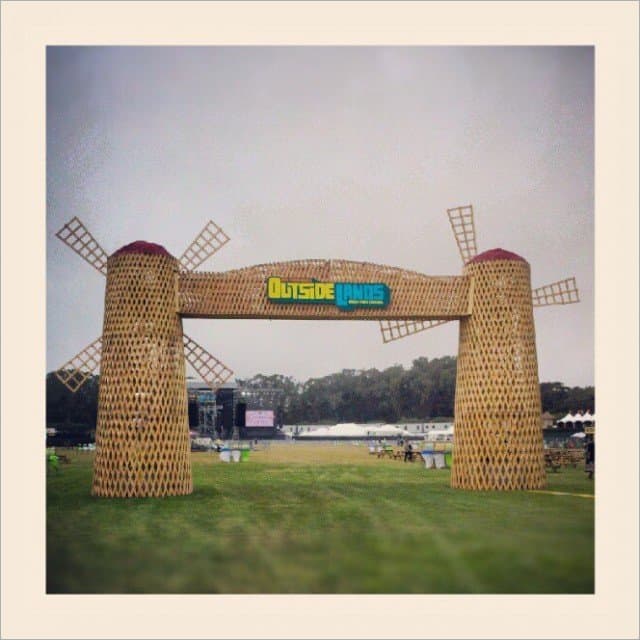 San Francisco's Gourmet Music Festival returned this past weekend with an exceptionally eclectic lineup that included Beck, Metallica, The Walkmen, Tennis, Foo Fighters, White Denim, Sharon Van Etten, Washed Out, Neil Young, Justice, and Andrew Bird. And that was just Day One.
Day Two included Geographer, Tame Impala, Father John Misty, Alabama Shakes, Michael Kiwanuka, Grandaddy, Big Boi, Neil Patrick Harris, Thee Oh Sees, Norah Jones, Passion Put, and Metallica. Portugal. The Man, Explosions In The Sky, The Kills, Dr. Dog and Sigur Ros.
Meanwhile, Day Three featured Tom Morello, fun., Franz Ferdinand, Caveman, Jack White (twice!), Regina Spector, Electric Guest, Adult Swim, Santigold, Bloc Party, Stevie Wonder, and Skrillex.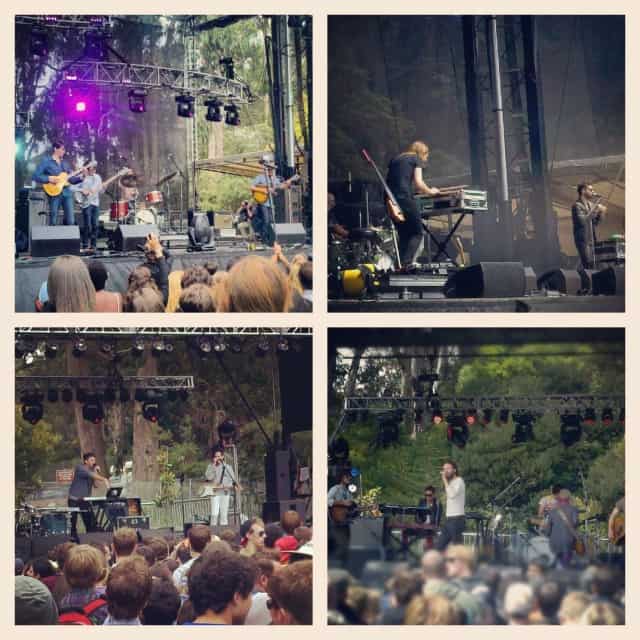 The diverse lineup meant that there were plenty of surprises for the open-minded. Metallica's mega-pyrotechnics display was described as "mesmerizing" by pretty much everyone in attendance including people who described themselves as otherwise "anti-Metallica" and the intense laser light show to Skrillex's set was so War-of-the-Worlds-esque it was hard not to be impressed regardless of how you feel about his actal music.
Stevie Wonder melted even the most cynical of hearts and Jack White kept people buzzing after his surprise set in the middle of Choco-Lands (the chocolate-themed dining area placed in the middle of the forest).
The Highlights
Music
1. Stevie Wonder: For me, Day Three was all about Stevie Wonder. Sure there were a number of great bands performing that day, but hearing "Signed, Sealed, Delivered" performed live was my favorite live music moment of the year. While some artists who've been performing as long as Wonder have begun to lose their edge, Stevie demonstrated that he's still got it.
2. Tame Impala: The Australian psych-rock band definitely demonstrated that they deserved their spot on the main stage. They brought plenty of big rock moments and they simply sounded awesome.
3. Big Boi: After canceling his set last year due to technical difficulties, it was electrifying to finally see Big Boi take the stage at Outside Lands. And judging by the crowd's reaction: San Francisco was ready for him.
4. White Denim & Father John Misty: I'm going to call this one a tie. Both White Denim and Father John Misty commanded the stage during their sets, but in very different ways. White Denim was relentless in their fiery sonic assault whereas Father John Misty brought the old-school-style rock 'n roll swagger.
5. Tanlines, Geographer, Michael Kiwanuka, and Foo Fighters. OK, I admit it's a cop out, but I'm going to call this another tie (this time a four-way tie). Like they had at this year's SXSW, Tanlines brought good vibes and good times to their set in San Francisco. Geographer was as steady and smooth as usual. Kiwanuka was bright and feel good. Meanwhile, the Dave Grohl-fronted Foo Fighters proved why they're still selling out the world's largest venues.
Food & Drink
1. The Whole Beast. While I had many ties for my favorite music moments at the festival there was no tie for my favorite food at Outside Lands. In fact, The Whole Beast could easily have taken first, second and fourth places on my list. My favorite dish from the stand was their Lamb Gyros (far more exciting that it may sounds). My second favorite dish from the stand was the Lamb Poutin and their lamb meatballs were also delicious.
2. Del Popolo Pizza. Easily the most impressive food truck I've ever seen. With it's own built-in wood-burning oven, this pizza dishing truck was worth the approximately 20-minute wait.
3. Beerlands. A new feature at Outside Lands, Beerlands brought together a collection of some of California's top micro-brews. Sierra Nevada brewed up a tasty (and exclusive) Outside Lands' brew specifically made for the festival. Magnolia Brewery brought a pair of great beers (including their Kalifornia Kolsh). Pacific Brewing Labs' Squid Ink was a delicious dark beer with hints of chocolate and coffee. North Coast Brewing Company's Pranqster has been a long favorite of mine, and Chazz Cat Rye was quite tasty.
4. Homeroom's Gilroy Mac 'n Cheese. Oakland-based Homeroom has been serving up some of the best mac 'n cheese in the Bay for sometime, and it's always a delight when they set up shop in San Francisco.
5. Nojo's Tonkatsu Sandwich. Nojo's Japanese-style cut-crust pork loin sandwich was as good as it sounds. Another festival highlight you wouldn't find anywhere else.
There were plenty of summer jams to keep you energized through the weekend alongside tons of great food, wine and beer. Speaking of summer jams and summer food, you may recall that I've been asked to act as Haagen-Dazs' music curator for their 50 Summer Moments program. You can read more about what that means here. As I've mentioned before they are donating money to honey bee research. Every time you or I choose to share a summer moment they'll donate an additional $5 to the program. All you have to do is make sure to add the #HDMoment hashtag to your tweet or instagram. In order to see the collection of Moments submitted so far check out http://hdmoment.tumblr.com/
Did you make it out to Outside Lands this year? Are there any highlights for you that I missed?