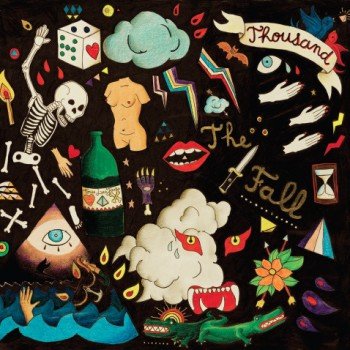 When I originally discovered the music from the solo project of Paris songwriter Stéphane Milochevitch I described Thousand (his musical nom de guerre) by stating that his music exhibits all of the qualities of a glass of fine red wine: it is bold, smooth, and a little spicy. I'd add that like a good red wine, his music also demonstrates a subtle complexity of flavor that makes it particularly satisfying. Milochevitch's baritone is woodsy and cedar-infused and the songs he composes are blended together with the thoughtfulness of a master vinter to reveal the mystery of strange voodoo, noir romance, and even a dash of the occult. For example, on the single's a-side, "The Fall," Milochevitch sings "I'm a bad man baby / you are not the kind of girl a man forgets / drive your fangs into the dog in me." His croon is smoky and simmering, initially casting a false confidence that evaporates as the lyrics delve into uncertainty.
Meanwhile, the single's b-side is a new version of the track "Your Wild Heart" which originally appeared on Thousand's now out-of-print and hard to find album The Flying Pyramid. This cut of the track was specifically re-recorded for our Pairings Box. It is a desperate love song featuring crisp mostly-acoustic instrumentation that builds to frantic crescendo as he sings: "I wish there was a place for me in your heart, where we could kiss once again and be in love for ever and ever. And we'd be trapped in the wild, wild jungle of your wild heart." The melody is underlined by blinking tones that gradually increase in tension and prominence as the track plows forward towards it's swirling and abrupt conclusion. Take a listen!
Like each of the four singles before it (we're now five for five), this sold out before it was officially released. The only way to guarantee a copy of future releases is to subscribe to the Pairings Box here. March is already going quick.