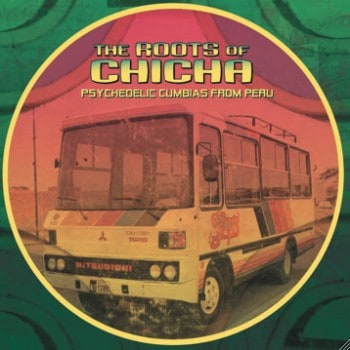 I only first knowingly experienced cumbia last year when Kasey and I visited Colombia. It was everywhere we went. In the tropical wall-ringed Cartagena, for example, rhythmic, Caribbean-inspired cumbias spilled out of small clubs packed full of late night revelers into the early hours of morning. But Cumbia wasn't limited to the coast. In Bogota, when I dragged Kasey to a dusty, local record store slightly off the beaten path and asked the owner what traditional Colombian music he recommended, he produced a foot and a half tall pile of cumbia records. He'd play the records one by one while I tried to relate to him with my poor, broken Spanish what I liked and disliked about some of the records he'd play. Of course, I'd loved most of what I'd heard, and, as a result I've added a number of cumbia records to my collection including The Original Sound of Cumbia and Coastal Cumbias From Colombia's Discos Fuentes to my record collection.
Anyone who has read these pages before knows that indie rock, hip hop, electronica, and R&B are the bread and butter of my musical diet, but much like with food, sometimes I want something a little more exotic for my ears. And one of my favorite games when researching music on the Internet is to combine seemingly unrelated genres to see if anyone has been bold enough to give the mutant genre a shot. I should mention that I've never been disappointed: someone has already been there first. Cumbiastep (Cumbia + Dubstep)? It's been done. I'd even found a few tracks of Cumbiawave (Cumbia + Chillwave).
As part of this search I looked into Cumbia + Psychedelica, and discovered that not only had this been done, but it had been a popular Peruvian genre that began in the late 1960s and continues through to the present day. Psychedelic Peruvian cumbia is often referred to as "Chicha." The term is also commonly associated with a fermented drink popular in Peru, but also is  descriptive term applied to things with an "informal, popular, cheap and transient arrangement." Thus, Peruvian cumbia is known for being informal, popular and somewhat cheap.
I was pretty set on seeking out some Chicha records for my collection, but finding a good place to start can be tricky when you are in the United States. Chicha records, as with most any form of cumbia, is surprisingly (or not) hard to find at most record stores. Add that to the fact that it can be difficult to even know where to start, and compilations records start to look pretty attractive. That was where The Roots of Chicha comes in.
The 2 LP set was thoughtfully compiled by Barbes Records and includes a through 12×12 booklet explaining the history of cumbia in Peru. The collection includes four tracks by Enrique Delgado's group Los Destellos, who are cited as having created Peruvian cumbia (as opposed to bands who performed traditional Colombian-styled cumbias). Delgado's version of cumbia was unique in that it relied primarily upon the use of electric guitar blended with traditional cumbia rhythms, folkloric Andean huayno, American psych, plus hints of surk, rock and other genres. Aside from that melting-pop-like eclecticism Chicha can be hard to pin down as the genre's top artists are often sonically quite different from one another. The Roots of Chicha does an excellent job of demonstrating that diversity. For example, the trio of tracks by Juaneco y Su Combo offer the most natural blend of Caribbean-rhythms with psychedlic keyboards underpinnings, whereas the track by Grupo Celeste demonstrates a funk flair; and other tracks are grooving instrumental jams.
In the end, it's a fun collection that really sets the tone for those days when you just need something that sounds different. If you're looking for a culturally appropriate recipe to pair this one with, you might want to check out one of our ceviche recipes (subscribers have one in the January Pairings Box).
Los Wembler's de Iquitos – La Danza del Petrolero
You can buy The Roots of Chicha from Insound.