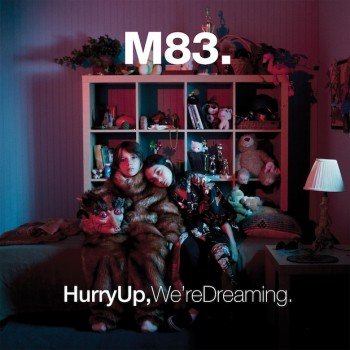 Having named his band M83 after the spiral galaxy Messier 83 (a.k.a. the Southern Pinwheel Galaxy), it is clear that Anthony Gonzalez is attracted to things that are grand, luminous and stunning in their scope. At the same time, Gonzalez's music has always demonstrated his desire to grasp and recreate a nostalgic, child-like sense of wonderment in his listeners. In fact, he's suggested repeatedly in interviews that it is his obsession with his own childhood and teenage years that inspires much of his music. Neither theme is particularly unique in the world of indie music, yet what is unique is the way that Gonzalez marries these seemingly unrelated concepts so that they appear to be indistinguishable from one another in the context of his music. In other words, there is a recurring theme in Gonzalez's songwriting in which he tries to capture through the lens of nostalgia that childhood is grand, epic and awe-inspiring.
Viewed in that context, last year's Hurry Up, We're Dreaming can be thought of as Gonzalez's musical dissertation. It was envisioned and recorded as a "epic" double album, inspired conceptually by his own teenage obsession with Smashing Pumpkins' Mellon Collie and the Infinite Sadness (which was, interestingly, itself conceptually about Pumpkins' songwriter Billy Corgan's youth). In fact, it's immediately clear that Gonzalez's goal was to write songs that were more atmosphere than pop. Indeed, Gonzalez has stated that the album was "written like a soundtrack to an imaginary movie with different ambiences, different atmospheres, different tempos, different orchestrations and different instrumentation."
Of course, that isn't to say that Hurry Up, We're Dreaming is without infectious, memorable jams. For example, early standout "Midnight City" is a synth-heavy anthem with pulsing, driving digital percussion and bleacher-reaching melodies. It's absolutely dripping with exhilarating cinematic urban-neon glow. But these big groove moments are out-numbered by the more emotionally rich spaciousness of the album's more atmospheric moments. In lesser hands this could be a recipe for trouble, yet Gonzalez proves to be more than competent enough to handle the challenge of crafting an album of this grandeur. While we've always known that M83 can write a memorable synth-pop hit, this album demonstrates that he can create equally compelling ballads. For example, the gently building track "Wait" reflects the peacefulness of an empty city street at night during a light snowfall and is definitely another album standout.
The second disc follows the same blueprint that Gonzalez used to construct the album's first half. Following the tender and somewhat pastoral "My Tears Are Becoming a Sea," M83 bursts forth the second disc with the frantic and twinkling anthem "New Map." The sprawling "Steve McQueen" is another similarly thrilling percussive jam. In the end, it's clear that Gonzalez was able to achieve his vision for this album. It's an album you can wrap around yourself and get lost in, but it's also an album that would lend itself well to the communal vibe of an arena setting.
The album pairs well with Kasey's Lemongrass Shrimp and Miso Udon Soup. Like the album, the recipe is clean and contemporary. It's also delicious, warming and boasts strong, memorable flavors. It's a meal you can get lost in.
Head back to the Kitchen to read the recipe for Kasey's Lemongrass Shrimp and Miso Udon Soup. Then head to Insound to buy Hurry Up, We're Dreaming on vinyl.