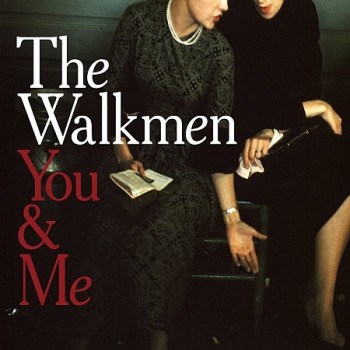 I've always thought it was cool that The Walkmen were one of those bands that earned their chops as musicians by playing together, having played in bands alongside each other since the 5th grade or earlier. For example, Bassist/organist Walter Martin and vocalist/guitarist Hamilton Leithauser are cousins and grew up across the street from one another. Like Leithauser and Martin, the rest of the band also grew up in Washington, D.C., and even attended the same school with the sole exception of bassist/organist Peter Bauer. As a result, it probably wasn't surprising that they formed together the way they did. Before forming The Walkmen, Leithauser and Bauer performed together in The Recoys; while Martin, drummer Matt Barrick, and guitarist/pianist Paul Maroon, performed in the band Jonathan Fire*Eater. When both Jonathan Fire*Eater and The Recoys disbanded around the same time, it just made sense for these guys to start a new band together.
At this point, their back story is almost ancient history. After all, The Walkmen have been performing together for approximately twelve years and have released six full length records together (including one track by track cover album of Harry Nilsson's Pussy Cats). Their debut record, Everyone Who Pretended To Be Like Me Is Gone celebrated it's 10 year anniversary with a limited edition (and now sold out) repress just last month. In fact, today's Musical Pairing, their 2008 released LP You & Me, is their fourth album of original material (5th LP if you count the Nilsson cover album). At this point they sound like pros. And that's a good thing. You & Me is a thoughtful album that bares witness to a band that is comfortable in their own skins and have learned the value of subtlety. Track after track it's clear they know exactly when to hold a little back to build tension, and when to blast forth for dramatic effect. Thankfully, it also demonstrates a band hasn't lost the fire in their belly. This passion for what may have even become routine is summed up with the album's opening lyrics, as Leithauser sings; "Well, it's back to the battle today / But I wouldn't have it any other way."
That opener, "Dónde está la Playa," is moody and barely constrained with a rumbling intensity created by burying Barrick's drumming in the mix. It also quickly reveals the common motif played out through the course of the album of the lovelorn and road-weary traveler, "There is still sand in my suitcase / There is still salt in my teeth," Leithauser sings. "On The Water" is filled with the tense melancholy of a lost love with a melody that builds slowly, holding back until the very last moments before reaching a full boil. The following track, "In The New Year," takes a different tack rolling through pounding, almost (but not quite) triumphant rhythms that rise and rise and then cycle down.
It's a strong album from start to finish, but I've always really enjoyed the album's seven, eight and nine spots as a exceptionally strong trio of consecutive cuts. The trio begins with the shuffling, brass-toned, and melodic "Red Moon," before launching into the twinkling, horn swell-infused and swaying "Canadian Girl." Meanwhile, "Four Provinces" may be one of the strongest tracks on the entire album with periodic tempo shifts, clattering percussion and a meandering melody that rumbles like a barely contained fire before being splashed out at the very end.
In Kasey's post today for her Frozen Banana-Chocolate and Peanut Butter Loaf she mentions how I didn't really believe in the concept of a soul mate – I'm skeptical of anything that can't be proven – whereas she believed. That said, I do believe in intuition. I believe you can get a gut sense that things just belong together. Although I'd normally list out the reasons I think our Pairings go together, for this one I'd rather just say that it feels like an intuitive pairing to me. What do you think?
The Walkmen – Dónde está la Playa
Head to the Kitchen to read the recipe for Kasey's Frozen Banana-Chocolate and Peanut Butter Loaf. Then head to Insound to buy You & Me on vinyl before it, like most of their other albums, is sold out.