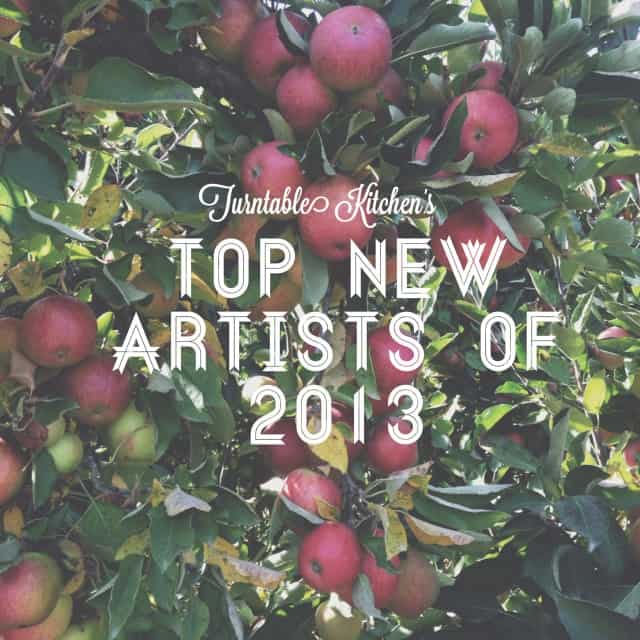 Here it is. Turntable Kitchen's list of the best new artists of 2013, and, thus, a list of the artists we think you should watch out for in 2014. It's an unranked list and it doubles as a pretty nice playlist (use the ex.fm player in the bottom right corner for continuous play).
Loose standards were used to compile this list, but to be considered a band must have neither: 1) released an official physical release before 2013, nor 2) digitally released an full length album or EP before 2013. To determine physical release dates we primarily relied upon the discogs.com database. If you're wondering, that means that any bands that we featured in the Pairings Box last year wasn't eligible this year (no matter how much we love them – and we do love them all). Nonetheless, I'm proud to say that in 2013 we've continued to feature singles in the Pairings Box of the year's most exciting new musicians.
In addition to our featured artists from 2012, our rules meant disqualifying artists like AlunaGeorge, Rhye, Savages, SZA, FKA Twigs, Empress Of, Parquet Courts, and Chvrches (amongst others). To the best of our knowledge, each of the remaining bands on this list are more or less brand new this year (aside from a scattered digitally released single or two). Nonetheless, I almost certainly overlooked someone awesome and I'd seriously love to hear about it in the comments.
1) GEMS
2) MØ
3) Cathedrals
4) Jungle
5) Bells Atlas
6) Salt Cathedral
7) VISUALS
8) Port Isla
9) ASTR
10) BANKS
11) Wet
12) London Grammar
13) Manicanparty
14) Body Parts
15) Leapling
16) TRAAMS
17) Blood Cultures
18) Douglas Dare
19) Ben Khan
20) Vaults
21) Lorde
22) Boardwalk
23) Jackson Scott
24) HAERTS
25) K H U S H I