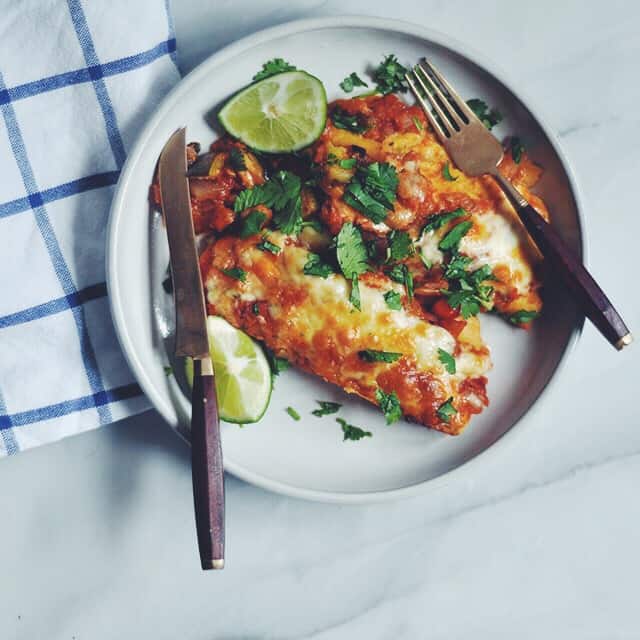 This recipe couldn't be better timed. Today is officially Cinco de Mayo, and in addition to sharing some links (at the bottom of the post) to some last-minute Cinco de Mayo-themed recipes, for once in my blogging career, I am posting a holiday-themed dish on the actual day of the holiday. Hooray!
My lovely friend Erin, who has generously contributed to this site and whose last cookbook included this beauty of recipe, has recently come out with a brand new cookbook: The Easy Vegetarian Kitchen. The book is cleverly divided: you'll find 4 variations/ twists on one recipe for every season — I loved the thinking behind this. For example, a waffle recipe worthy of summer and winter, salsas for all seasons, and my personal favorite: enchiladas. When we make Mexican food at home, we tend to go very coastal — fish tacos and ceviche — but sometimes what I'm craving (and these days I'm CRAVING) is gooey, cheesy, and comfort food-y.
Growing up in California, Mexican food is my comfort food and we find ourselves either cooking it or going out to our favorite neighborhood Mexican spot regularly. Truth be told, I had never before made enchiladas at home. Would you believe it? Erin's book offered 4 different variations on a favorite: black bean enchiladas. Even though it's still spring, technically, we went full-on summer. We opted for the summer enchiladas with roasted zucchini, peppers, and onions, and topped them off with Monterey Jack cheese, which melted beautifully (Erin's recipe calls for a more traditional Mexican cheese: queso fresco). I'm looking forward to trying the fall (spinach and pumpkin sauce!) and winter (spiced rutabaga!) variations once the seasons turn.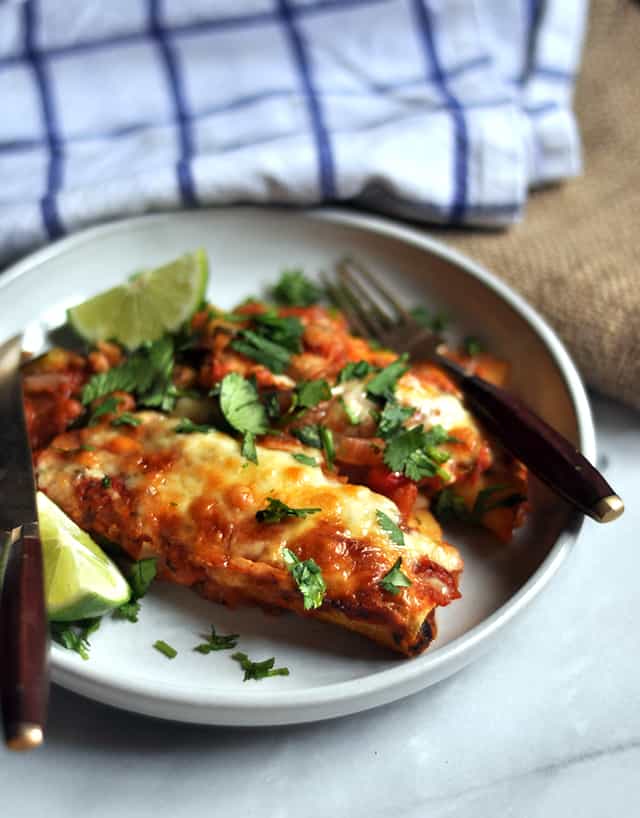 Get groceries delivered from Instacart, save $5 and get free delivery
If you're looking to whip up these enchiladas (or any of the recipes below) tonight, our friends at Instacart are offering a special promotion for new users to get $5 off their first order and get free delivery using the code turntablekitchen. We've been using Instacart a ton to get groceries from our favorite stores (including Whole Foods, Bi-Rite, and Costco) delivered — living in a city, with a young child, it has saved us many a night. You can check out their locations here.
Erin's (Summer) Black Bean Enchiladas with Roasted Vegetables
adapted from The Easy Vegetarian Kitchen
For the sauce:
1 tablespoon of olive oil
1/2 medium red onion, diced
1 jalapeño, seeded and minced
2 cups of strained, diced tomatoes
1/4 cup of chopped cilantro
1/2 teaspoon of kosher salt
2 tablespoons of freshly-squeezed lime juice
1/2 teaspoon of chipotle powder
For the filling:
1/2  cup of cooked black beans (or drained canned ones)
1 1/2 cups of roasted vegetables (recipe below)
4 ounces of Monterey Jack cheese (or shredded queso fresco)
8 corn tortillas
For the roasted vegetables:
1 cup of diced zucchini
1/2 cup of diced red pepper
1/4 cup of diced red onion
1/2 tablespoon of olive oil
pinch of salt
chopped cilantro, for serving
1. Start by making the roasted vegetables: preheat your oven to 400 degrees F. Then, combine all the ingredients in a bowl, tossing so the oil coats the vegetables.
2. Spread the vegetables in a roasting pan and roast for 25-30 minutes, or until the zucchini is fork-tender. Remove the vegetables from the oven and dial the heat down to 375 degrees F.
3. Make the sauce: heat the olive oil over medium-low heat in a medium saucepan. Stir in the onion and jalapeño and cook for another 7-8 minutes, or until the onions are soft and translucent.
4. Stir in the remaining sauce ingredients, bring to a boil, then dial down to a simmer and continue cooking for another 5 minutes or so. You may want to use a hand blender to puree the sauce at this point (I wanted a smoother sauce).
5. Transfer the roasted vegetables to a bowl, add the black beans, and toss to coat.
6. Spread half of the sauce over the bottom of a 9 x 9 inch baking dish or pan. Spoon about a 1/4 cup of filling into a tortilla, roll into a tube, and place it seam-side down in the pan (on top of the sauce). Continue filling the tortillas and nestling them next to each other, until you've filled the pan. Top with the rest of the sauce and sprinkle generously with cheese.
7. Bake for 30-35 minutes, or until the sauce is bubbling and the cheese is golden. Sprinkle with chopped cilantro and serve warm.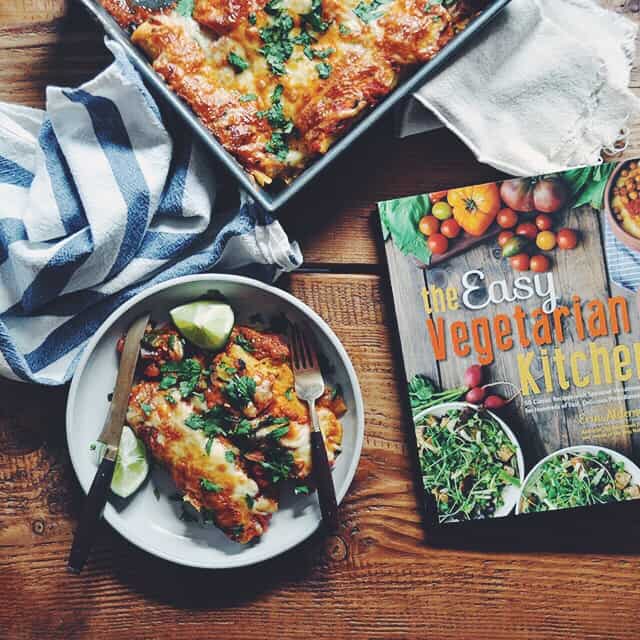 Mexican recipes from around the web to try this Cinco de Mayo
Mexican Popcorn
Chicken Flautas with Spicy Avocado Sauce
Mexican Street Corn Salad
Spicy Mango Margarita
Charred Jalapeño and Carrot Margaritas
Mexican Shrimp Skewers
Margaritas on the Rocks
Classic Beans and Greens Tacos
Chipotle Black Bean Lettuce Wraps
Cozy Vegan Enchiladas with Lime Cream
Baked Chilaquiles with Black Beans and Kale
Avocado Mango Salsa
Breakfast Tacos
Roasted Green Pozole with Chicken
Margarita Cupcakes
And a few favorites from our archives…
Totopos with Salsa De Arbol and Cotija Cheese
Chipotle Shrimp Tacos Roasted Tomatillo Salsa
Tommy's Margarita
Roasted Tomatillo Salsa
Slow Cooked Beef Tacos with Quick-Marinated Radishes
P.S. We're heading to Santa Fe, New Mexico at the end of this week. We'd love any recommendations, if you have 'em!