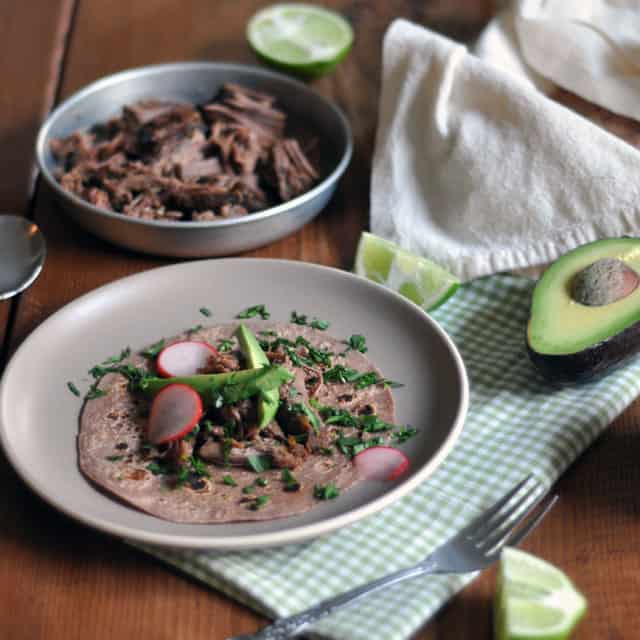 Shortcuts. We're all looking for an easier, faster, more convenient way to do things. Whether it's communication (hello, Twitter and Facebook on your mobile phone), creation (auto mode on cameras, templates, and cake mixes), or transportation (hydrofoil boats, underground railways); getting to the end in our world is often more important than the road there. Slow cooking is a conundrum to trump all conundrums. At least as far as food is concerned. Wait, you want me to do what? Put this into a pot and sit around waiting for HOURS before the thing I'm trying to cook is actually done?
I shamefully admit that I tend to bake bread the no-knead way, and while I'm a fan of long-form, I rarely send hand-written cards (my friends and family would probably no longer recognize my awful, illegible handwriting!). With cooking, as with my day-to-day life, I don't usually do things the slow way. I linger around the dinner table with a few glasses of wine and cheese with friends, but by that point, the 'getting there' has already been gotten.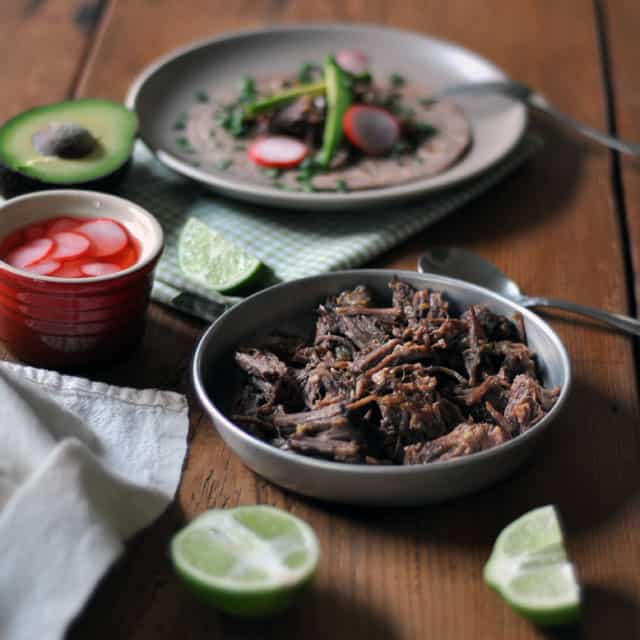 So today, I thought I'd share a recipe that isn't in my usual repertoire because it requires you to procure 1 1/2  – 2 pounds of the best quality beef brisket you can find, then throw it in a bit pot with a bunch of stuff. And then, wait. Lest you shall get a little nervous about the waiting part, I'll calm your nerves: this recipe only requires 1-2 hours (as opposed to most 3-4 hour slow cooking recipes I usually see).
Truth be told, I've been sitting on this recipe for months, but with Cinco de Mayo around the corner, I thought it was time to break out the shredded beef, warmed tortillas, avocado, and quick-marinated radish around these parts. Whenever I leave California for any place other than Texas, I'm always surprised by the lack of good Mexican food.
I'm spoiled, frankly, by the abundance and variety of Mexican cuisine I've been exposed to (from growing up in San Jose to living in San Diego, vacationing in Mexico to now living in San Francisco). Many Californians will tell you that a taco or burrito is about as close to 'mother's milk' as macaroni and cheese. We love tacos, but usually prepare ours with fish or shrimp. On occasion, however, it's impossible to say no to melt-in-your-mouth, tender shredded, slow cooked beef. We don't have access to an open fire, so this isn't traditional barbacoa, but it's a pretty darn good recreation for a small home kitchen. Sticking to traditional flavors, we served our shredded meat with cilantro, lime, avocado, and the easiest-ever quick marinated radish slices.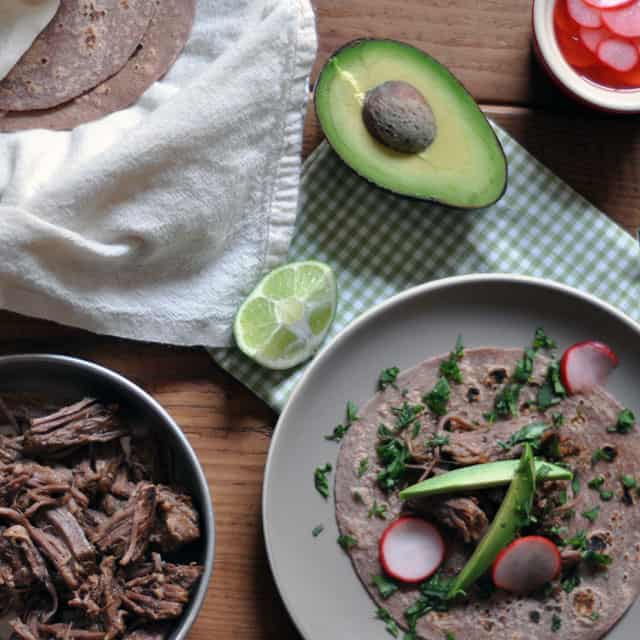 Slow Cooked Beef Tacos with Quick-Marinated Radishes
*serves four
1 1/2 – 2 pounds of grass-fed beef brisket
1 tablespoon of cumin
1/2 onion, sliced
4-5 garlic cloves, sliced
1 tablespoon of coriander
2 bay leaves
handful of fresh chives
1/2 tablespoon of chipotle chili powder
extra virgin olive oil
beef stock
For the marinated radishes:
4-5 radishes, thinly sliced
kosher salt
vinegar
To serve:
warmed corn tortillas
chopped cilantro
sliced avocado
lime
marinated radishes
1. Heat several tablespoons of olive oil in a large Dutch oven over medium-high until the oil is glistening. Salt and pepper the meat and add it to the pot, cooking for a few minutes on each side, until it is browned on both sides.
2. Next, add all of the spices, herbs, and enough stock to cover the meat (use about 4 cups of stock and a few cups of water).
3. Bring the liquid to a boil, then lower the heat to a simmer. Cover and cook for about 1 hour – an hour and a half (or until the meat is so tender it shreds with the slightest nudge of a fork). Check the liquid level in the pot, periodically throughout the cooking time. If the meat is starting to look dry, add more stock or water to the pot.
4. Remove the meat from the pot and let cool slightly before shredding it with two forks.
5. To make the marinated radishes: place radish slices in a small tupperware container. Cover with vinegar and add about 1/2 teaspoon of salt. Seal the container and shake vigerously until the salt has dissolved. Let the radishes sit for about 15 minutes.
6. Serve meat over warmed tortillas, top with cilantro, avocado, a squeeze of lime juice, and a few marinated radish slices.
Musical Pairings: Aesop Rock – None Shall Pass + Slow Cooked Beef Tacos with Quick-Marinated Radishes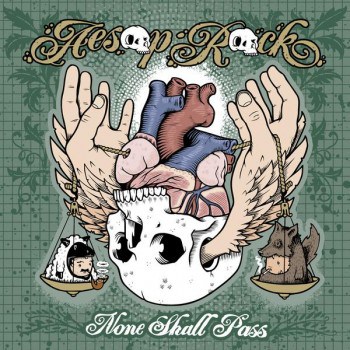 More on the Turntable.