When you live in California, sometimes you feel hours behind everyone else. Weirdly, we watch a recording of the ball dropping in Times Square on New Year's Eve, instead of our own. The sun lets many of us sleep a few extra hours, while most of the country is already up and at 'em. But come springtime, the tables turn and we're living in the future. And, people, the future has officially arrived in the form of stone fruit season.
As someone who could eat at least a handful of apricots in one sitting, you could imagine my excitement when I spotted the month's first crop at a local market. Plump and sunny, with just the slightest touch of fuzz, a bin-ful of apricots greeted me at the door. After purchasing a bagful that cost a fortune (they are the season's first, after all), I immediately began dreaming up ways to use them in a recipe to share with you. I wanted to make jam. I wanted to churn them into ice cream. I wanted to make crumble. I wanted to grill them. I wanted to do all of these things, all in one weekend. But, mostly, I wanted a good reason to pair my little jewels with chocolate.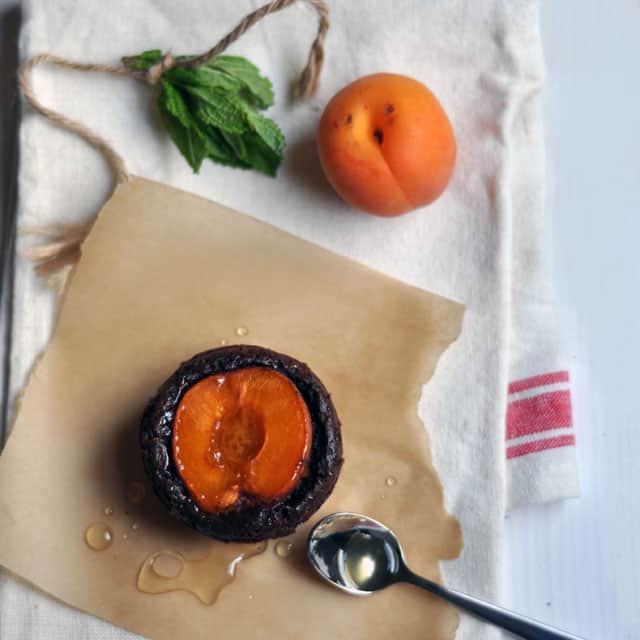 Apricots and chocolate aren't the most obvious duo, but beyond the stunning color combination, when paired, these individual ingredients come together in a very interesting way. The inspiration for this recipe came from one in Donna Hay's Simple Essentials: Fruit, in which the author presents a chocolate clafoutis studded with plums. Now, a chocolate clafoutis is already crazy enough; traditionally, the French dessert is reminiscent of a custard-like cake that is dotted with cherries, dusted with sugar and served lukewarm. It's heavy on the eggs, contributing to the spring-like texture of the cake. Clafoutis purists would scoff, but I welcome a twist on tradition.
We're not so far into the future that we have access to plums, so I had this crazy idea to turn the clafoutis into a few mini chocolate cakes encasing apricot halves. And then, I figured I'd drizzle them with blackberry honey. If apricots have already popped up where you live, I recommend using ripe ones, as you want them to soften quite a bit as they bake. That way, when you cut into the cake, the jamminess of the apricot will mix with the rich chocolate cake. The addition of chopped chocolate, along with the cocoa powder, means you'll get a few intensely chocolatey bites along with a few lighter ones. If you're in eager anticipation for their arrival, tuck this recipe away for a few weeks; I promise it will be worth it.
I like small things as much as the next person, but I must admit, I couldn't resist eating two in one day. And, I'm not going to lie…the one left sitting on a plate and covered with a thin sheet of plastic wrap isn't going to last long, either.
I would like to end this post with an important announcement: do NOT skip the honey drizzle. I enjoyed a fragrant blackberry honey with my cakes, but any good honey will really do. With Mother's Day coming up, I think this could make the perfect ending to a homemade brunch. And if you're looking for a few other ideas, how about this beautiful brunch menu from Sunday Suppers?
Need more clafoutis inspiration? Check out this brandied Plum Clafoutis, from the archives.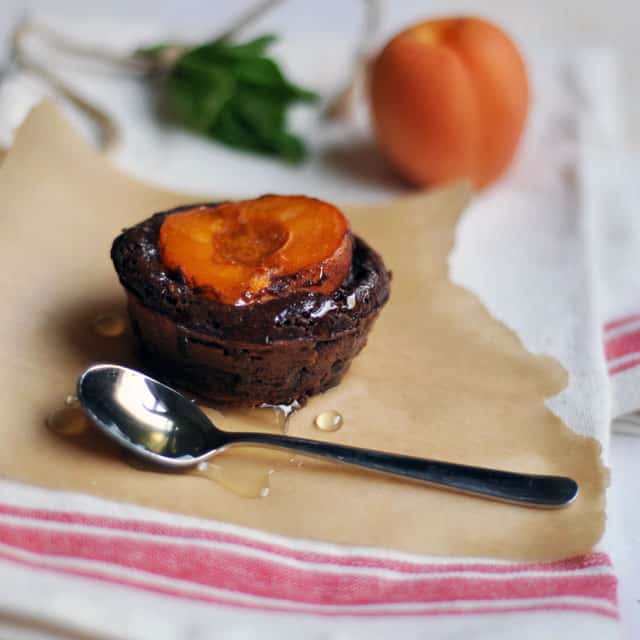 Chocolate-Apricot Clafoutis Cakes with Honey Drizzle
*makes 6 mini cakes
4 tablespoons of all-purpose flour
2 tablespoons of cocoa powder
4 tablespoons of sugar
2 large eggs
1/3 cup of finely chopped chocolate (a few bigger chunks is ok)
1 tablespoon of unsalted butter, melted and slightly cooled, plus more for the pan
1/2 cup of yogurt
1 teaspoon of real vanilla extract
3 ripe apricots, halved, pits and stems removed
1. Preheat your oven to 350 degrees F and generously butter six molds inside a 12-cup muffin tin. You can also line the muffin cups with paper liners.
2. Whisk the flour, cocoa powder and sugar in a medium bowl, until combined.
3. In a small bowl, whisk the eggs, vanilla extract, cooled, melted butter, and yogurt. Stir the wet mixture into the dry ingredients until a smooth batter forms, then stir in the chopped chocolate.
4. Divide the batter between the 6 muffin cups, filling them almost to the very top (leave about 1/4 inch of space). Place one apricot half, round side down, on top of each of the batter-filled muffin cups (the fruit will sink slightly into the batter).
5. Bake for about 25 minutes (until puffed and set). Once slightly cooled to the touch, run a knife along the edges of each mini cake, and carefully prod it out of its hole (be very gentle, and make sure you unhinge the cakes on all sides before pulling them out). If you used cupcake liners, you won't need to do this. Drizzle each mini cake with honey, and serve either warm, or at room temperature.
Musical Pairings: Lemonade – Diver + Chocolate-Apricot Clafoutis Cakes with Honey Drizzle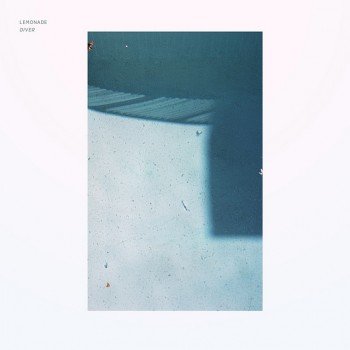 More on the Turntable.