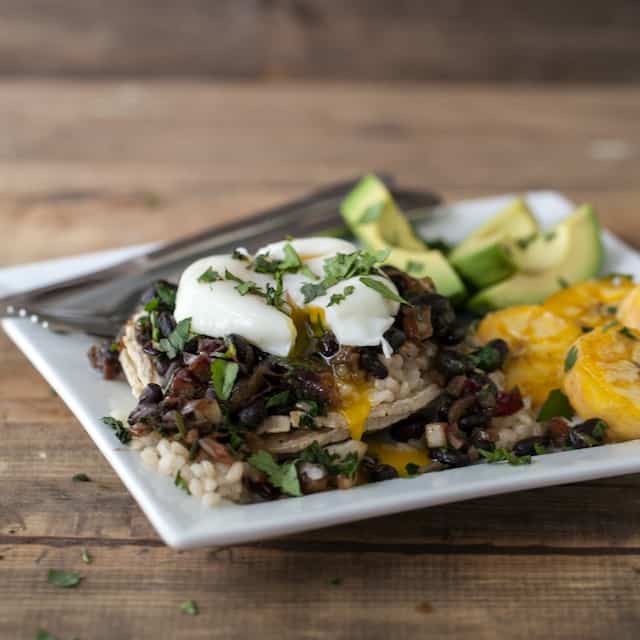 While we're off in Sicily, we invited a few folks that we admire to guest post on Turntable Kitchen. For the food side, I asked contributors to write about food inspired by travel because, let's face it, who isn't?  Erin is one of the loveliest people in the blogosphere — warm, honest, authentic. From her writing to her inspired recipes and food photos, Erin offers readers a space that's a breath of fresh air. Her site, Naturally Ella, is one of my favorite daily stops. I'm so happy to have her here today! Welcome, Erin.
I feel honored to be sharing a recipe on Turntable Kitchen today! While Kasey and Matt are off enjoying the sun and food in Sicily, I thought I would take you in a different direction.
I always feel whenever I travel to a place, I leave bits of my heart behind. I fall in love with each culture and try my best to immerse myself in all the sites, sounds, taste, and smells. I snap photos and I recreate food in hopes of transporting myself back when I'm feeling a bit nostalgic. When I take a bite of food, I close my eyes and pretend that when I open them, I'll magically be back in that place.
I make Gallo Pinto in hopes that one day when I open my eyes I'll be sitting on the warm Costa Rican beach along the pacific ocean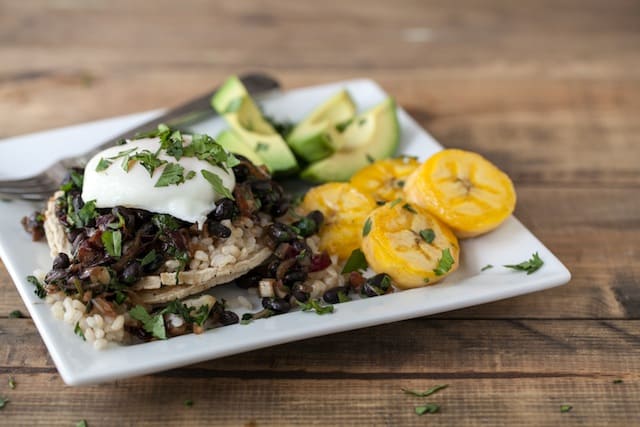 While I remember the hiking, the colorful sunsets, and the warm days on the beach; the food still easily tops everything. Waking up to fresh coffee, rice, beans, and fried plantains is an experience like no other. It wasn't uncommon to eat a two hour breakfast while enjoying each other's company and drinking enough coffee to make up for the years of drinking bad coffee. Or there were the nights of eating platefulls of fresh veggies and fruit, fifty feet from the ocean while drinking and laughing through the sunset.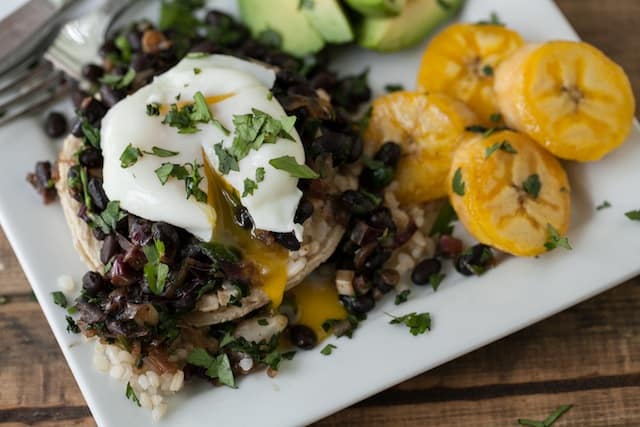 While I think I ate my weight in rice and beans, I wasn't always a bean lover. In fact, I would purposely pick around beans in everything I ordered. Whenever my parents ate Mexican, I would order the most American thing on the menu, which usually meant a chicken sandwich and fries. I think my trip to Costa Rica really changed my attitude towards beans, especially black beans. Now I always have dried black beans on hand and whip up a good rice and bean bowl when I need something quick and healthy.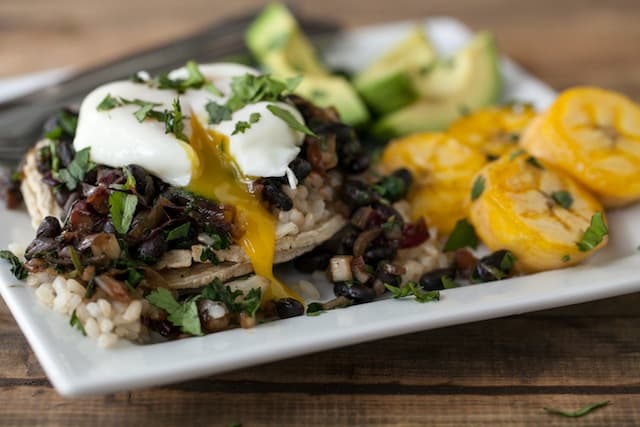 A quick note, traditional Gallo Pinto calls for Salsa Lizano, a traditional Costa Rican condiment. However, I've yet to find it in the U.S. (I do live in rural Illinois) and always substitute in worcestershire sauce. My favorite brand is Annie's (which is vegan!)
Recipe:
Gallo Pinto
For the Gallo Pinto:
1 cup cooked brown rice
1 bunch of green onions
1 tablespoon olive oil
1 clove garlic
1/2 medium red pepper, diced
1 cup black beans, drained with liquid reserved
juice from one lime
2 tablespoon worcestershire sauce (I use Annie's vegan)
pinch salt
1/3 cup loosely packed cilantro, divided
For the Fried Plantain:
1 large plaintain
1 tablespoon walnut oil
1 tablespoon honey
Everything Else:
4 corn tortillas
2 eggs, poached or scrambled
1-2 avocados
Directions:
1. Heat olive oil over medium heat. Add in onions and saute until the onions become translucent. Stir, continue to cook until pepper is cooked through. Stir in beans with 2 tablespoon of liquid, lime juice, Worcestershire sauce, and salt/pepper. If you are using precooked dried beans, just add 2 tablespoon of water. Continue to cook until the liquid has mostly disappeared (about 4-5 minutes.) Stir in about half the cilantro and rice. Continue to cook for 2-3 more minutes.
2. While beans cook, poach or scramble eggs. If you want a tostado that is easier to eat with your hands, I recommend scrambled.
3. Next, heat walnut oil and honey in skillet. Slice plantain in 1/2" thick slices and add to oil. Cook on each side for 3-4 minutes until planatin is soft.
4. Finally, heat corn tortillas in a skillet until crisp.
5. To assemble, place tortillas on a plate and pile with rice/beans and eggs. Serve plantains on the side or pile them on the tostada with everything else! Sprinkle with remaining cilantro and serve.
Serves: 2