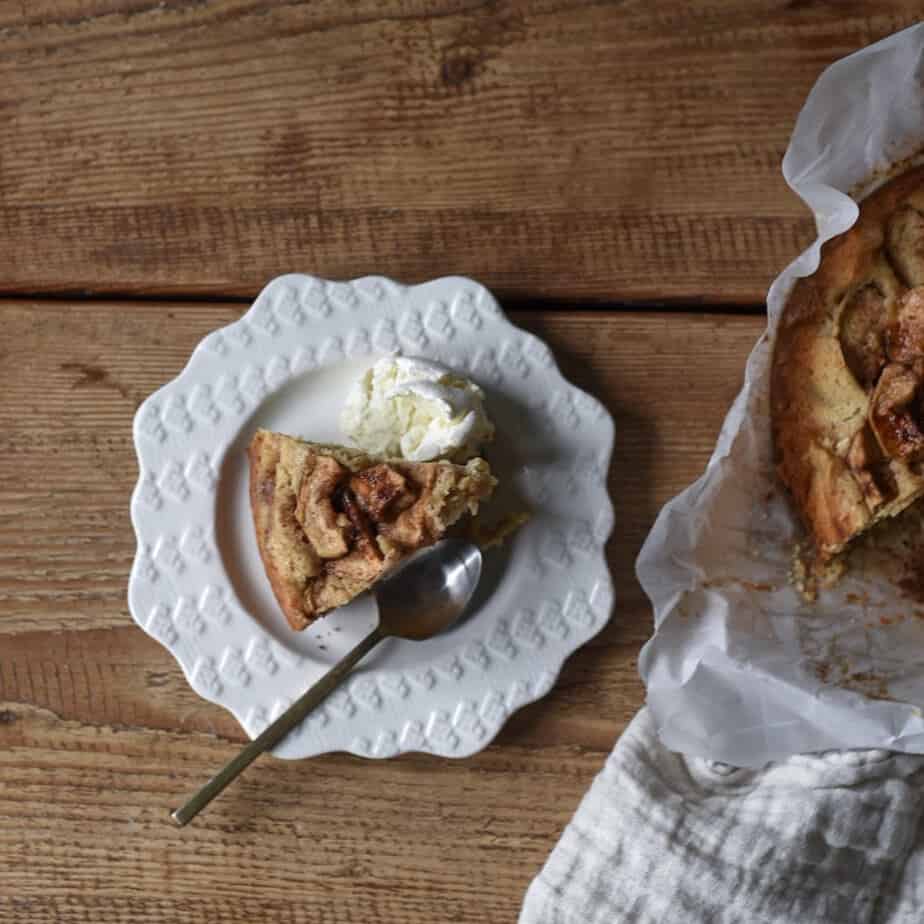 We are on the verge of starting a new year and I've realized that of all things I have made and shared here, apple cake is perhaps the most important. There was this Southern apple cake. And these apple cider cakes. And this apple and honey cake I made for one of our very earliest Pairings Boxes (a recipe I snagged/adapted from my mom). Her cake was eggy, not buttery. This cake is the opposite. Not eggy, buttery. Moist. A word one of my best friends despises but one that is perfectly apropos here.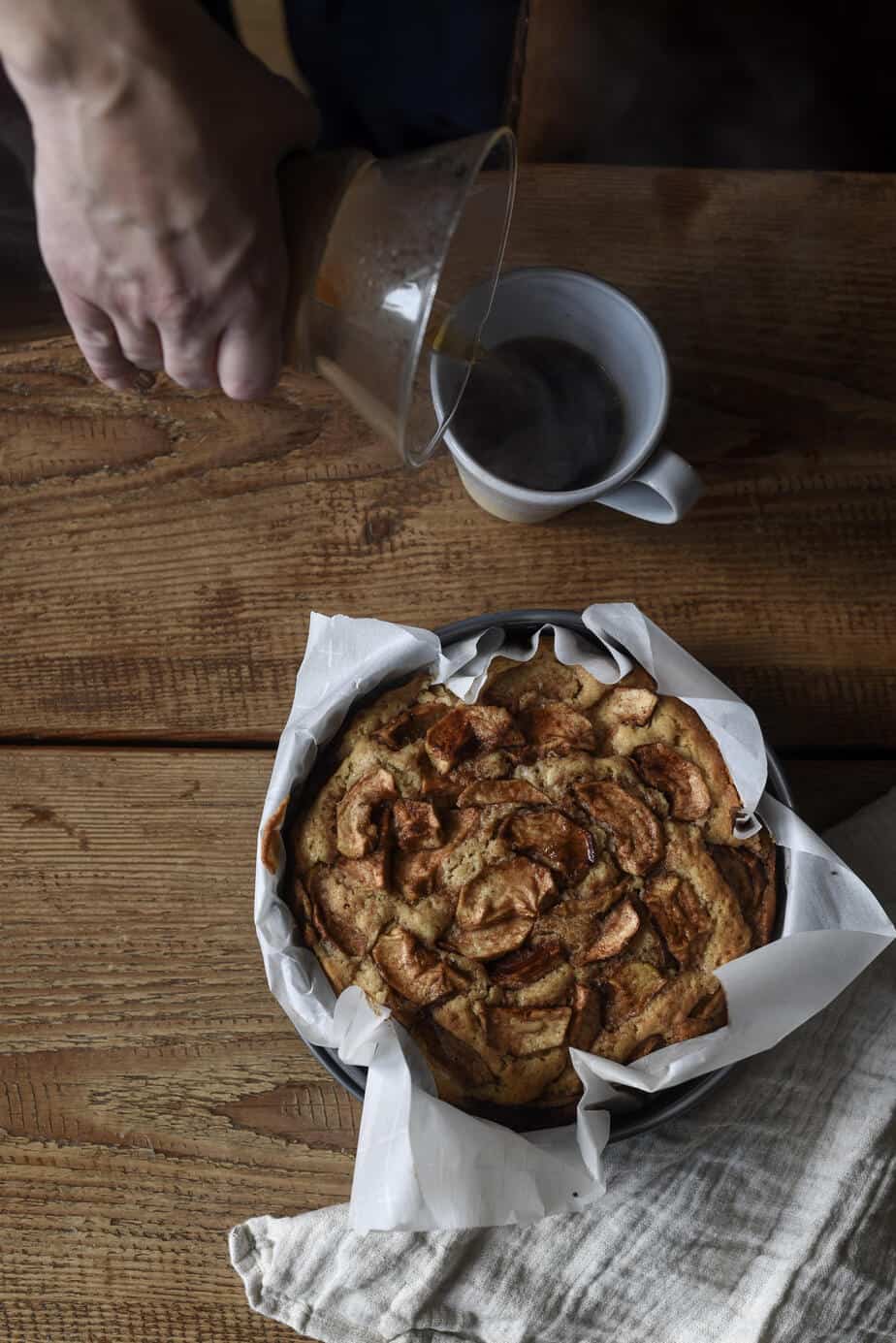 Apple cake feels like the end and the beginning. It's the sort of thing that you can devour straight from the oven, warm and topped with a scoop of ice cream. But it's also equally delicious after it's sat in a tupperware for a few days. The discovery of leftover cake on a Tuesday afternoon is something special, right?
Sometimes I feel like I've gotten rusty at this this. Old school blogging. I feel like there's more intimate, honest sharing happening over on Instagram, but call me old fashioned. I still love blogging. Frankly, my cooking these days looks a lot less impressive than it used to. There's a lot of rice. A LOT OF RICE. And a lot of beans. Also, a lot of chicken noodle soup. But occasionally, there are gnocchi. And homemade pasta. And cookies. Always cookies. And cake!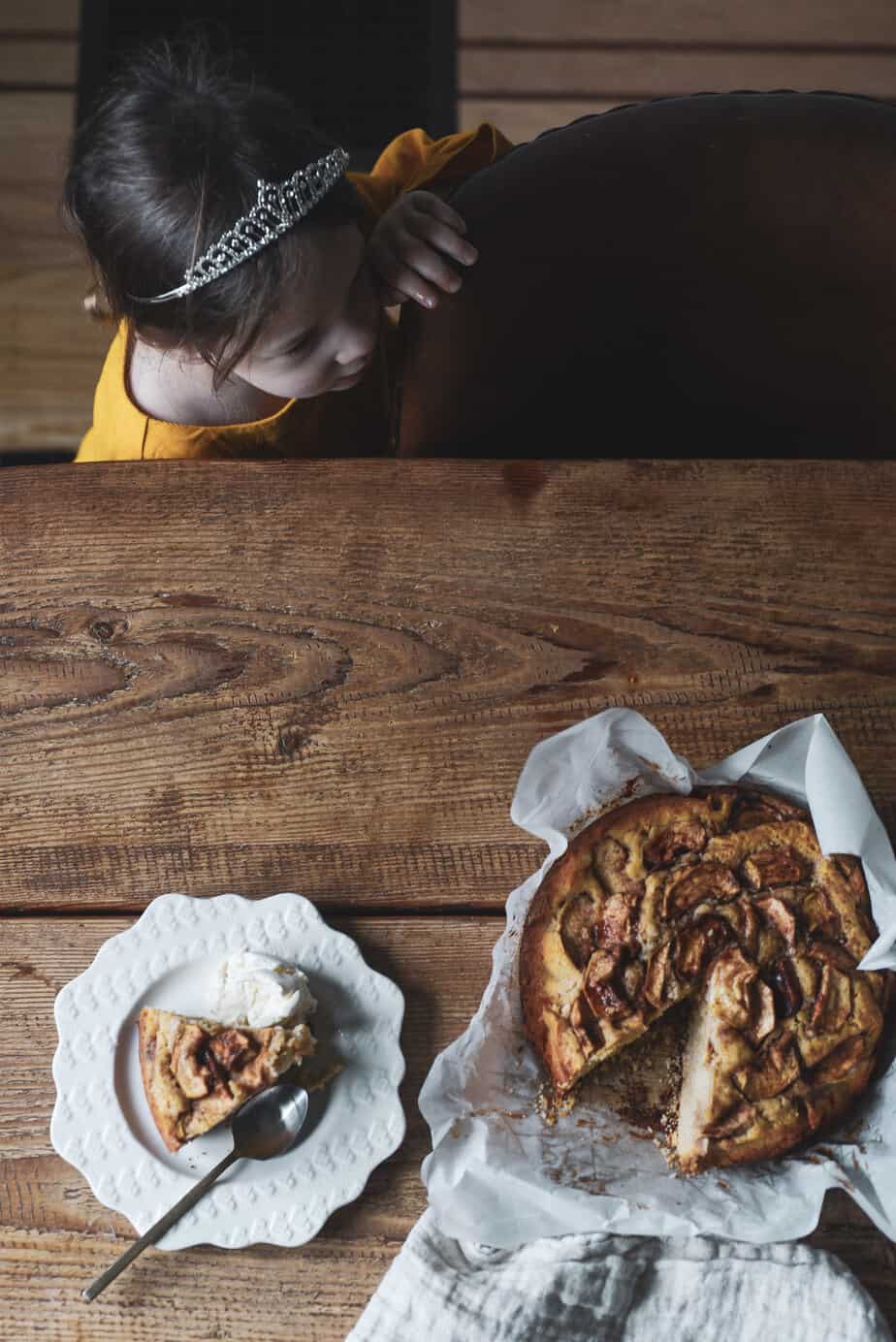 Let's get back to the cake. I'm more than enamored with Yotam Ottolenghi's latest cookbook, Simple. I have made this rice noodle salad and red lentil and coconut soup FIVE TIMES in the last two months. I made a batch of soup for 3 different friends who had recently had babies, and obviously tripled the recipe for us, too. Our kids might pick out the bits of diced tomatoes, but they gobble up those lentils and that coconut curry broth. Our family rule is "you try things once." We never have to ask when it comes to dessert, though. We all have a sweet tooth.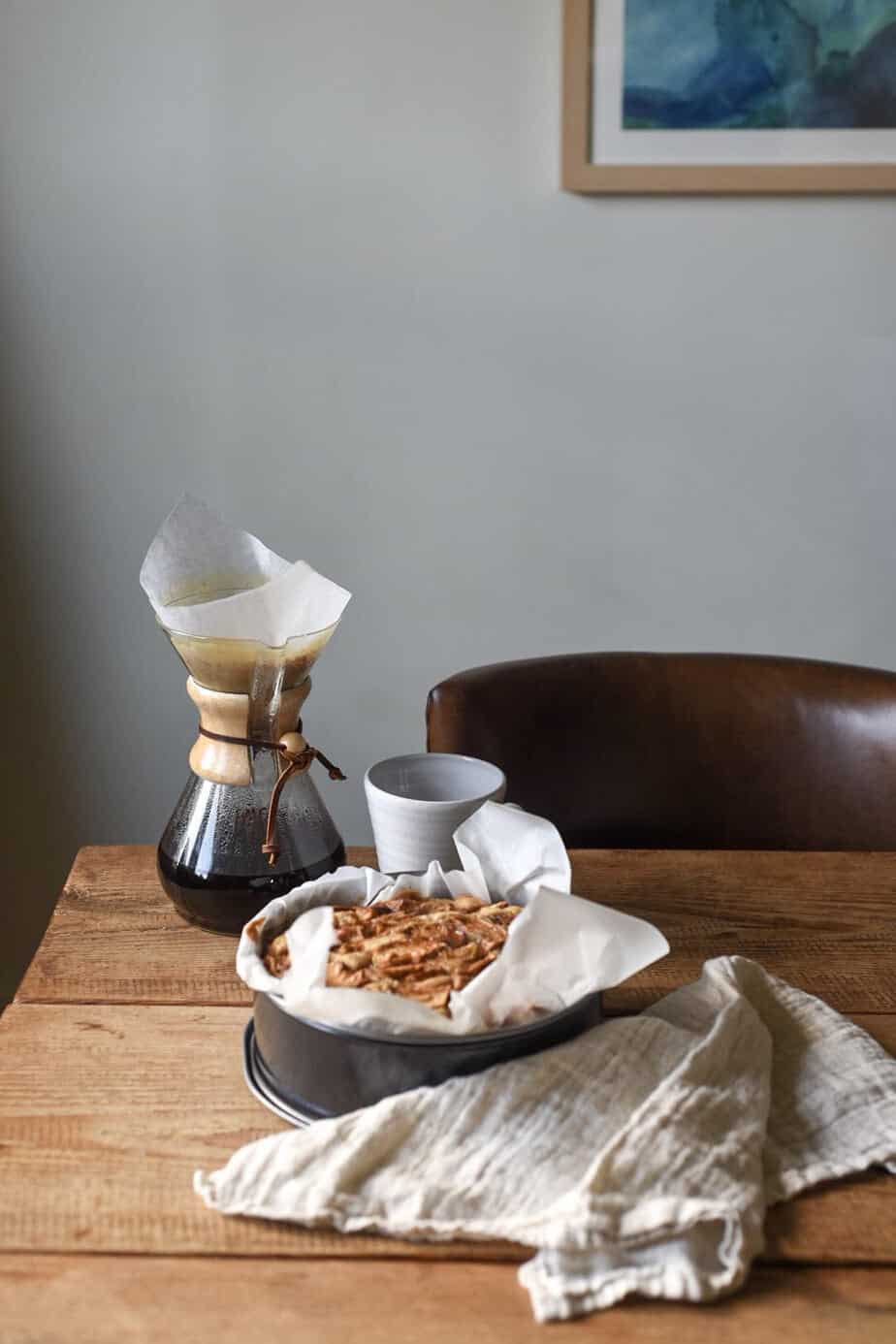 The apple cake in his book is called, simply, "Spiced Apple Cake."
Funny how so many delicious things hide behind humble names. The first time I made the recipe, I immediately swapped in some almond flour. The second time I made it, I stuck closer to the original recipe. The third time, I decided to go buck wild with adaptations and the end result, I must say, is pretty darn good. It was healthier ( ish).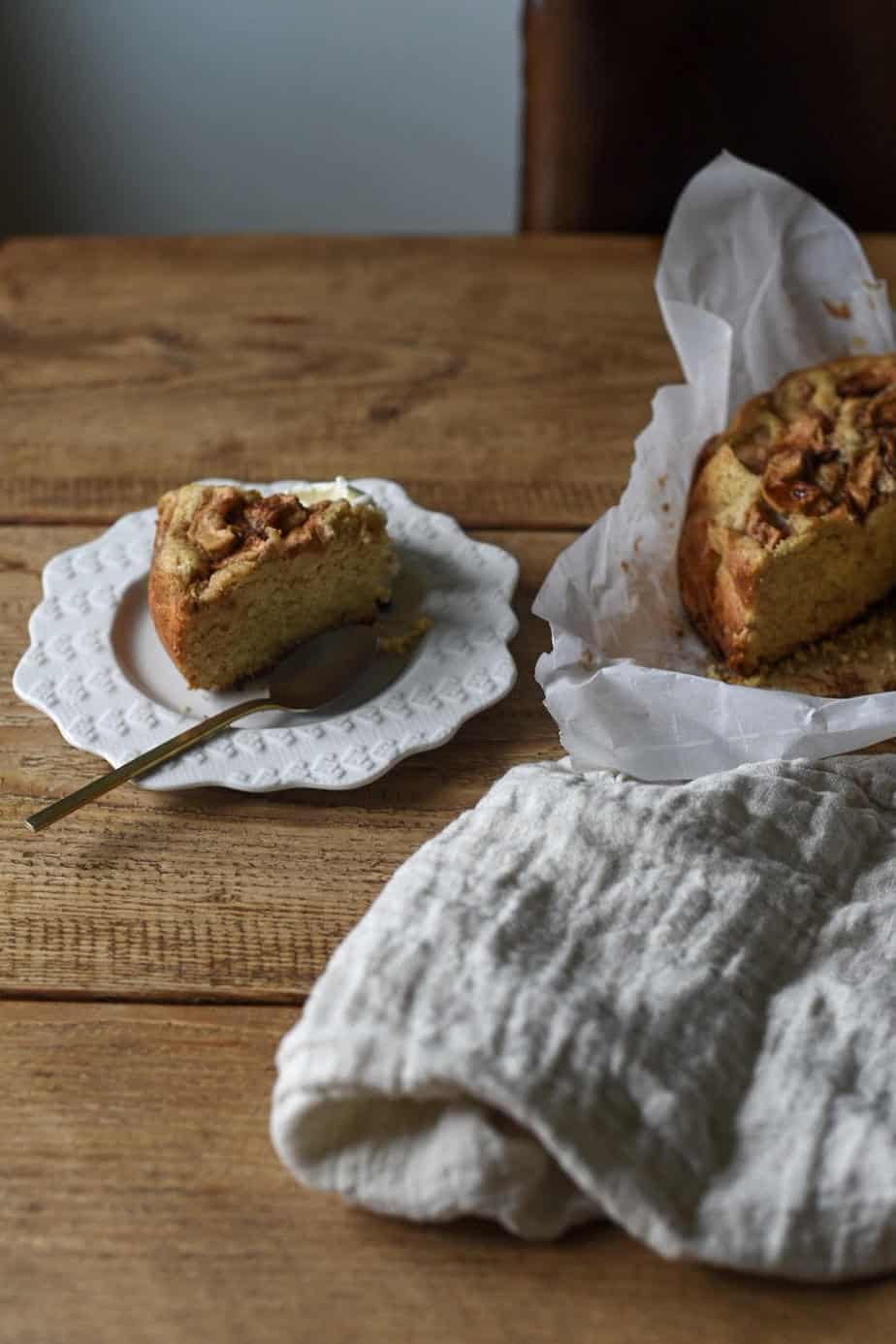 I think it earns the title of the title Apple Cake Number 4.
Apple Cake
adapted generously from Ottolenghi Simple
1 cup of unsalted butter at room temperature, cut into cubes
3/4 cup of sugar
3 large eggs, whisked with a fork
2 teaspoons of real vanilla extract
2 cups + 2 tablespoons of whole wheat pastry flour
1 tablespoon of baking powder
1/4 teaspoon of kosher salt
3/4 cup of whole milk Greek yogurt
For the apple topping:
4 small Granny Smith apples, peeled, cored, and sliced into thin wedges
2/3 cup of brown sugar
1 teaspoon of all spice*
vanilla bean ice cream, for serving
1. Preheat your oven to 350 degrees F. Butter a 9 inch round cake pan with a removable bottom and line it with parchment paper.
2. Add the butter and sugar to the bowl of a stand mixer fitted with a paddle attachment. Beat until light and fluffy.
3. Scrape down the sides of the bowl. Add the eggs and vanilla, whisking until they're incorporated.
4. Sift the flour, baking powder, and salt. Add 1/3 of the the dried mixture to the bowl. Beat until incorporated. Add 1/3 of the yogurt. Beat until incorporated. Continue adding the dried mixture and yogurt, alternating, until your batter is just mixed.
5. Combine the apple slices with the sugar and all spice in a medium bowl. Toss to coat the apples.
6. Pour the batter into the cake pan, flattening the top. Arrange the apple slices on top.
7. Transfer the pan to the oven and bake for about 65 minutes, or until the top looks golden brown and firm.
8. Remove from the oven and let rest for about 30 minutes before removing from the pan.
9. Serve the cake warm, with a scoop of vanilla bean ice cream.
*This happens to be this month's Premium Ingredient featured in our Pairings Box 😉 You'll have some extra…use it to make this cake!