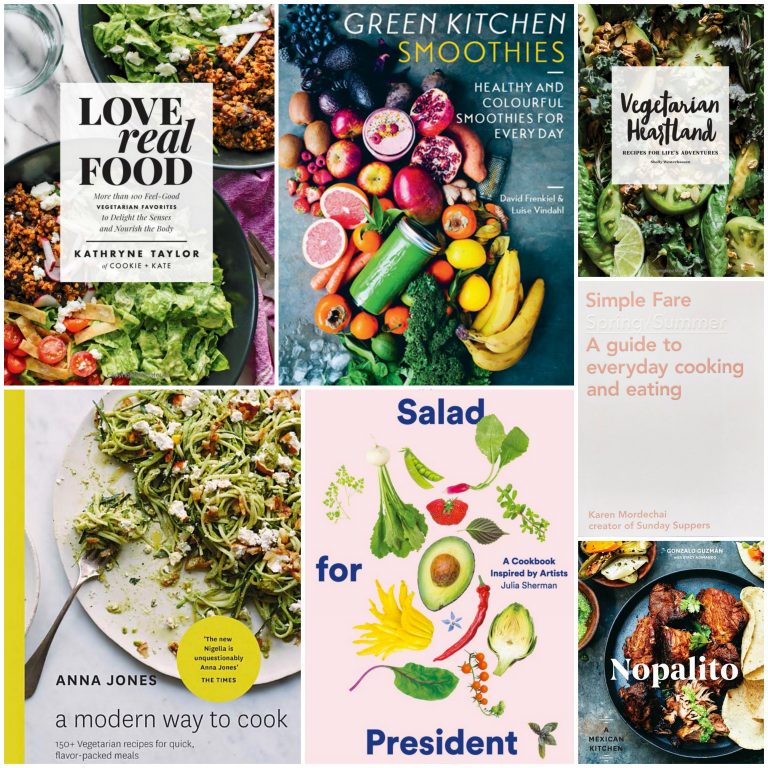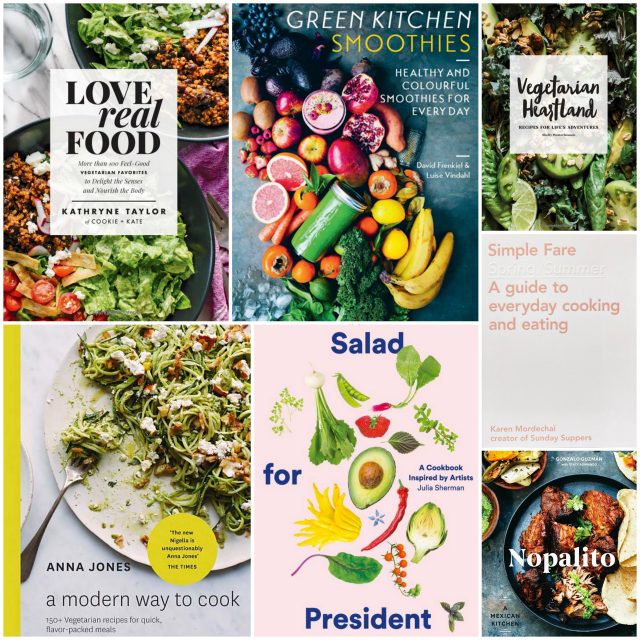 Summertime and the living's easy… I love cookbooks any time of year, but in the summer, I find myself devouring them every chance I get. One of the things I enjoy most about cooking in the summer is how colorful our meals are. I also find that in the summer, I tend to look to cookbooks for inspiration vs. step-by-step instructions. There is so much produce right now, and each year, I tend to discover new ingredients and techniques that remind me just how much I enjoy filling my home with cookbooks.
Here are a few I can't stop flipping through:
Love Real Food
I shared Kathryne's Vegan German Chocolate Cake but it's just one of the many things I've cooked from it this summer. Her salad dressings are on regular rotation. I think one of the things that Kathryne does so well is ensure that her recipes are fail-proof, and really appeal to all types of eaters.
Green Kitchen Smoothies
I've been a follower of Green Kitchen Stories for years. And now that David and Luise have 3 kids of their own, I feel an extra special connection with their family. Although they post recipes that are primarily vegetarian, I've been blown away by their creativity and the boldness of their flavors. I'm new to the smoothie making craze, but I'm starting to really get into smoothie bowls. My favorite recipe from this book (which I have yet to share!) is a green kiwi smoothie.
A Modern Way to Cook
I included Anna Jones' cookbook in a previous cookbook roundup and didn't intend to talk about it again so soon. But I think that just goes to show that this is a book I turn to often. I love how it's organized by time spent, and offers loads of manageable weeknight meal ideas. Anna also offers endless variations, which I appreciate.
Salad for President
I've only just begun to read Julia Sherman's book (based on her popular blog) but already, I'm getting immense inspiration from it. Cucumbers + tahini? A sardine salade niçoise ? Sign me up. This is as much an art book as it is a cookbook. By far my favorite sentiment from this cookbook is "F*** brunch."
Nopalito
This restaurant has a special place in my heart as it was a family favorite when we were living in the Inner Sunset in San Francisco. In fact, I've drawn inspiration from meals we've had there for years (see: our Totopos recipe). Next up: carnitas and my all-time favorite chicken soup (I riffed off my memories of it for a Pairings Box collection, but excited to try the original recipe).
Simple Fare: Spring and Summer
If you aren't familiar with Karen Mordechai's Sunday Suppers, do yourself a favor and check it out. I loved Karen's first cookbook, Sunday Suppers: Recipes & Gatherings (these little apple cider cakes are a dream). This latest book is a stunning guide to seasonal cooking. The followup (Simple Fare: Fall / Winter) will be out this fall.
Vegetarian Heartland
Shelly is both a food and music person (she works for a record label!), meaning that we're basically soulmates. Her first cookbook is so inviting and beautiful; even when I'm not about to cook something from it, I like to sit down and flip through its beautiful pages, dreaming of road trips and snow days. Her rhubarb-hibiscus tea was a big hit around these parts.
What are your favorite cookbooks? Some others we are loving include Tartine Everyday, Eat This Poem (our friend Nicole's lovely collection of recipes and poetry) and Gjelina.