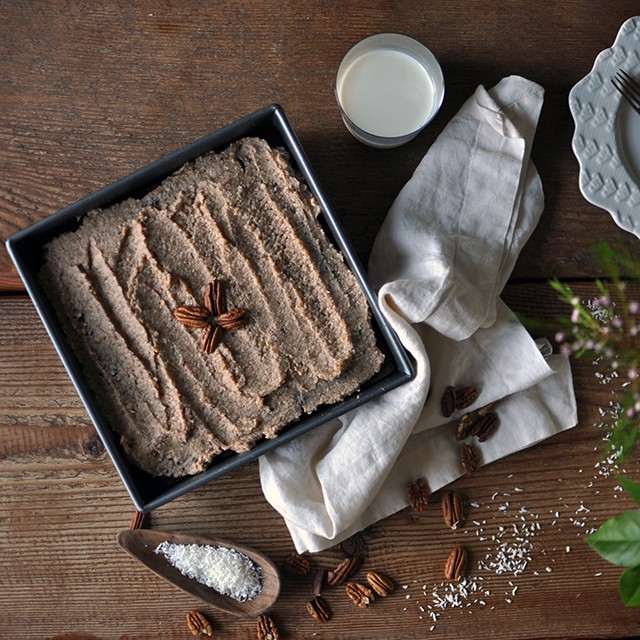 For Matt's 30th birthday, I baked him a German Chocolate Cake — his favorite, and my very first layered cake. I only had one cake pan at the time, so I had to bake one layer first, then clean my pan and bake the next. I bought shredded coconut (my first time ever, too, because until recently, I'd hated coconut). I protected that cake with my life as we transported it in a cab to the party destination.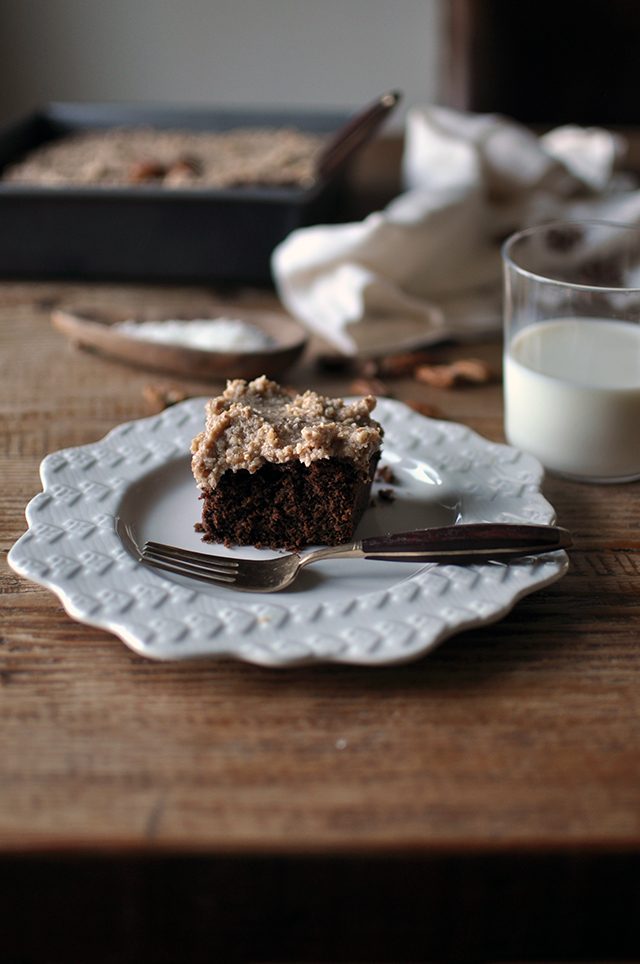 The theme of the party was "old" (har har) and everyone could interpret it however they wanted. Most people took it to mean "dress like you're from another era" while he and I interpreted it pretty literally. He wore an old tweed jacket that we found at a thrift store and parted his hair on the side, while I did my best babushka impression. It was probably the first time I had gone to a party intentionally not trying to look cute.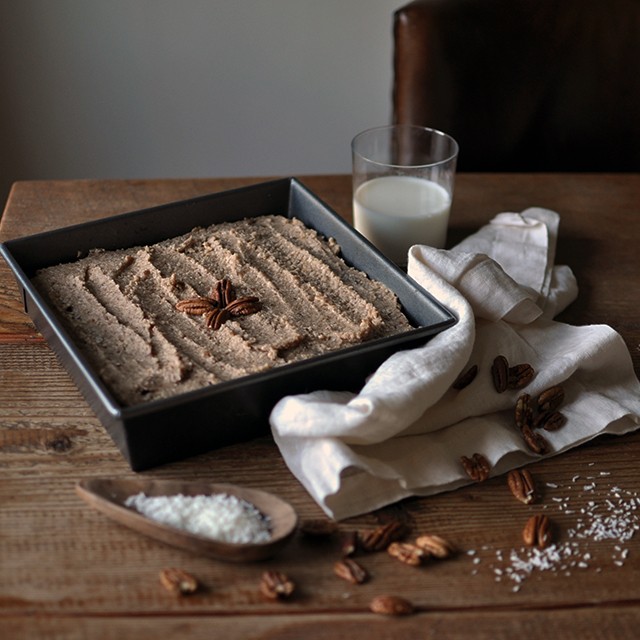 It was sweet to imagine the two of us growing old together. I hadn't baked a German Chocolate Cake since, but when our friend Kathryne's book, Love Real Food, arrived on our doorstop, and I saw a healthified version of German Chocolate Cake, a wave of nostalgia hit me.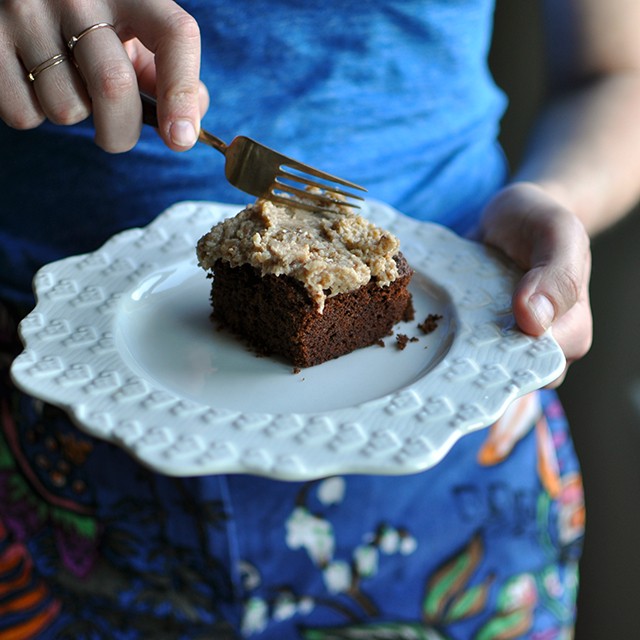 It's true what they say. Hindsight is 20/20. Those years we spent living in San Francisco weren't always blissful, but in retrospect, they were so full of love and discovery. In that tiny little brown kitchen, I made my first layered cake, and just a few years later, my second, for Neko's 1st birthday.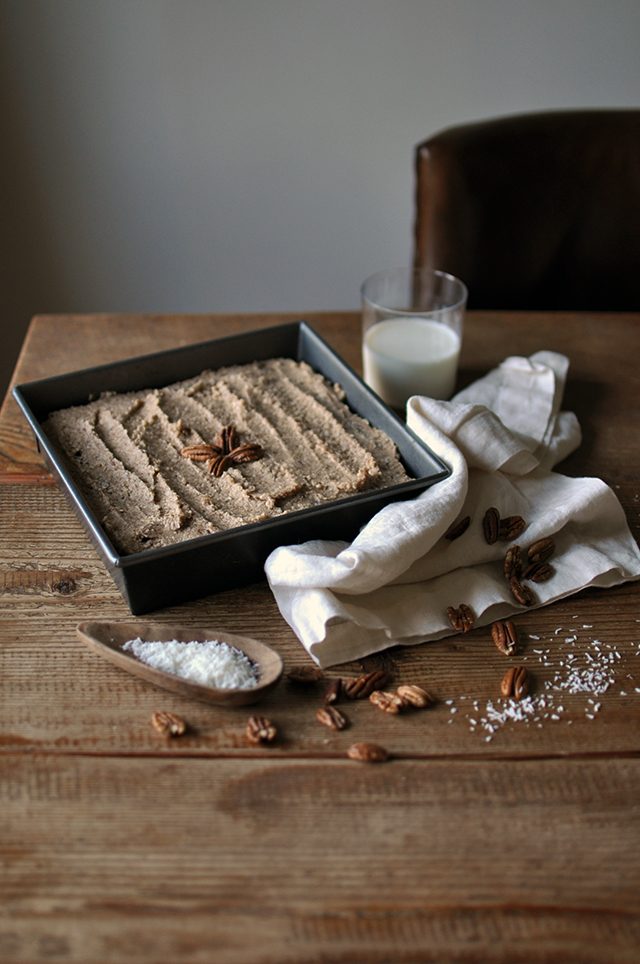 Kathryne's German Chocolate Cake is in some ways, the opposite of a classic German Chocolate Cake: it's devoid of butter, condensed milk, and eggs. But what it lacks in tradition, it makes up for in texture, flavor, and creativity. Kathryne's inventive date and pecan frosting is dynamite, and the cake itself is rich and chocolate-y and perhaps more importantly, incredibly easy to make (no layers, no mixer).
Try it for yourself, and you'll see.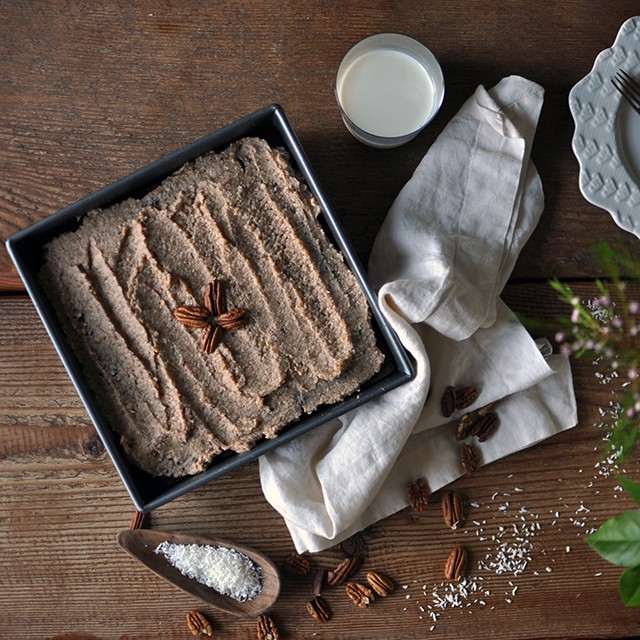 Incredible Vegan German Chocolate Cake
adapted, barely from Love Real Food
For the cake:
1 1/2 cups of whole wheat flour
1 cup of sugar
2/3 cup of cocoa powder (unsweetened)
1 teaspoon of aluminum-free baking powder
1/2 teaspoon of baking soda
1/2 teaspoon of kosher salt
1/2 cup of melted coconut oil
1 tablespoon of apple cider vinegar
2 teaspoons of real vanilla extract
1 cup of warm water
For the frosting:
12 medjool dates, pitted (about 1 cup)
1/2 cup of hot water
1 tablespoon of maple syrup
1 teaspoon of real vanilla extract
1 teaspoon of melted coconut oil
pinch of kosher salt
1/2 cup of shredded coconut (unsweetened)
1/2 cup of pecans
1. Preheat your oven to 350 degrees F and grease a 9 x 9 inch baking pan.
2. Combine the flour, sugar, cocoa powder, baking powder, baking soda, and salt in a bowl. Add in the coconut oil, vinegar, and vanilla extract, followed by the warm water. Stir with a large wooden spoon until incorporated.
3. Transfer the batter to the baking pan and bake for about 34 minutes, or until a toothpick inserted into the center comes out clean. Let rest until cooled.
4. While the cake is baking, make your frosting: cover the dates with the hot water and let sit for about 10 minutes (until soft). Drain the water then add the dates to a food processor along with the rest of the frosting ingredients (except the pecans and coconut). Pulse until smooth, stopping to scrape down the sides, as needed.
5. Add the coconut and pecans and pulse until they are both incorporated.
6. Spread the frosting over the cake evenly (make sure your cake has cooled before doing so).
7. This cake can be stored in the refrigerator for up to 5 days and is an excellent dessert to bring to a potluck or a picnic.