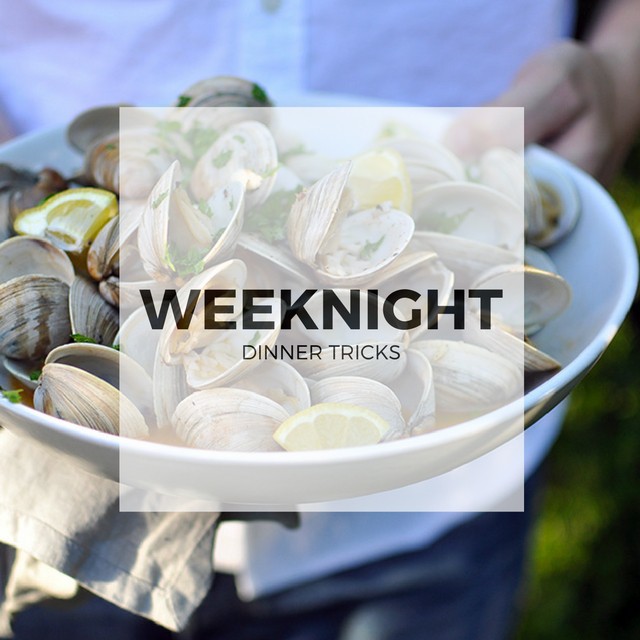 Weeknight dinners can be so stressful. Are you with me? I found them to be sorta stressful when we had one kid. When we added two more, I began to question whether I'd ever eat a home-cooked dinner (for real) again. Browsing our recipes, you might think that we make fancy-pants dinners every night of the week. HA!
The reality is that most nights, we actually eat very simple food. But we still manage to eat (pretty) healthy. Here's how:
Always have a big batch of vegetables handy. Most weeknights, I chop up a head of cauliflower, or broccoli florets, toss them with olive oil, salt, pepper, and some spices, and roast them in the oven. Leftover veggies can be used for lunch the next day, or added to salads.
Stock up on sausages in your freezer. I cannot emphasize enough just how many sausages we eat, and how much we love them. We try to stock a variety in our freezer so we can quickly make them to go with a big salad or aforementioned roasted vegetables. If you're a vegetarian, there are plenty of veggie sausages, too.
Trader Joe's pizza dough. We love pizza around these parts and when I have the time, I try to make my own dough. But when I haven't prepared, I head to my local Trader Joe's and grab some pre-made dough and shredded mozzarella. I pick up some salad fixings so that we round out our carbs with some greens.
A really good salad dressing recipe. Speaking of salads, every organized friend I have ever had swears by making a big batch of salad dressing that can last for several days. My favorite is a version of the carrot-miso dressing we created for a past Pairings Box recipe.
Chicken noodle soup. If you happen to work from home like I do, homemade chicken noodle soup is actually way more straightforward than you might fear. It requires boiling a whole chicken with some basic vegetables while you work. Then, shredding the chicken meat from the carcass, adding it back to the stock, and adding the noodles. The bigger the batch, the longer it'll last. Plus: it's a one pot meal!
Turkey chili. Another healthy, nutritious, and stick-to-your-bones sort of meal that can be made with ground turkey meat (breast or thigh), some canned beans and diced tomatoes, and a few basic vegetables. Most chilis don't take more than 30 minutes to whip up, and tend to make enough for a few meals.
Steamed mussels or clams. Ok, this one does require a trip to the grocery store, but after you've let them breathe in the sink, mussels and clams cook SO fast. Grab a bottle of white wine, baguette, and perhaps some beans you can throw into the mix and VOILA. Dinner is served. Or, throw them over some pasta.
I'm also getting to know our new pressure / slow cooker* (I made my first batch of giant beans in it last night and they were a hit).
All right, I'd love to hear: what are your weeknight dinner tricks?
*We were sent product by the company to test out. All opinions are, as always, my own.