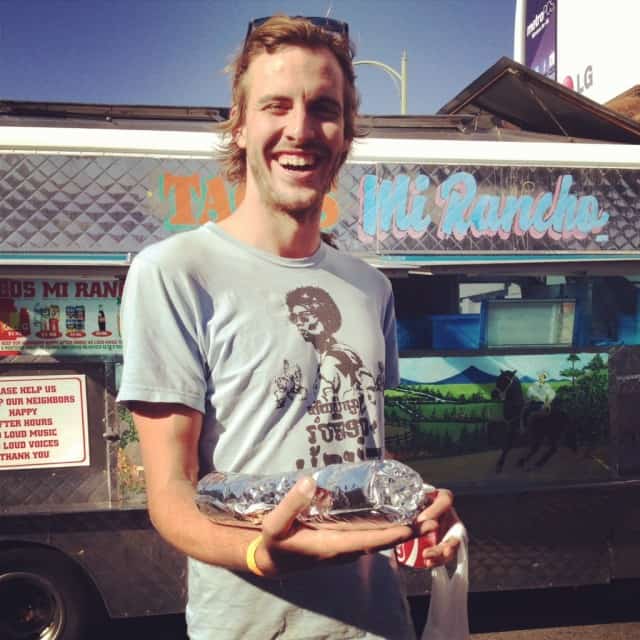 Have you ever wondered what life's like for your favorite band on tour? What do they eat before/after a gig? Where did they eat when they stopped in your town? What are they listening to in the van as they jump from gig to gig? Well, we've got your covered. Courtesy of Roll Call Records, our friends in Typhoon have graciously offered to share a journal of their food and music experiences as they embark on their tour in support of their magnificent new album White Lighter. Dubbed "Tour Pairings" we'll be sharing updates about twice a week, so stop back to read more. If you've missed them, you can catch up on Kyle's post about Denver, Devin's post about Vancouver, Jen's post about Saint Louis, and Devin's post about Columbus, Brooklyn, Philadelphia, Austin, and Los Angeles.

San Francisco / by Devin
I wanted Pieter to write this one. I mean, look at how happy he is. How can I convey all the giddy happiness held in that boy's smiling face? I'll tell you what I know. The place is Tacos Mi Rancho in Oakland. Pieter has just purchased what the menu claims is the the world's only fifteen inch burrito and he's about to eat it. He's so happy.
Also, this place rules. The tacos were exceptional.
Don't forget, you can score a copy of White Lighter on limited-edition vinyl directly from the band's website. Our limited-edition, hand-numbered single for "Dreams of Cannibalism" (which is backed with the non-album track "Rules of the Game") is now sold out. We're currently accepting orders for the October Pairings Box featuring Army Navy, so subscribe to Turntable Kitchen Pairings Box now if you don't want to miss out.