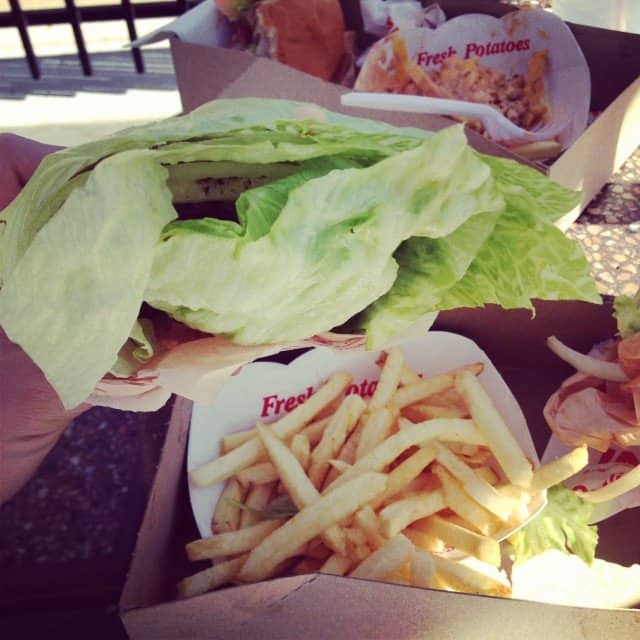 Have you ever wondered what life's like for your favorite band on tour? What do they eat before/after a gig? Where did they eat when they stopped in your town? What are they listening to in the van as they jump from gig to gig? Well, we've got your covered. Courtesy of Roll Call Records, our friends in Typhoon have graciously offered to share a journal of their food and music experiences as they embark on their tour in support of their magnificent new album White Lighter. Dubbed "Tour Pairings" we'll be sharing updates about twice a week, so stop back to read more. If you've missed them, you can catch up on Kyle's post about Denver, Devin's post about Vancouver, Jen's post about Saint Louis, and Devin's post about Columbus, Brooklyn, Philadelphia, and Austin.

LA / by Devin
I wish I didn't love In-N-Out as much as I do but I totally love In-N-Out.  If you've been there, you know what I'm talking about. If you haven't, that's a real shame. I've eaten burgers all over this dang country, even made an effort to try out all the local chains. In-N-Out is the best.
I feel like everyone knows this stuff already, but I'm a west coaster and maybe you're not. So the menu is simple: fries, burger, cheeseburger. But then there's the unlisted, "secret" menu of add ons and variations. A lot of Typhooners, they go for the Animal Style (like thousand island sauce and onions? I can't remember) but I usually go straight up. This time, though, I did my burger Protein Style, which means no bun, iceberg lettuce instead. It was surprisingly good. Good crunch.
Don't forget, you can score a copy of White Lighter on limited-edition vinyl directly from the band's website. Our limited-edition, hand-numbered single for "Dreams of Cannibalism" (which is backed with the non-album track "Rules of the Game") is now sold out. We're currently accepting orders for the October Pairings Box featuring Army Navy, so subscribe to Turntable Kitchen Pairings Box now if you don't want to miss out.