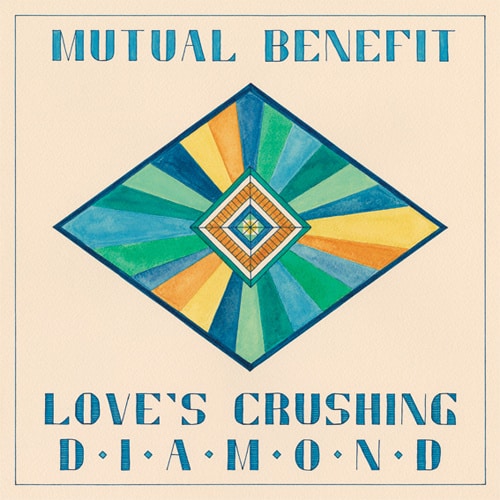 It's no exaggeration to say that Love's Crushing Diamond by Jordan Lee, who records as Mutual Benefit, may be the most beautiful record you'll hear all year. Lee's lyrics are intimate, poetic, and heart-warming; often filled with Buddhist-like musings on life and relationships: "I clear my mind of joy and sorrow / river doesn't know tomorrow / it rolls along with such simplicity." Meanwhile, the music itself, constructed partially from field recordings, is warm, deliberately paced, and comforting. In other words, the sentiments are akin to Radiohead's "Pyramid Song" while sonically it's the warmth of Youth Lagoon's The Year of Hibernation balanced with the intimate, gentle grandeur of Sufjan Steven's Seven Swans. It's highly recommended listening.
The stage-setting album opener "Strong River" imbues the record with an incredibly picturesque, almost-magical ambiance with swirling wind-chimes, trembling violin, and rumbling percussion. It vividly presents the image of Lee on a creaky wooden porch moments before the end of a gusty storm. It's immediately followed by "Golden Wake" as the wind and rain recede revealing a scene of the storm's devastation framed by a quiet, eerie calm to accompany Lee's vocals.
Again and again, Lee finds beauty in quiet introspective moments throughout the album. The album's first single, the sparkling and deliberate "Advanced Falconry," is also one of the album's loveliest moments. Swaying and softly plucked, the violin-backed melody builds with gentle purpose as Lee poetically sings what could be the album's central message, "oh to stare into the void / and see a friendly face / and find meaning in a word / in a moment of rare grace." Similarly, the feather-light ballad "That Light That's Blinding" combines bright, springy piano with a simmering, violin-anchored melody.
Although it's only tangentially related to the this review, I really like the advice Jordan provided for new bands in an interview with BDCwire so I'm going to share it: "Start small, talk to everyone, and don't be an asshole. Buy groceries instead of eating out every day, keep a journal, don't have expectations. Be grateful to what is given to you, try to wake up early and do something special in each town, read parking signs very carefully in [New York City], believe in karma, and hydrate." Although it's directed at new bands, it's really great advice for pretty much anyone.
Love's Crushing Diamond pairs wonderfully with Kasey's recipe for Belgian Beer-Steamed Mussels. Rustic, woozy and comforting, the album accentuates the recipe's profile. And both will leave you comforted and warm. Together they'll make for a lovely meal.
You can buy Love's Crushing Diamond from Bandcamp. Then head to the Kitchen to read Kasey's recipe for Belgian Beer-Steamed Mussels.