I never was a Girl Scout, but I sure loved those Thin Mints. Being a family of immigrants, we never quite got into the whole Girl Scout thing, but a lot of the girls in my classes growing up were involved in the organization, and I always remember the buzz and excitement around cookie-selling time (which seemed to be ALL the time). Everyone's dad would bring them to their offices, moms would help man the tables and girls went door to door with their Samoas, Tagalongs and Thin Mints. They were $3 a pop back them and a box would hardly last a few days. I'm convinced if I was a Girl Scout, I couldn't have been trusted with boxes upon boxes of cookies in my bedroom.
No one in my family ever understood peanut butter, so we always bought the Thin Mints. Frankly, the only people who really enjoyed them were me and my mom (my dad and grandpa never got the peppermint thing). Thin Mints felt luxurious; they were minty-flavored wafers dipped in a layer of chocolate. To me, they were the redefinition of the peppermint patty and the after dinner mint. I loved Thin Mints so much, I could pop 4 or 5 of them in my mouth at a time (come on, they were small!). But Thin Mints came and went for me. By the time I hit college, I hardly ever saw Girl Scouts, and the excitement of buying a box just wasn't the same. Instead of feeling like I was supporting friends and classmates and buying a box of cookies I really wanted, I felt like I was being hassled by 40 year old women outside of the grocery store while their daughters meekly stood in the background. It felt unnatural.
I suppose there is such a thing as missing something without really knowing it because, while I never thought I missed Thin Mints, I realized I did when I came across this post on the Tastespotting blog and was practically hypnotized into making them. I love to bake around the holidays and surprise my friends, family and office mates with little goody bags and I thought: why not bring back a little nostalgia while I'm at it? Even if Thin Mints weren't your favorite Girl Scout cookie, inevitably, it would bring you back to your childhood, or perhaps your children's childhoods. And here's the kicker: sure, Thin Mints may not have been your favorite, but after you try a HOMEMADE Thin Mint, you may change your mind. Use the best quality chocolate you can find/afford for dipping and a high-quality cocoa powder and you end up with not just nostalgia, but an extremely delicious and rich cookie that you may only be able to eat one or two at a time. My Thin Mints were dipped in a rich, dark, Callebaut chocolate. I used Scharffen Berger cocoa powder and Nielsen-Massey extract for the cookies.
If you're in the business of baking a lot of cookies at a time during the holidays, check out a few other recipes from the archives that can complement your Thin Mints:
Sparkling Ginger Chewies
Gingerbread Men with Lemon Icing
Tartine's Chocolate-Oatmeal Walnut Cookies
Alfajores
Buttermilk Cookies with Lemon Zest
Lastly, I wanted to announce the winner of the Sunchower's Emporia Jams giveaway. Congrats, Denise (Chocolate Raspberry without a doubt. Because Wendy is marvelous like that!)! Email me your mailing address so that we can get a crate of jams on their way to you! Thank you to everyone else who told me about their favorite jams–many of which are on my list of favorites (or on my list to try!).
Homemade Thin Mints
adapted from Tastespotting, the blog
1 1/2  cups of all-purpose flour
1/2 cup of unsweetened cocoa powder
1 1/4 cups of sugar
1/2 teaspoon of baking powder
1/4 teaspoon of baking soda
pinch of salt
1 1/2 sticks of unsalted butter, cold and cut into 1/2 inch cubes
2 egg yolks
1 1/2 teaspoons of peppermint abstract
1/2 teaspoon of pure vanilla extract
roughly 2 – 2 1/2 pounds of bittersweet chocolate, roughly chopped
Note: if you do not have a large food processor, you can mix the ingredients in the bowl of a stand mixer, beating them over low – medium speed until they form a dough. Alternatively, if you have a small food processor, I would recommend halving the recipe and making two separate batches.
1. Combine the flour, cocoa powder, baking soda, powder, sugar and salt in a food processor and pulse until mixed. Add the butter, pulsing to incorporate.
2. Add the egg yolks, peppermint and vanilla extracts and pulse until the mixture forms a dough and pulls away from the sides.
2. Roll the dough into a 2-inch log and wrap it tightly in plastic wrap. Refrigerate for a minimum of two hours before working with it.
3. Place your oven racks in the middle and lower third of the oven and then preheat your oven to 350 degrees F. Line two baking sheets with parchment paper or Silpats.
4. Place the chilled dough on a large cutting board and slice it into 1/4 inch – 1/2 inch slices (the thinner the cookie, the crisper it will be) and place the circles 1/2 inch apart on the prepared baking sheets.
5. Bake for 10 minutes, then move the baking sheets from top to bottom and rotate them so that the cookies bake evenly. Bake for another 3-4 minutes. Remove the sheets from the oven and let cool completely before removing them from the baking sheets.
6. Melt the chocolate in a medium, heatproof bowl (I boil about a cup of water in a small pot and place my bowl filled with chocolate over it, stirring until the chocolate is fully melted). Line the backs of two baking sheets with parchment paper.
7. Dip each cookie in the melted chocolate, then place on the parchment paper to harden.
8. Allow the cookies to harden for about an hour before eating. Store in a tightly-sealed container in the refrigerator.
Musical Pairings: The Radio Dept. – Clinging to a Scheme + Homemade Thin Mints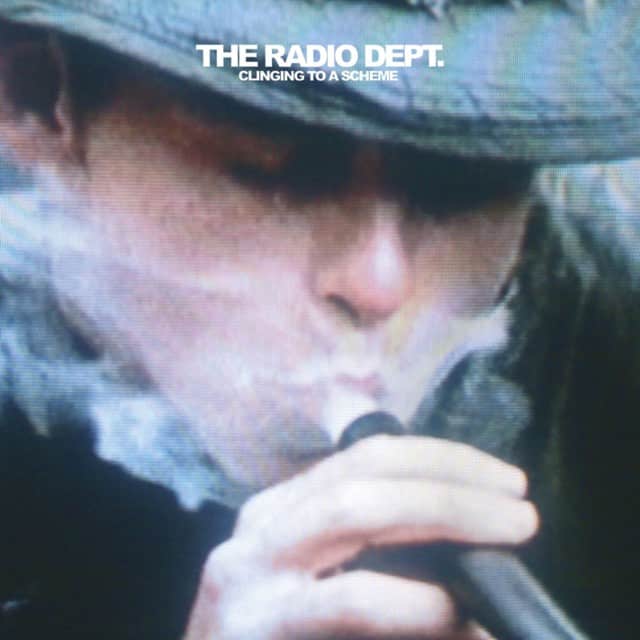 Head to the Turntable for today's Pairing: The Radio Dept. – Clinging to a Scheme.