This is my last week of work before the wedding. I'm not getting married quite yet, but I am going to enjoy a week of catching up with friends, tying up loose ends, and relaxing. A co-worker asked me today if I'd have a hard time 'letting go.' I didn't hesitate to reply: 'absolutely not! I'm letting go as soon as possible.' Don't get me wrong–I love my coworkers, and my office, but tapping out to get married, and being able to travel for two weeks is why people work, right? I've got my Hepatitis A shot, my bug spray, sunscreen, and a sassy pair of boots that I can't wait to buy some friends for in Argentina. Ready much?
In the meantime, I still make time for baking. Not only because it keeps me sane, but because it keeps my stomach happy. And nourished. Inspired by a dessert at Maverick that consisted of fresh-baked cookies and milk, I thought I'd whip up my own batch. I've been eyeing these cookies in my new Tartine cookbook, and unlike some of the other recipes in the book, these sounded simple and I was intrigued by the addition of molasses to what otherwise looked like relatively traditional chocolate chip-like cookies.
I halved the recipe, and also baked my cookies a little differently–rather than smooshing them down, I let them bake nice and round, which kept them puffy and chewy. I also formed balls of dough with my cookie scoop and froze half of the batter so that I could whip up fresh-out-the-oven cookies at the drop of a hat. This trick worked well and impressed my dad this weekend. At 350 degrees F, the cookies baked for roughly 20-25 minutes when they came straight from the freezer. They didn't stay chewy quite as long as the ones I'd made the day of, but who really cares? The idea is to eat them warm.
If you don't freeze the dough, though, these cookies can actually keep for a week or two, no problem. They're also, of course, fantastic with a glass, or a shot of cold milk.
Tartine's Chocolate-Oatmeal-Walnut Cookies
*recipe adapted from Tartine Cookbook
6 ounces of bittersweet chocolate (chopped roughly)
1 cup of white whole wheat flour
1/2 teaspoon of baking powder
1/2 teaspoon of baking soda
1 cup of rolled oats
1/2 cup of butter, at room temperature
3/4 cup of sugar plus 2 tablespoons
2 tablespoons of blackstrap molasses
1 egg
1 tablespoon of milk
1/2 tablespoon of vanilla extract
1/2 teaspoon of salt
1/2 cup of walnuts, chopped roughly
1. Preheat the oven to 350 degrees F and line a baking sheet with a Silpat, or parchment paper.
2. Chill the chopped chocolate in the freezer until using.
3. In a medium bowl, combine the flour, baking powder and soda and oats.
4. In a large bowl, beat the butter until it is creamy. Add the sugar, beating until the mixture is light and fluffy.
5. Beat in the molasses, then beat in the egg. Beat in the milk, salt and vanilla.
6. Pour the flour mixture into the wet mixture, beating on low speed until everything is incorporated. Stir in the chocolate and walnuts with a silicone spatula.
7. Use a cookie scoop to form uniform balls of dough, about 1- 1.5 inches apart.
8. Bake the cookies for about 12 minutes, until the edges are a nice golden brown. The tops will firm up as they cool.
Musical Pairings: Musical Pairings: Boards of Canada – Music Has a Right to Children + Chocolate-Oatmeal Walnut Cookies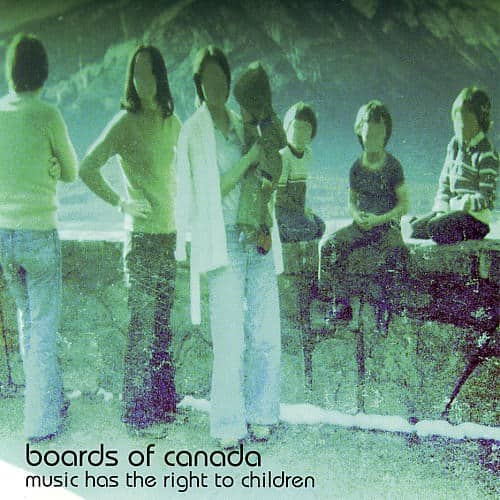 Kasey has done it again. She has made another irresistible batch of yummy cookies for me. And I mean it when I say these cookies are… er, were irresistible. This recipe is one she borrowed from Tartine bakery in the Mission: chocolate-oatmeal-walnut cookies. And these cookies are delicious. They are warm, flavorful and comforting. Better still, these are milk dunkin' cookies – the type of cookies that inspire a certain sense of nostalgia. So this recipe calls for a warm, comforting album that brings about a sense of reminiscence. And no album encompasses warmth, comfort and wistfulness better than Boards of Canada's Music Has The Right To Children. Want more? Head over to Musical Pairings' home. –Matthew