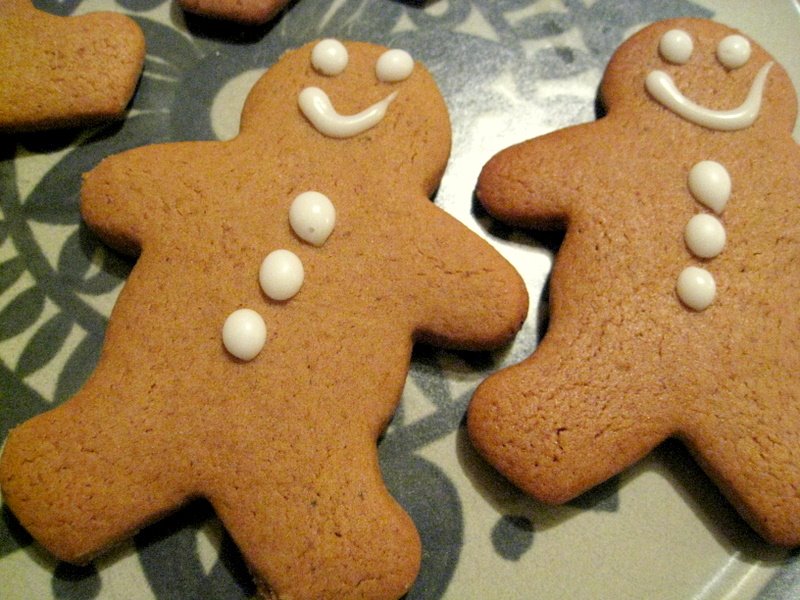 Hello there. I hope you had a lovely holiday. I sure did. I'm still in Ohio, where it is currently sixty some degrees. No snow. Some wind. Pretty unimaginable for the middle of December, but I guess I can't complain. We've been getting in plenty of family time in with Matt's family, but also doing some exploring (I crossed the state line to have dinner in Kentucky last night!).
I know it's not Christmas anymore, but I believe that doesn't mean you can't eat gingerbread. Before I left, I whipped up some gingerbread men for some friends, which I iced and packaged in cute little snowman-covered goody bags. I love all kinds of spiced baked goods, but I have a particularly fond spot for gingerbread. I finally bought a little cookie cutter, armed myself with some molasses and undertook these. The trick to these gingerbread men is to refrigerate the dough. Don't think you can shortcut it by freezing the dough for half an hour (that's what I did. Needless to say, I found myself running back and forth between the couch and the freezer, beginning to unroll the dough only to find it sticking to my board).
The icing is really out of the park. It's lemon-flavored, which gives the cookie a really nice finish. I thought about leaving these uniced, but really, the icing makes this cookie what it is (not only in taste, but in looks). Bake these cookies according to how soft of crunchy you want them, but be careful not to burn them, because burnt gingerbread men are just not that great.

Gingerbread Men
*c/o Baking Bites
For the cookies
2 1/2 cups of flour
1/2 tsp. of baking soda
3/4 tsp. of salt
1 tsp. of ground ginger
1/2 tsp. of ground cinnamon
1/4 tsp. of ground cloves
1/4 tsp. of ground nutmeg
pinch ground black pepper
1/2 cup of butter, at room temperature
1/2 cup of sugar
1/2 cup of molasses
1/4 cup of water (or coffee, if you want)
1 tsp. of vanilla extract
For the lemon icing
2 cups of powdered sugar
2-3 tbsp. of fresh squeezed lemon juice
1. In a bowl, mix the flour, salt, baking soda, nutmeg, ginger, cloves and cinnamon.
2. In a separate bowl, cream the butter and sugar using a hand blender. Beat in the water, vanilla and molasses.
3. Add the dry mixture in batches until fully incorporated.
4. Divide the dough into 2 balls, cover and refrigerate for roughly 2 hours (until the dough is firm).
5. Once you're ready to bake, preheat the oven to 375 degrees F.
6. Roll out your dough on a lightly floured surface to about 1/4 inch thickness and cut out shapes with cookie cutters. Place the men on parchment paper-lined baking sheets and bake each sheet for about 10 minutes (depending on how crispy or soft you like your cookies). Cool the cookies.
7. Make your icing: in a small bowl, combine the powdered sugar and lemon juice and mix until smooth.
8. Once the cookies are cooled, transfer icing into a Ziploc bag and cut a tiny hole in a corner. Ice the cookies and make sure to leave them out for at least 45 minutes, to allow the icing to harden.