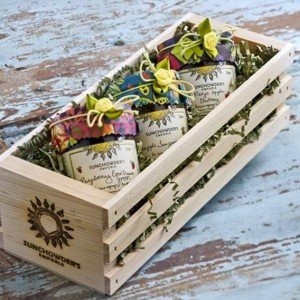 The Internet is a funny place. The other day, Matt and I had some friends over to our house  for a little pre-holiday celebration. Among friends, we had a handful of 'Internet' friends — folks we've met through our blogs and even Twitter. These 'Internet' friends no longer bear that title. These days, they're just 'friends.'
We first started chatting about our shared interests – food and music –and then realized that, in some cases, we already had real-life friends in common. Our initial face-to-face contact felt pretty natural because we felt like we already knew each other. That's the great thing about keeping a blog–you let people into your journal and guess what? You can get to know someone pretty well through their journal.
A similar thing happened with Wendy, the woman behind Sunchowder's Emporia Handmade Jams. Except I've never met Wendy. I met her through Emily Olson, the co-founder of Foodzie, who kindly connected us ahead of my and Matt's wedding. For our favors, I wanted to create something special, and I really wanted to support a small vendor. Before committing to 120 jam jars, we tasted a selection of Sunchowder's Emporia Jams and were blown away. The flavors and textures were spot on. From simple (her strawberry jam is out of this world) to more unique (zucchini ginger and black forest, a luxurious chocolate and berry concoction), these jams are some of the best I've ever tasted.
Since our September 2009 wedding, Wendy and I have stayed in touch –via email and social media. Despite the fact that I have never met her in person, I feel like I know her. She's so passionate about what she does and she produces some truly phenomenal food products that deserve attention. Luckily, even though I live in California and she's in Florida, I'm still able to enjoy the products that she sells at her local farmer's market. The beauty of the internet.
So today, I'm not sharing a recipe, but I'm giving you a chance to win a crate of jams from Sunchowder's Emporia. Because it's almost Christmas and we'll soon be celebrating TK's one month anniversary.
So tell me, what's your favorite flavor of jam? I'll pick a name out of a hat and announce a winner on Monday!