First and foremost, let's get down to business and announce the winner of Tyler Florence's Family Meal. Thank you to all of the folks who shared their delicious and inspired egg dishes! I'm looking forward to this weekend's breakfast already. A random draw of names determined George A. the lucky winner.
Congrats, George! Please email me your address so that we can get the book over to you.
Now, onto cookies. To be completely frank, I have never loved shortbread. It has always seemed to me the boring choice at the bakery –something I associate with lemon bars and old ladies. Not that I don't love lemon bars (or old ladies, for that matter) but both tend to be a little old-fashioned when it comes to sweets. Over the years, as bakeries started experimenting with all sorts of weird stuff like bacon fat and sea salt, shortbread seemed to become a fashionable item, too. Loaded with crushed nuts or even flavored with cocoa, shortbread was making a comeback. But I wasn't ready to fall into its buttery, crumbly trap – yet.
And then came lavender. I purchased a huge bundle of it at the Ferry Building Farmer's Market and felt that I had to start using it for everything. I made lavender almonds. I stuffed chicken with lavender. I even vacuumed with lavender. I stuck it in vases around my house. I pinched off the little leaves and collected them in a jar that I placed in my pantry. I'm not the kind who likes to waste (just ask Matt, who never gets away with not eating leftovers). And then a potluck was upon me and I thought: it's time to give shortbread a chance.
The dough for this shortbread seemed to never come together for me, but I quickly realized that that didn't actually matter. As long as the ingredients were well mixed, shaping the mass into a flat disk in a pan almost felt like playing with play-dough. So long as the dough came together in the pan, it baked into a beautiful, golden, buttery, crumbly, fragrant sheet of shortbread that was easily sliced. the lavender, which might sound like it could potentially be overwhelming, was actually a welcome addition that gave the cookies a mysterious aroma that was delicate enough to be secretive. Now that I've tried this shortbread, I'm beginning to realize…those old ladies know a lot more than I do. About sweets. And everything else. So I shall now only pay closer attention to what they're ordering at the bakery.
Lavender-Sea Salt Shortbread
adapted from Evil Shenanagans
2 1/2 cups of all-purpose flour
2 tablespoons of cornstarch
1/3 cup of sugar
3/4 cup of unsalted butter, very cold and diced
1 teaspoon of kosher salt
3 tablespoons of honey
1/2 teaspoon of vanilla extract
1 teaspoon of dried lavender
flaky sea salt
1. Preheat your oven to 350 degrees F. Grease an 8 x 8 inch baking pan and line it with a piece of parchment paper, allowing it to hang over opposing sides of the pan.
2. Combine all of the ingredients, save the flaky sea salt, in the bowl of a stand mixer. Blend on low speed, until well incorporated (the dough will be crumbly and won't come together in a smooth ball). Knead it gently with your hands to combine. Don't worry if it is still crumbly, so long as the ingredients are well-mixed.
3. Press the dough down into the prepared pan, filling in any holes with crumbs that may have fallen off. Flatten the dough evenly in the pan, making sure it fills the pan to the edges. Prick just the top of the dough evenly with a fork.
4. Bake the shortbread for about 30 – 40 minutes, until the top is golden brown and the center is firm.
5. Cool for a few minutes before sprinkling with the flaky sea salt. Then cool for another 30 minutes.
6. Carefully remove the uncut shortbread from the pan by lifting the parchment paper from both sides. Place the sheet onto a large cutting board and cut into squares using a sharp knife.
Musical Pairings: La Femme – Le Podium#1 + Lavender- Sea Salt Shortbread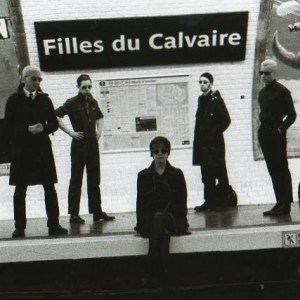 For today's Pairing, head to the Turntable.