We've been writing here at Turntable Kitchen for nearly three weeks now and I am finally feeling like I'm settling in. It's kind of like starting the 3rd grade. Those first few weeks are tough, but once you've got a few friends (ie. loyal commentators – I love you!), things start feeling comfortable. I sure do like the slick new WordPress interface and how big and glossy my pictures look (though it does put the pressure on getting great shots). Being editorially critical with myself is something I love and hate –at least when it comes to writing. Frankly, I have never enjoyed editing. When I would write poetry, I would never edit. I felt that it went against the whole raison d'être of poems: they were meant to be freeing and impulsive. But over the years I have, begrudgingly, come to respect the editing process. Life is all about iteration. If something works well, it's still worth seeing if it can be made to work better.
When I first started cooking, I hardly strayed from a recipe. I fretted over having 1 tablespoon of garlic when the recipe called for two. Or throwing in apples when the fruit in demand was a pear. But sometimes, accidentally, I discovered that iteration was actually a good thing. In fact, iteration is the reason there is not one, but hundreds of recipes for a chocolate chip cookie –some that call for refrigerating the dough for hours, some that call for melting butter, some that call for chunks of chocolate, as opposed to chocolate chips. If there can be so much iteration around a 6-ingredient cookie, there can sure be a lot of iteration around the possibilities an egg holds.
The egg is the little black dress of the food world. Wholesome and nutritionally-packed on its own, it is a binding ingredient for savories and sweets, makes dishes airy and fluffy, and adds a layer of luxurious ooze where needed. It is my weekend breakfast food of choice. And while this recipe doesn't require too much iteration, I couldn't help but tinker…a little.
Behold this 'serve-a-crowd' egg fry from Tyler Florence's new book. Aside from looking gorgeous on a table, it's a flash to whip together and can be doubled or tripled in size, depending on the crowd you're serving (and the number and size of skillets you have). Frying the veggies in the bacon grease (plug your ears, vegetarian friends!) makes this just a tad more indulgent than your usual egg fry. There's not too much iteration to take place here, but there is a contest to be won!
I'm giving away a gorgeous copy of Tyler's new book! In order to win, leave a comment on this post, telling me one thing you can do with an egg. Good luck! Winner will be announced on Monday!
Big Breakfast Fry-Up
adapted from Tyler Florence Family Meal
*serves 4
6 strips of smoked bacon, sliced into 2 inch pieces
1 cup of brown mushrooms, halved or quartered, depending on size
1 cup of cherry tomatoes, sliced in half
8 large eggs
fresh thyme
salt and pepper
extra virgin olive oil
1. Get out one extra large, or two medium sized skillets. In one skillet, cook the bacon strips until crispy, then transfer the pieces to a paper-towel lined plate, leaving the fat in the skillet.
2. Toss the mushrooms and tomatoes into the bacon fat-greased pan and saute for a few minutes until the mushrooms have softened and browned and the tomatoes have begun to shrivel. Season with salt and pepper before transferring the veggie mixture to a plate.
3. If using 2 medium skillets, add olive oil to both (the bacon fat-smeared one may not need much) and heat over low heat.
4. Crack 4 eggs into each medium-sized skillet (or 8 into one) and cook them sunnyside up (until the whites are set but the yolks remain runny).
5. Remove the skillet (s) from the heat and top evenly with the veggie mixture. Toss the bacon pieces on top, distributing evenly. Season with salt and pepper and sprinkle with some fresh thyme leaves. Serve directly from the skillet (s).

Musical Pairings: The Kinks – Something Else By the Kinks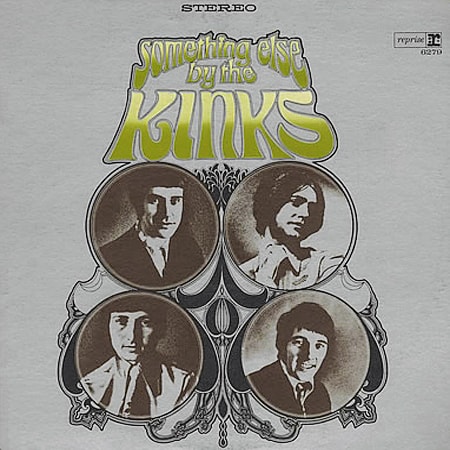 Head to the Turntable for today's pairing for the Kinks – Something Else by the Kinks.