Breakfast in a new city is always so promising because you know that ahead of you lies a day of exploration. When I am traveling, breakfast is as much a priority as any other meal of the day. It sets the pace. I love finding a cute little cafe where I can observe the locals lining up for a fresh croissant to go, or reading their morning paper, meeting friends, etc. Breakfast on vacation is a time to plan your day – get your bearings in place, familiarize yourself with a map and establish the course for your day (or simply accept that your day will be completely accidental). I have traveled both ways and have found them both to be equally appealing. On some trips, I prefer a vigorous schedule of museums and notable monument visits, but on others, my sole purpose has been to meet and mingle with the locals at a bar–perhaps catching a soccer game.
On a recent trip to Toronto (which, I promise I'll tell you more about), our main purpose was to take part in our friends' wedding. But we were also thrilled to get in a few extra days of exploring a city we both found to be charming, unique — and exceptionally tasty. Perhaps because my professional background is in the field of public relations, I'm particularly keen on great branding. Case in point: Ezra's Pound coffee shop in downtown Toronto. I mean, let's face it, these folks are clever. I loved the clean, modern decor of the shop and was particularly smitten with them breakfast options. For their non-egg dish, they served a yogurt bowl topped with frozen berries, house-made granola, apple slices and honey. I adored the presentation of the large white bowl, which gave equal glory to each individual component, as opposed to mixing them all together in a heap. I had never thought to put partially frozen berries in my yogurt, but I loved the unexpected cold crunch they provided.
I tend to lean towards warming/cozy meals in the dead of winter, but this dish proved to be exceptionally fresh and still completely 'in season,' despite its appearance (blueberries in December?). There's a lot of crisp and crunch, spiciness from the granola and a nice hint of sweetness. To switch things up, you could use maple syrup or even agave nectar in place of honey. No granola on hand? Given muesli a try.
What's your favorite thing (s) about breakfast in a new city? What inspires you while traveling? What do you love about mornings in a place you've never been?
Winter Yogurt Bowl
*serves one
1 cup of plain yogurt
1/3 cup of homemade granola
1/4 cup of frozen blueberries
1 heaping tablespoon of honey
4-5 thin slices of apple or pear
1. Put the yogurt in a bowl. Top with homemade granola.
2. Put the berries in a small colander and run it under cold water to take off the thaw/defrost the berries slightly.
3. Add the berries to the bowl. Next, nuzzle the slices of apple and/or pear into the yogurt.
4. Tilt the tablespoon of honey against the edge of the bowl, letting it drizzle down the side and into the yogurt.
Musical Pairings: Air France – No Way Down EP + Winter Yogurt Bowl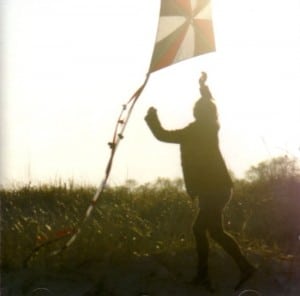 Head to the Turntable to read/listen to today's pairing: Air France – No Way Down EP.