At some point, it became expected that whenever I would go home to visit my family, I would bring a delicious baked good (or goods). In some ways, it was a self-imposed challenge. Once I started writing about food, every family get-together was an opportunity to try a new recipe. Besides, baked goods traveled much better than say, a chicken dish. My dad always asks, "are we guinea pigs on this one, or is this tried and true?"
I'm not sure who is to blame for my obsession with sweets. My family has always loved sugar. My grandmother has been known to eat pastries for dessert after breakfast. My dad could easily kill a tub of ice cream in a sitting. My grandfather will sneak into the pantry for a late-night sweet snack before bedtime. My mom, the most mindful eater in our clan, will usually keep herself in check. She'll try a nibble of something here and there, but I have never seen her consume an entire plate of cookies as I admittedly have. Enter: the little French Macaron. A beauty.
Now the first time I tried my hand at making macarons, I made a mistake: I didn't grind the almonds finely enough. What I ended up with was a flat, crispy cookie that tasted good but didn't hold a candle to the macaron. Despite this, my family swooned over them. I repeatedly protested that they were off, but no one really cared – they were tasty. On my second try, I was more diligent. I rapped the baking sheet on the counter before baking. I made sure my egg whites were at room temperature. I folded the batter gently. Out of the oven came a baking sheet adorned with the most perfect little cookies: lightly crisped on the outside, glossy, with a rough edge, and the chewiest melt-in-your-mouth center. I sandwiched a layer of chocolate ganache between two perfectly round cookies and gently placed them in a tupperware for delivery.
Often, when I come to my parents' house with cake or pastries, my dad will proclaim, "This is the best cake/cookie/pie/tart I have ever eaten!" He's biased, of course, but it still makes me feel good about whatever I bring. His accolades range but when every single macaron was ooohed and ahhed over by not only my dad, but also my grandfather (pickiest eater I know) and mom (who usually controls herself when it comes to sweets), I knew that I had hit the jackpot.
They say (I don't know who, but 'they') that food is eaten with our eyes first. It couldn't be more true for these little sandwich cookies. They're two-bite sized and look oh-so-pretty next to a cup of tea or coffee. Even the way it sounds –'ma-ca-ron' (don't forget to roll the r)–can transport you to a street-side cafe in Paris. I, for one, imagined myself carefully laying these out behind the glass display of my own little French bakery –if I had my own little French bakery.
Chocolate French Macarons
adapted from David Lebovitz
For the macarons:
50 grams of slivered almonds, ground very finely (using a food processor or coffee grinder)
1 cup of powdered sugar
3 tablespoons of Dutch-press cocoa powder (unsweetened)
2 large egg whites (at room temperature. Shortcut: submerge whole eggs in a bowl of warm water for about 5 minutes. Wipe dry and use the whites as directed).
5 tablespoons of white sugar
For the chocolate ganache filling:
1/2 cup of heavy whipping cream
2 teaspoons of light corn syrup (vanilla-flavored ok)
4 ounces of bittersweet chocolate, roughly chopped
1 tablespoon of butter, diced
1. Preheat your oven to 350 degrees F and line two baking sheets with parchment paper or a Silpat.
2. Combine the powdered sugar and pulverized almonds in a food processor and grind until well-mixed. Add the cocoa powder and process until the mixture is very fine and not lumpy.
3. Beat the egg whites at medium-high speed in the bowl of a standing mixer until they hold soft peaks. Continue whipping as you add in the white sugar. Whisk the mixture for about 2 minutes, or until it is very stiff (the whites should be glossy).
4. Gently fold in the almond-chocolate-sugar mixture using a spatula. Mix–gently–until the egg whites are completely incorporated.
5. Transfer the mixture into a pastry bag with a 1/2 inch tip. If you don't have a pastry bag, pour it into a large ziplock bag, cutting off a tiny edge.
6. Pipe 1-inch-wide circles of batter onto the baking sheets, spacing the cookies about 1 inch apart.
7. Firmly tap the baking sheet on the counter to flatten the macarons (this will give them that beautiful edge).
8. Bake for about 15-18 minutes (until they're puffed and the tops look set) before removing the baking sheet from the oven and cooling completely. Repeat with the second batch. Once cooled, carefully remove the cookies from the baking sheet and place onto a plate.
9. Prepare the ganache filling: Combine the cream and corn syrup in a small pot over medium heat. Once the cream just begins to boil, remove it from the heat and add in the chocolate. Let the mixture sit for about a minute before stirring. Add in the butter. Stir to fully combine and cool completely before using.
10. Once the filling and cookies have cooled, assemble your macarons: spread the filling on the flat edge of one cookie, top with a second (gently) and set aside. I prefer to store my macarons in the refrigerator (not sure if this is the 'French' way), bringing them to room temperature shortly before eating.
Musical Pairings: Ra Ra Riot – The Orchard + Chocolate French Macarons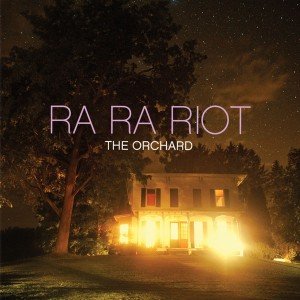 Stop by the Turntable to read more and listen to today's Pairing: Ra Ra Riot – The Orchard.