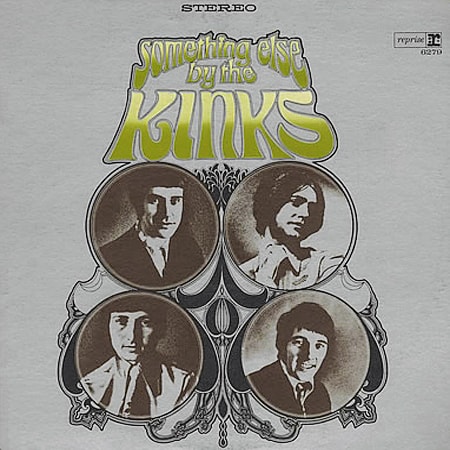 I love weekend breakfast. I love breakfast in general, but breakfasts on Saturday and Sunday mornings are something special. During the week I feel compelled to hurry through my morning routine to get to work, so breakfast is necessarily a relatively quick affair. But on the weekends, we break out cookbooks and actually "cook" our breakfast instead of merely pouring it into a bowl. We brew an extra large pot of coffee, and we slow things down a little. So "the big breakfast fry up" that Kasey found while thumbing through Tyler Florence's cookbook proved to be a perfect weekend breakfast recipe for us.
In our apartment, breakfast on the weekends usually also calls for a little rock 'n roll on the turntable – after all, you'll want the perfect soundtrack for "the most important meal of the day."  And personally, on a Saturday or Sunday morning I tend to favor records by the Rolling Stones, the Beatles, David Bowie, and, of course, the Kinks. So, for this recipe I decided to pull out my copy of Something Else By The Kinks for a spin on the turntable. It is catchy, playful and thoughtful: exactly what you need for the perfect morning melody.
The Kinks were part of the same British Invasion that brought the Beatles to the United States, and so it is at least interesting to note that Something Else was released in 1967 – the same year that the Beatles released Sgt. Peppers.  And just as Sgt. Pepper had marked a change for the Beatles, Something Else represented a change in direction for the Kinks in a number of different ways.  Lead singer and songwriter Ray Davies had assumed control of production, and his younger brother David had penned three of the album's songs.  Indeed, regardless of the primary songwriter, the Kinks' melodies were being more mature, more contemplative, and more complex.  Unfortunately for the Kinks, unlike the Fab Four's famous concept album, Something Else was not a commercial success when it was released.  On the contrary, it sold poorly despite critical praise and a few hit singles in the UK.
Following a brief tape loop, album opener "David Watt" breaks out of the gate at nearly full-gallop with an upbeat and rubbery rhythm and irresistibly catchy "fa fa fa fa" backing vocals.  Like the rest of the album (and most Kinks tunes), it is concise and punchy.  It rolls directly into the saloon-stomping melody and Dylan-esque vocals of "Death of a Clown," which was the album's first hit single (and one of the band's first released songs written by Dave Davies).  Swinging rockers like the pastoral and organ-tinged "Love Me Til The Sun Shines" and the jittery and jubilant "Situation Vacant" are rhythm-and-blues heavy rock and roll at its' best.  Album closer "Waterloo Sunset" is shimmering and demonstrates the Kinks' song-writing at their best.  Its considered a classic for a reason, and is a highly recommended LP if you haven't heard it already.  Sadly, at the time of writing the album doesn't appear to be available on vinyl from either Amazon or Insound, but you can buy a copy on CD from Amazon.  Later reissues of the album also include a collection of great bonus songs including the hit single "Autumn Almanac."
The Kinks – Afternoon Tea (MP3 Removed)
Don't forget to "heart" our songs on hypem if you like what you hear!  Head back to the Kitchen, to read Tyler Florence's recipe for "the Big Breakfast Fry Up" that Kasey is featuring in the Kitchen.  You may even win a copy of Tyler Florence's latest cookbook!  Speaking of winning – congrats to Adrienne who won our Hozac Records giveaway!