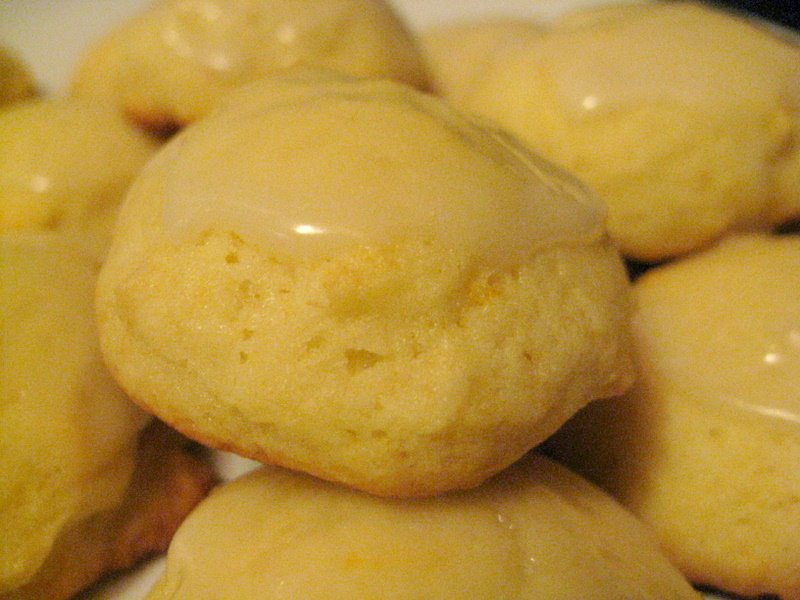 I've been looking forward to this past weekend for months. You see, December is my favorite time these days, when all of my high school and Bay Area-based college friends stream back into town, my parents' home feels like my old high school meeting ground and we all fall back into history in the best way possible. Another big thing happened this weekend, too, but I'll hold the news for just a bit.
In the meantime, I'll indulge in a few more holiday-esque cookie recipes that I really think you ought to try. I've been baking a lot these days, I realize, but no one seems to be complaining. As I've mentioned in previous posts, I've been rediscovering buttermilk and been eyeing these cookies on Molly's blog for several months, now. Their puffy little yellow bodies just looked delectable. And the idea of filling my house with the aroma of lemon (I picked up a Mayer) was just too, too tempting. Especially since I'd recently bought uber cute little snowman-covered goody bags. I picked up the buttermilk and whipped these up. They came together so quickly, I was almost anticipating them to not be that good. I couldn't have been more wrong. The Mayer lemon definitely added an amazing aroma and the glaze, the glaze. Don't skimp on the glaze, please.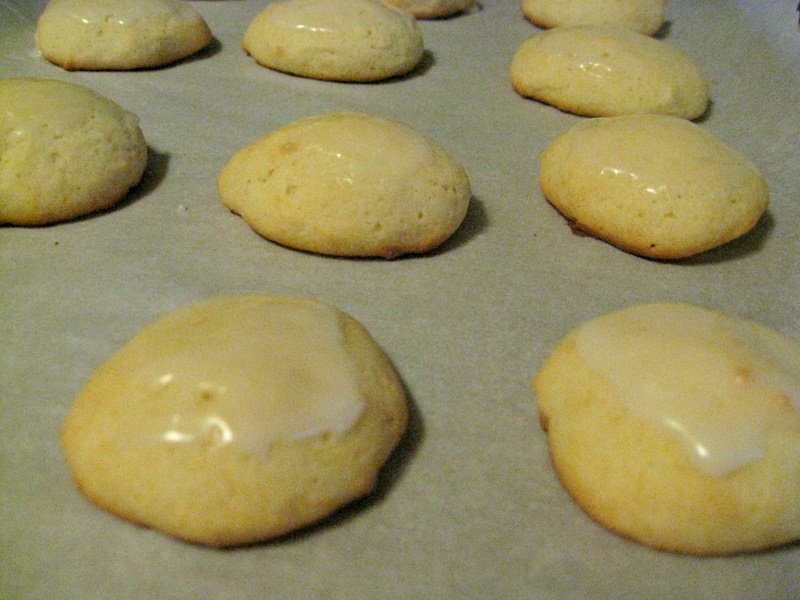 I made these with plain flour, but a friend has mentioned that white whole wheat actually makes these taste EVEN better. Don't wait, friends. Don't wait.
Buttermilk Cookies with Lemon Zest
via orangette's blog
1 1/2 cups of purpose flour (regular or white whole wheat)
1 tsp. of grated lemon zest (I used Mayer lemon–highly recommend)
1/4 tsp. of baking soda
1/4 tsp. of salt
6 tbsp. of unsalted butter (not cold)
3/4 cup of sugar
1 egg
1/2 tsp. of vanilla extract
1/3 cup of buttermilk
The glaze:
3/4 cup of confectioners sugar
1 1/2 tbsp. of buttermilk
1/4 tsp. of vanilla extract
1. Preheat oven to 350 degrees F and line 2 baking sheets with parchment paper.
2. In a bowl, whisk the flour, baking soda, salt and lemon zest.
3. In a separate bowl, beat the butter until it's creamy, then add the sugar and continue to beat the mixture until it is 'pale and fluffy.'
4. Add in the egg and vanilla and continue to beat until smooth and creamy.
5. Add in the dry ingredients and buttermilk, alternating, about 1/2 cup at a time and beat at low speed. Molly notes to start and end with the flour mixture.
6. Once the dough is smooth and a pale yellow texture, spoon about a tablespoon at a time onto the baking sheets, making sure to leave adequate room for them to spread.
7. Bake each sheet for about 12- 14 minutes (until they look puffy, slightly browned at the edges).
For the glaze:
Whisk together the sugar, buttermilk and vanilla until it's smooth and creamy. Using a silicone brush, glaze the still-warm cookies. Let the glaze harden (about 30 minutes) before placing into a container.
I'm off to cold and snow (rain?) in Ohio tomorrow morning, but will do my best to keep you updated throughout the holiday season. Come by–and happy holidays to you and yours!