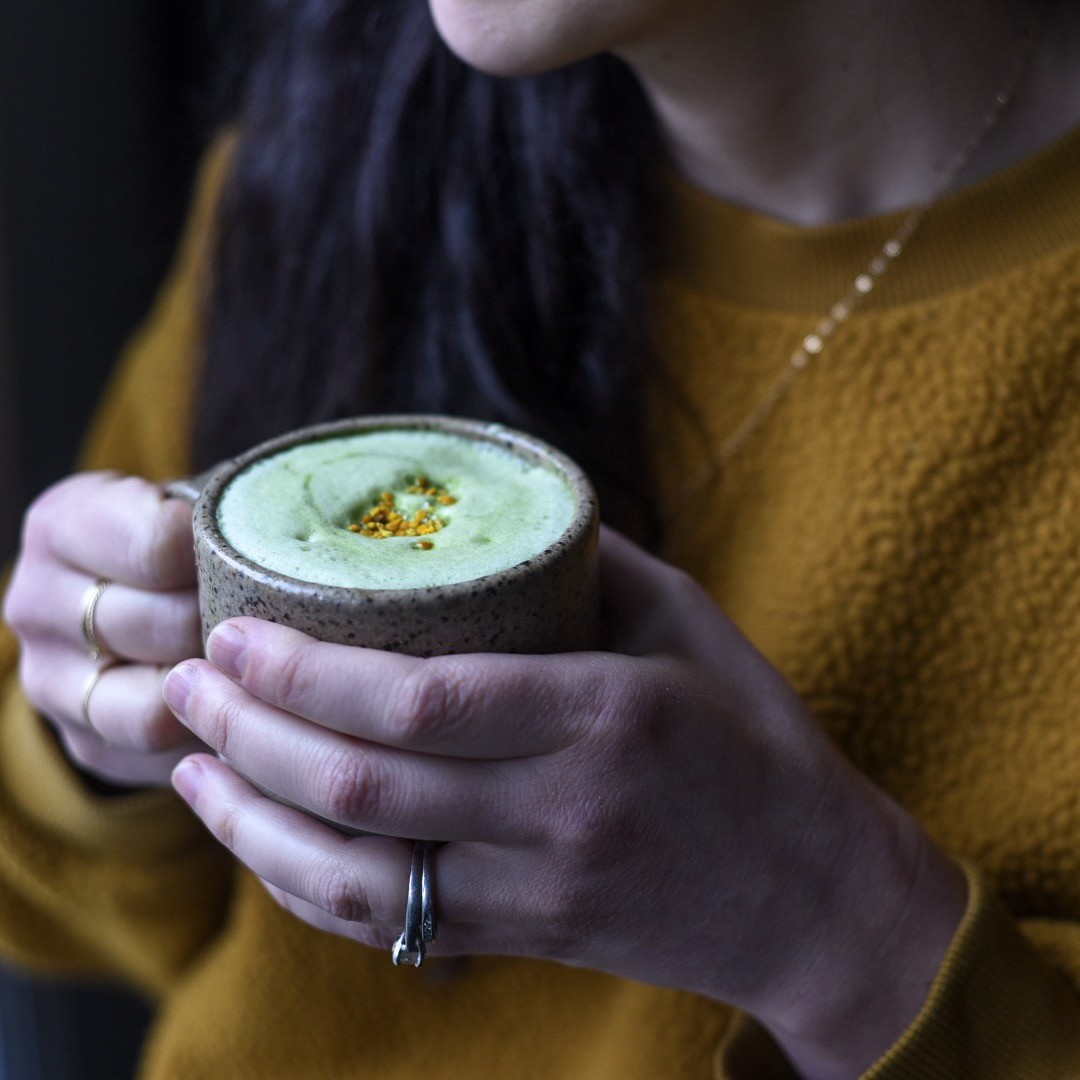 I have been meaning to tell you about this super frothy matcha latte since…oh, February. I've been so excited about this method for making a matcha latte I've shared it with cashiers at Trader Joe's, coworkers, and my parents. But then we got hit with the snowstorm of the century. And then life got in the way. And then we went to Hawaii. So, here I am!
Speaking of Hawaii, we spent a glorious 7 days in Oahu, mostly on the North Shore and the Windward (east) Coast. Truth be told, I was pretty anxious about the trip. A 9+ hour travel day with all three kids, and just the two of us (no school, no babysitters, no grandparents). But, it was actually turned out to be one of my very favorite vacations. Despite the fact that I've always believed that a vacation with kids is just a trip, it actually felt like a vacation. With kids. That's saying a lot. Surely, we all had our moments (myself included) but overall, I came home rejuvenated and relaxed. Maybe a little too much, as I'm finding it hard to get back into the swing of our routine. I'm hoping to share a travel guide with you soon.
Getting back to matcha lattes, though. I've been a fan of matcha since Matt and I went to Japan 6-ish years ago. Ever since, Matt has basically mentioned Japan as a possible vacation every time I suggest going anywhere. We loved it THAT much. Over the years, I've slipped matcha into everything from smoothies to crepes. And this winter, I started regularly making matcha lattes at home. My technique, though, got a major upgrade. All thanks to my French Press.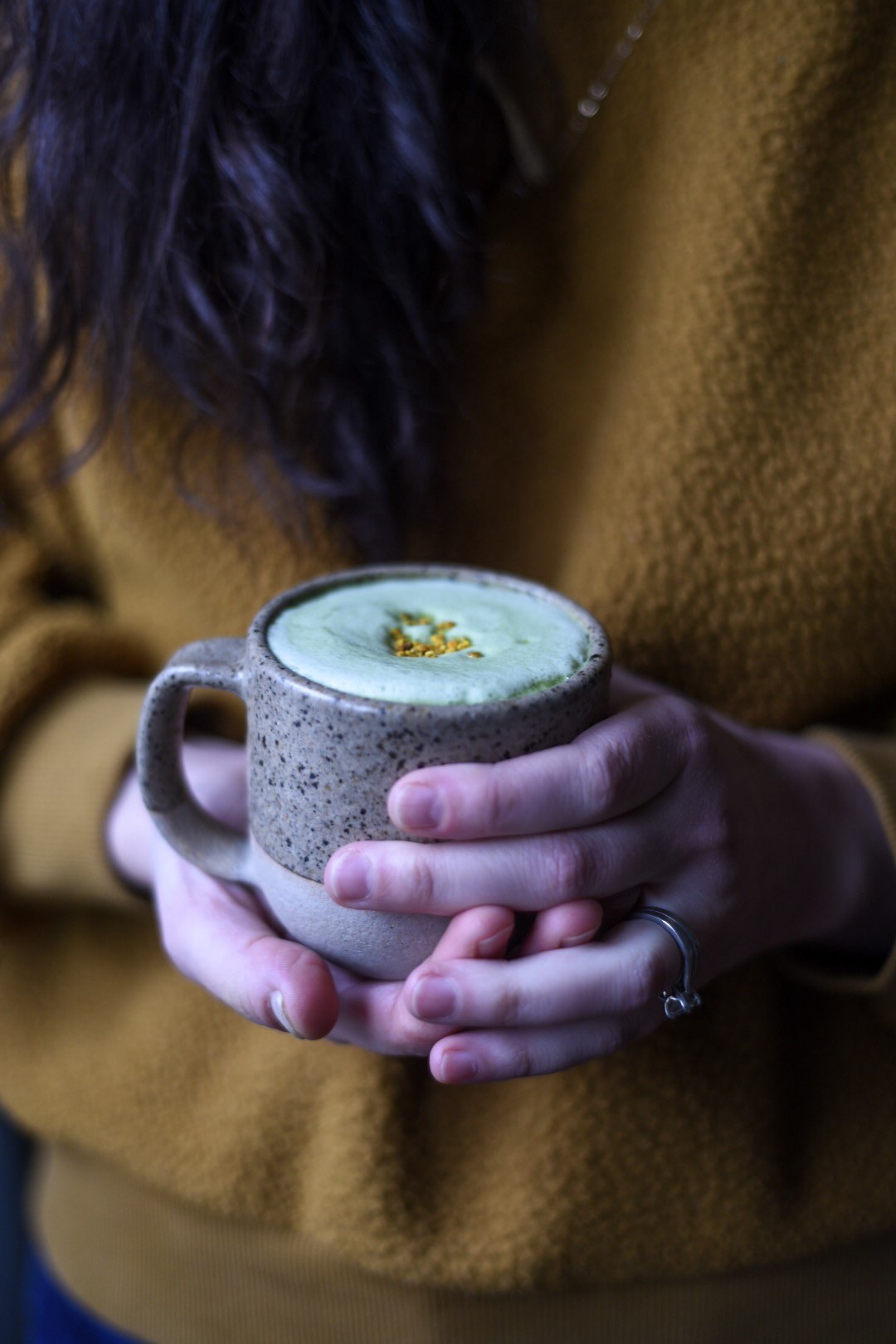 Matcha benefits
Matcha is an incredible source of antioxidants. Its benefits include boosting metabolism, lowering cholesterol and blood sugar, improving mood and concentration, and providing your body with fiber, chlorophyll, and vitamins. A lot of people have successfully switched from drinking coffee to matcha. For me, coffee will always be #1, but I love supplementing my diet with matcha, particularly when I need an afternoon boost.
Matcha basics
Matcha ranges in price, depending on whether you're using the highest quality ceremonial grade or culinary grade. But when it comes to matcha lattes, I recommend choosing something in the middle. I personally really like Mizuba Tea Co.'s  Daily Matcha.
You can make traditional matcha with just water, but a matcha latte hardly requires more time and is so delicious. I've made this matcha latte using whole milk, almond milk, and oat milk. All came out fabulously but the whole milk latte was the frothiest / creamiest. I've also made it sweetened and unsweetened, and do prefer a bit of honey in my lattes.
You can definitely play around with flavors — adding homemade syrups, maple syrup…I like to keep things simple: good quality matcha, milk (or milk alternative), honey, and a little dusting of bee pollen (which gives you an added boost of minerals, enzymes, anti-oxidants, and protein).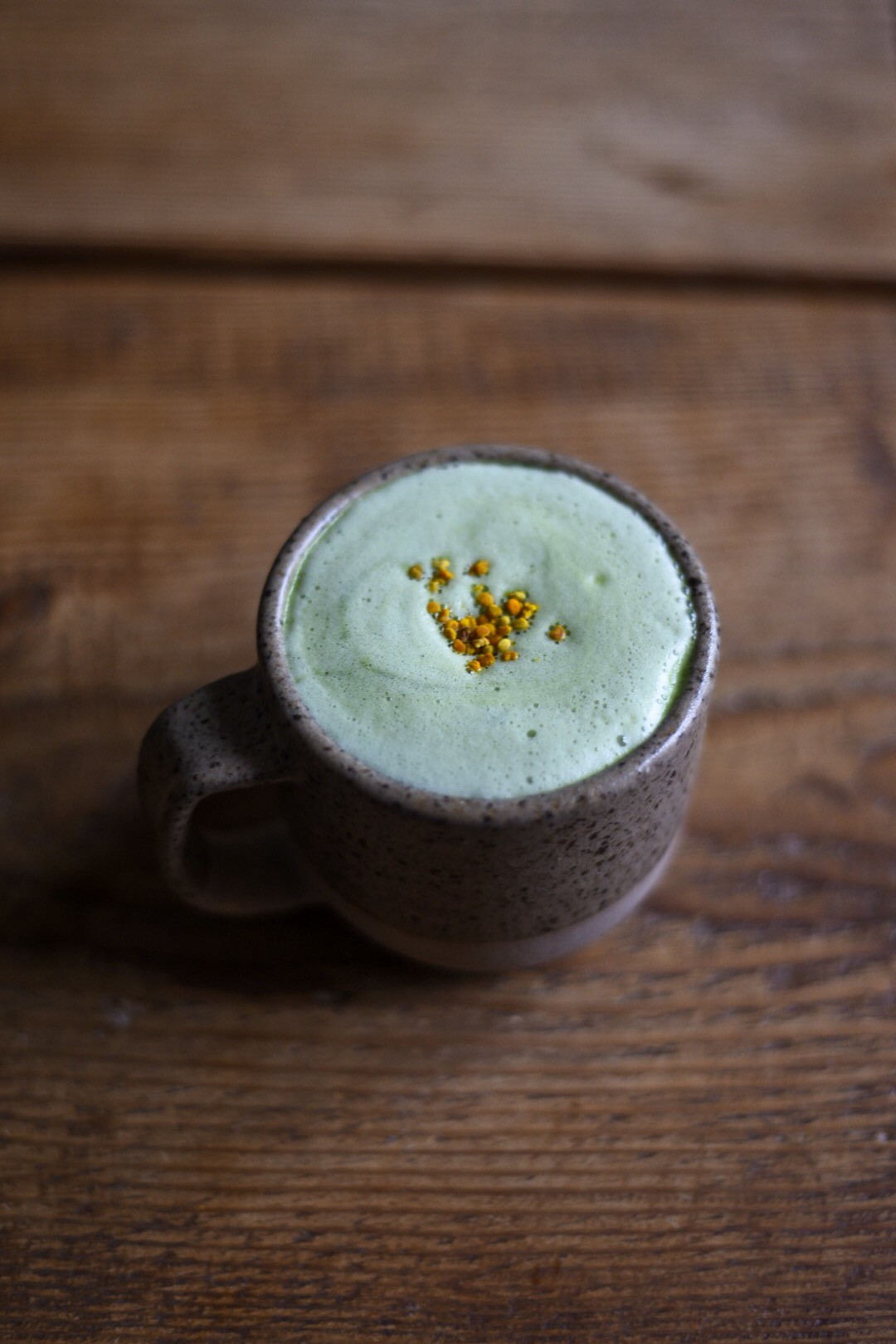 Matcha tools
If you think you'll find yourself making matcha tea or matcha lattes regularly, I would invest in some tools. Specifically, you'll want a matcha whisk and a chashaku (hooked bamboo scoop). You can buy these tools separately, or as part of a set. And although I've successfully used breakfast bowls to whisk my matcha, a chawan is the traditional bowl used to prepare (and drink) matcha.
French press basics
I've had my French Press now for years, but I had never considered using it for anything other than making coffee. That is, until I stumbled upon an ingenious YouTube video that showed me how you can make homemade lattes using a French Press. I pretty much immediately ran to my French Press to test the method and lo and behold, it worked like a dream.
This recipe is for a matcha latte, but you can easily use it to make any type of homemade latte at home (like our lavender latte). The key here is to not burn the milk before transferring it to the French Press. I recommend watching it like a hawk and/or using a candy thermometer to make sure the temperature stays below 180 degrees F (that's when milk starts to boil).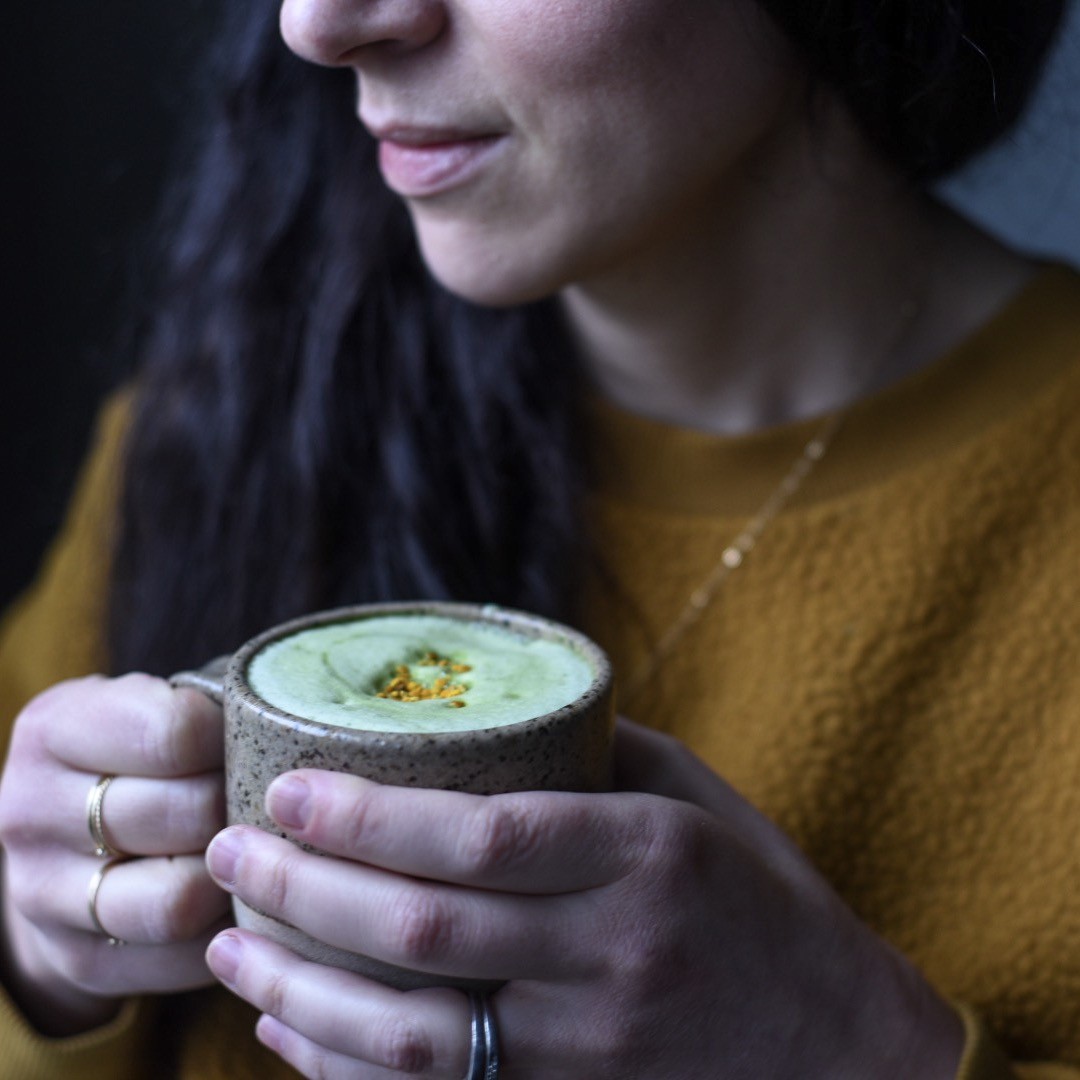 Frothy Matcha Latte (Made in a French Press)
1 1/2 teaspoons of matcha powder (I used Mizuba Tea Co.)
1 tablespoon of hot water
1 cup of whole milk (or milk alternative)
1 tablespoon of honey
Bee pollen and more honey, for topping
1. Add the matcha powder to the bottom of a French Press pitcher. Pour in 1 tablespoon of hot water and use a matcha whisk to make a paste, continuing to whisk until no clumps remain. Add a bit more water, if needed.
2. Add the milk and honey to a small pot and bring to a simmer over medium-low. You want to ensure that the milk doesn't burn: use a candy thermometer to ensure the milk doesn't reach a temperature of 180 degrees Fahrenheit (when it starts to boil). Watch closely for tiny bubbles and remove it from the heat when it reaches around 160 degrees F.
3. Next, add the steamed milk to the French Press. Carefully place the lid over the pitcher.
4. Place your hand on the pull of the stem and pump it (slowly at first, then a little faster), until you achieve your desired amount of foam. Remove the filter and slowly pour the latte into a mug.
5. Sprinkle with some bee pollen and give it a good drizzle of honey. Drink right away.