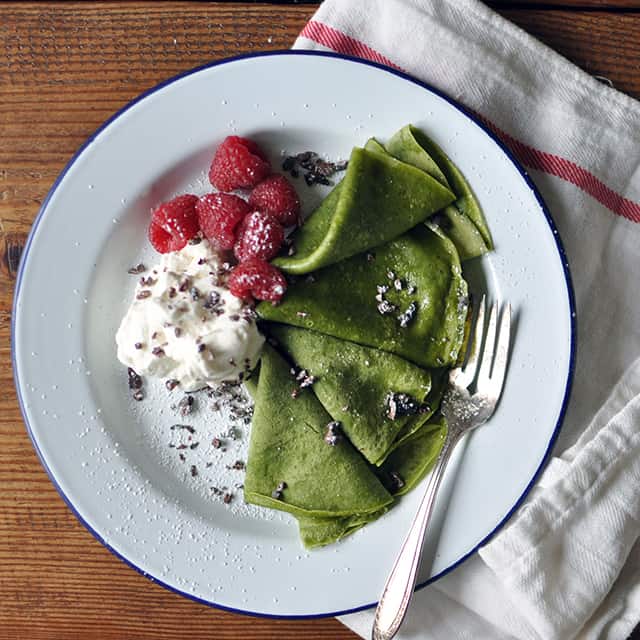 I've talked a lot about crêpes in the past — I grew up eating my grandma's thick, buttery ones (we called them blini) and later my mom's. It wasn't until after college that I realized I could make my own crepes whenever I wanted. It was one of those funny realizations. I still remember my parents gifting me two crêpe pans for my 23rd birthday, my first, living and working in San Francisco. Those crêpe pans have served me well.
You realize you're an adult when you wake up on a Saturday morning and whip yourself up a truly indulgent breakfast. And then you smear it with Nutella. And maybe some whipped cream. And then you don't eat anything until you drink a beer at happy hour and devour some sweet potato fries. Ok, ALL the sweet potato fries and then an extra order of fries. Those are the days, eh?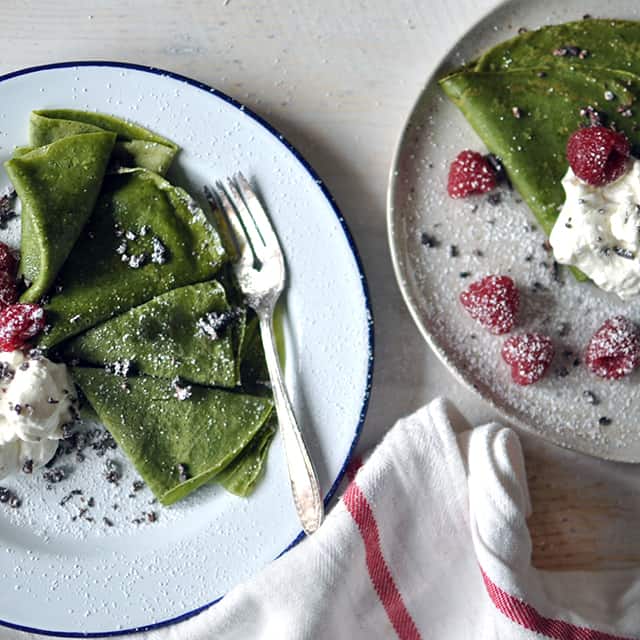 Then a few years later you have children and you realize you're even more of an adult when your breakfast, lunch, and dinner becomes leftovers of whatever your kid is eating. I call it table scraps and these days I eat a lot of half slices of cheddar cheese and bread crusts with just a little jam left on them. Alas, that's a story for another day! Let's get back to the crêpes.
Crêpes are the sort of thing that sound complicated but are actually so easy that every time you make them you remind yourself, "I should make crêpes more often!"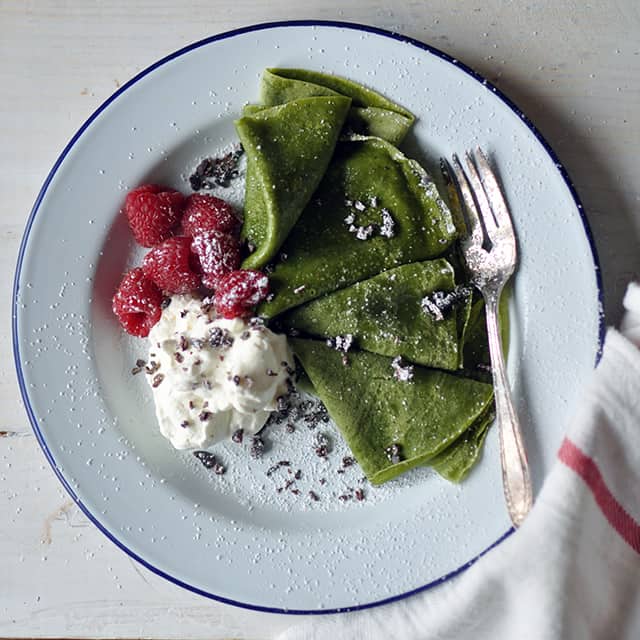 I try to mix things up by playing around with different types of flours and milks (both dairy and non-dairy have worked well for me). I've even made crêpes with beer! So when our friends at Aiya Matcha asked me to develop a recipe for them using matcha, I decided that crêpes were the perfect thing to sneak it into. We recently featured matcha as a Premium Ingredient in our October Breakfast Pairings Box (we added cooking grade matcha into some delicious berry smoothies) and I've been wanting to try baking some matcha treats. Matcha has a ton of health benefits but in addition to that it's green, folks, which makes it so much fun to bake with.
On a dreary winter day or really, any day, green crêpes with berries, whipped cream, and cacao nibs really can't be topped. If you find yourself thinking, "green crêpes?" I assure you that the tea flavor (matcha is finely ground green tea!) is quite mild and it's beautifully balanced by the cream and berries. The cacao nibs might seem like they're just there for decoration but they actually add this chocolate-y coffee layer that shouldn't be missed.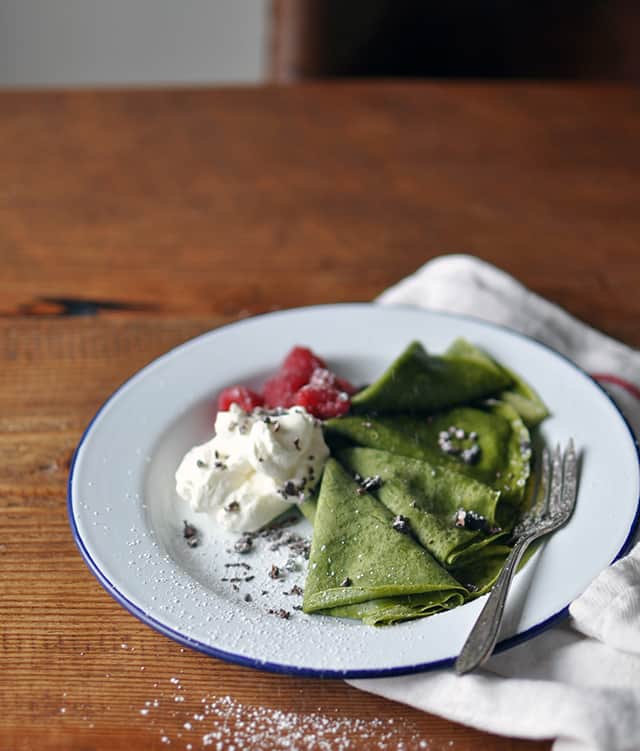 Matcha Crepes with Whipped Cream, Berries, and Cacao Nibs
*makes 6
For the crêpes:
2/3 cup of all-purpose flour
1 tablespoon of Aiya cooking grade matcha
pinch of salt
1 large egg
8 ounces (1 cup) of milk
butter, for the pan
For the whipped cream:
1/2 cup of cold heavy whipping cream
1 tablespoon of sugar
For topping:
Raspberries (or any berry of your choice)
Cacao nibs
Powdered sugar
Combine the flour, salt, and matcha powder in a medium bowl and whisk together. Make a well in the center of the mixture. Add the egg and half of the milk into the well. Whisk until smooth, then whisk in the rest of the milk.
Melt 1/2 tablespoon of butter in a crêpe pan (or a non-stick skillet) over medium-high heat.
Pour in about 1/3 cup of batter into the center of the pan, and immediately tilt and swirl the pan, allowing the batter to fill it out. Do this as quickly as possible. Cook the crêpe for about 15-30 seconds (until the edges begin to pull away from the sides) then use a spatula to flip the crêpe and cook for another 15 seconds or so on the other side. Slide it off the pan and place it on a plate. Repeat until you have used up all of the batter, making sure to re-butter the pan, as needed.
Cover the crêpes while you make the whipped cream. Add the whipping cream and sugar to the bowl of a stand mixer fitted with a whisk attachment. Beat on high until soft peaks form (about 5 minutes).
To serve the crêpes: fold 1-2 crêpes into triangles or any shape of your choosing. Top with a heavy dollop of whipped cream and berries. Sprinkle with cocoa nibs and a good dusting of powdered sugar. Eat immediately.
Leftover crêpes will keep at room temperature; you can re-warm them in the oven or the microwave.