Around this time of year, life tends to move a little faster while work tends to move a little slower. I like it that way. The parties, visitors and trips to the theater. Everything good is in the moment and every day is one to look forward to.
When the weather is nice, I'm often tempted to forgo spending time in my kitchen or lingering at the table too long. But when temperatures outside drop to 30 degrees (as they did a few weeks ago!) my favorite thing to do is spend the entire day at home, and invite a few friends over for good conversation fueled by a bottomless pot of coffee and nibbles. I light my favorite candles (seriously obsessed with this brand), throw on an apron, and my coziest slippers and bust out my crêpe pans (I have 2!)
Having lived in places warm and cold, I can attest that crêpes are pretty universally pleasing, but they are an especially welcome treat come winter. Growing up, my family filled ours with jam (strawberry was always my favorite), and dusted them with powdered sugar. I learned to love crêpes from my grandmother, who would make huge stacks of them, often by personal request. She called them blini and they were a bit thicker than the kind I make now. I'd eat them, slathered with sugar and butter, using only my hands.
These days, I've expanded my crêpe repertoire to include a selection of flours (rye, barley and spelt) and have experimented with fillings. I can't think of a better combination than warm, maple and vanilla-scented apples and tender spelt flour crêpes. The recipe below makes enough for a few people, accompanied by other breakfast treats, but you could easily double or triple the recipe (though stick with just 1 vanilla bean for the apples and keep in mind that maple sugar is about two times sweeter than regular sugar). Mix up the recipe as your please; with pears and if you've got a little whipped cream, feel free to go a little extra fancy.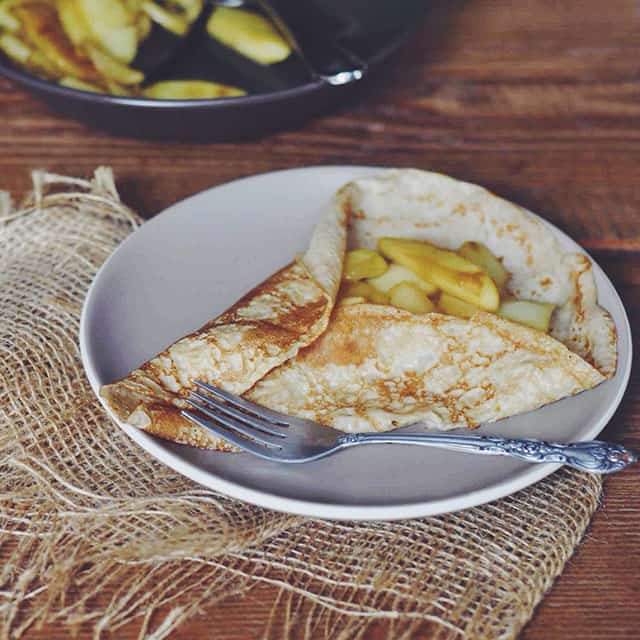 Crêpes with Vanilla-Maple Apples
*makes 6-7 crêpes
Are you a Pairings Box subscriber? Maple sugar was a Premium Ingredient featured in our June Pairings Box. Vanilla beans have also been a featured ingredient.
For the crêpes*:
1/3 cup of all-purpose flour
1/3 cup of spelt flour
1 large egg
1 cup of milk
pinch of salt
butter, for the pan
For the vanilla-maple apples**:
2 apples, peeled, cored and sliced into 10-12 wedges each
1 tablespoon of butter
1 whole vanilla bean
1/4 cup of maple sugar
*The crêpe recipe can easily be doubled.
**To make more vanilla-maple apples: use 4 apples and increase amount of butter to 2-3 tablespoons; use 1/3 cup of maple sugar and 1 whole vanilla bean.
1. To make the vanilla-maple apples: split the vanilla bean down the middle and scrape out the seeds. Set aside. Heat the butter in a medium saucepan over medium-high. When it's melted, add the apples, vanilla bean seeds (and the whole, scraped out bean) and maple sugar. Stir to combine. Lower the heat and cook, tossing occasionally, until the apples are are tender and aromatic. Keep warm.
2. To make the crêpes: sift the flours and salt together into a medium bowl. Make a well in the center of the bowl. Break in the egg and pour in half the milk. Whisk until lump-free. Whisk in the rest of the milk.
3. Melt about a tablespoon of butter over medium-high heat. Pour off any excess.
4. Pour in 1/4 cup full of batter into the center of the pan while tilting it, then quickly give it a good, fast, swirl to cover the pan. Cook for about 15-30 seconds. When the edges look set and paper thin, flip and cook for another 15-30 seconds. Slide off the pan and onto a plate.
5. Brush the pan with more butter and cook the remaining crêpes until you have used up all of the batter. Butter the pan as much as needed, but be careful not too accumulate too much butter (it will prevent the batter from spreading evenly).
To serve: place one crêpe on each plate: scoop a spoonful or two of apples into the center of each crêpe. Fold into a triangle by overlapping the edges so that one end is a point and the top opens to reveal apples.

This post has been sponsored by the folks at Life is good®, makers of UTZ certified organic coffee, which promotes sustainable farming. 10% of all their profits go to kids in need, something that is near and dear to my heart, especially now that I have a kid of my own. All opinions are my own.