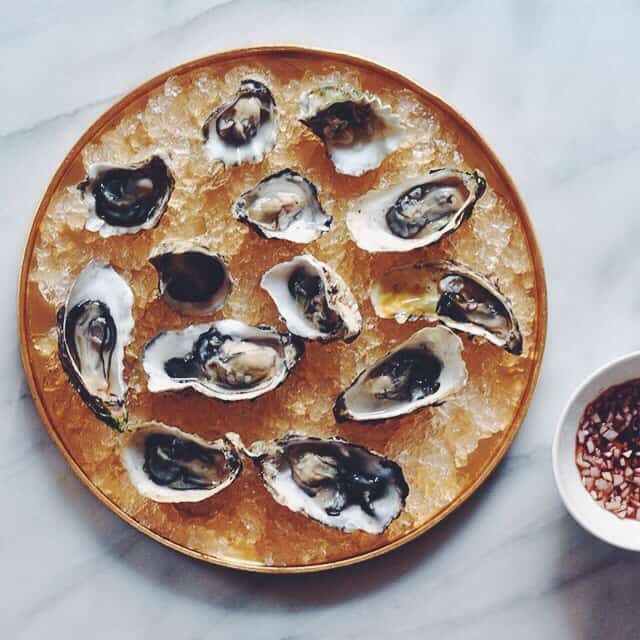 This year (2013) has arguably been the biggest of my life. It didn't come without challenges. The most important event of the year was, of course, having a baby. My Neko Rose is just shy of a year old. Sometimes I look at her, when she is in the bath giggling or concentrating on her blocks, and think: you're one of us. It's hard to imagine a little person so sassy and silly, with her daddy's golden hair and her mama's brown eyes, didn't exist before this year. One day, I think and hope, I'll be her best friend. And one day, perhaps her worst enemy. We'll fight and we'll cry. We'll laugh and we'll hug. Like all good relationships, ours will be complex, no doubt.
In 2013, we traveled to Nashville, Louisville, Dayton, Palm Springs, Tokyo, Kyoto, Nara, Lake Tahoe, and Denver. In 2013, O the Oprah Magazine wrote about the Pairings Box. So did Town & Country Weddings, Entrepreneur and PARADE Magazine. In 2013, Matt and I celebrated our four year wedding anniversary and the two year anniversary of the Pairings Box, the business we started together. I told him it would never happen. In 2013, after three months of maternity leave, I went back to work full-time and left my baby in the care of a nanny.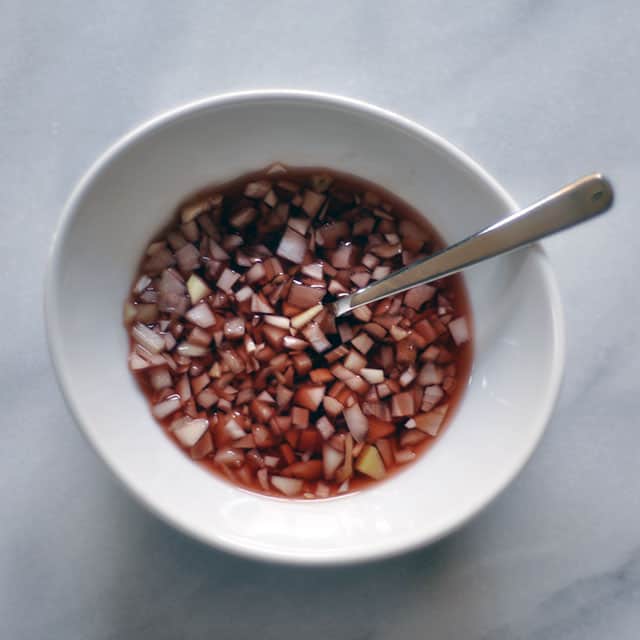 In 2013, one of my best friends had a baby, and another moved to Seattle from Australia by way of the Bay Area. Another moved back to the Bay Area from New Zealand. Friends got engaged, married, broke up with boyfriends, had babies, moved, bought homes, and some drifted out of my life while others became ever more close.
I am not sure I'd change anything about the last year. I f'ing survived it. No, I owned it. I told myself that 2014 is going to be big. If 2013 was about keeping head above water, embracing a new identity while maintaining my old one, 2014 is my self-imposed year of change. I feel more powerful, more certain, and more me than I ever have before.
Stay tuned for big things here on Turntable Kitchen.
Healthy, happy, and safe NYE, everyone. 2014 is gonna be a good one.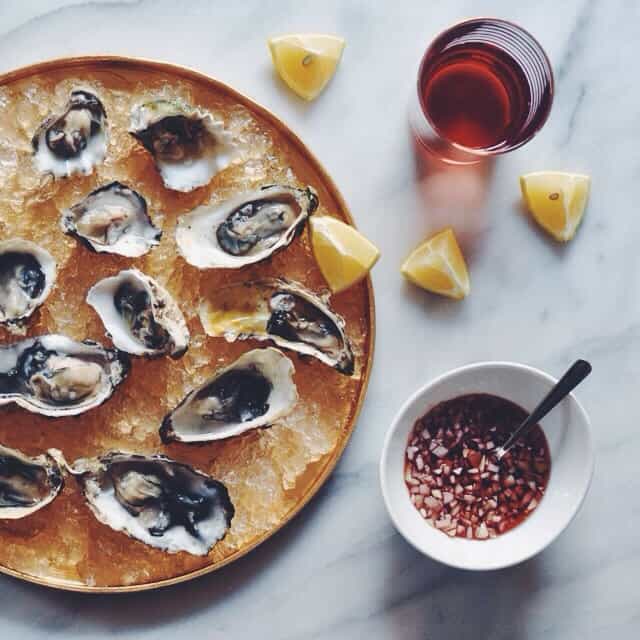 Oysters with Classic Mignonette
Adapted from Little Paris Kitchen
For the Mignonette Sauce:
pinch of sugar
pinch of salt
2 tablespoons of red wine vinegar
1 shallot, finely diced
In a small bowl, combine the vinegar, sugar, and salt. Mix in the chopped shallot.
For the oysters:
2 dozen fresh oysters (toss any opened ones)
plenty of ice
a serving tray
lemon slices
hot sauce
1. Generously cover a serving tray with ice and place it in the freezer while you shuck your oysters.
2. How to shuck an oyster: first thing's first — protective gear. We like to wear a pair of rubber gloves when shucking, to protect our hands. You can also grab a tea towel. Hold the oyster in one hand (either gloved, or nuzzled into a folded tea towel). With the other hand, insert the tip of an oyster knife into the hinge. Rotate the blade to loosen the hinge then twist to open the shell. Slide the knife between the shells to separate them. Lift the top shell and remove any broken pieces without spilling the oyster's juices. Use the knife to carefully detach the muscle from the bottom shell. Toss the top shell. Repeat with the rest of the oysters. Any oysters that smell fishy or in any way 'off' should be tossed.
3. To serve oysters: nuzzle them into the ice in your tray, being careful not to spill their juices. Serve with mignonette sauce, lemon slices, and hot sauce.
Musical Pairings
This recipe pairs well with our New Year's Anticipation Mix