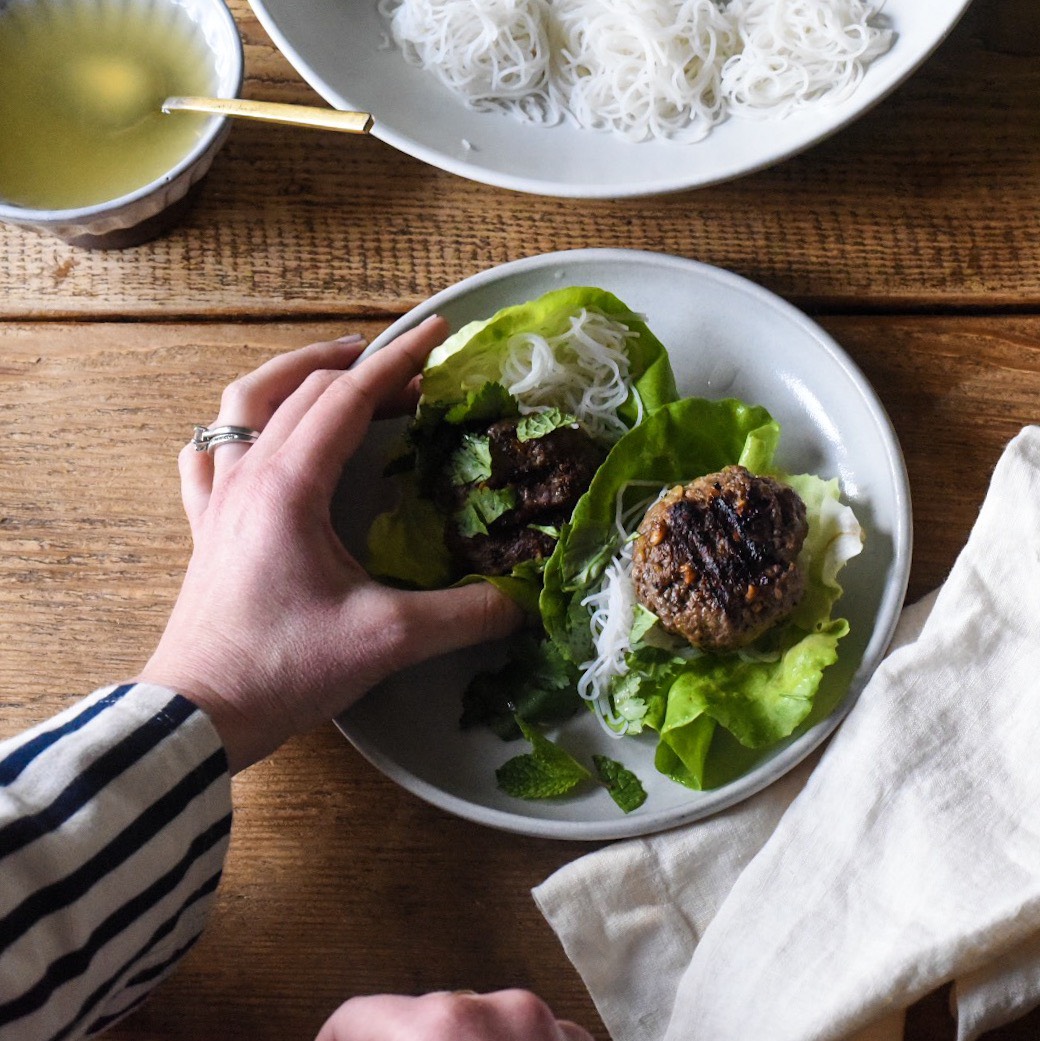 Last month, we headed on our first "big" family vacation as a family of five. It was a reset of sorts. I've been blogging pretty sporadically and a lot of that has had to do with the fact that I hit my limit with regards to working full-time, side-hustling, and parenting.
I was struggling to find the joy in cooking, in writing, in photographing. I was, for the first time, struggling to have something to say. I know. I felt like a broken record (pun intended). And frankly, aside from the Pairings Box recipes I was creating (which were stressing me out to no end), I wasn't cooking anything interesting at home. Certainly, few things worth sharing. Flipping through the latest cookbook or Bon Appetit Magazine made me mourn the days when I felt energized by the idea of cooking. I was tired. All. The. Time.
I'd always worried about what would happen if I "ran out of ideas" or felt like I wasn't able to contribute here fully and I've always maintained a full time job in addition to Turntable Kitchen because I never wanted it to feel like "work."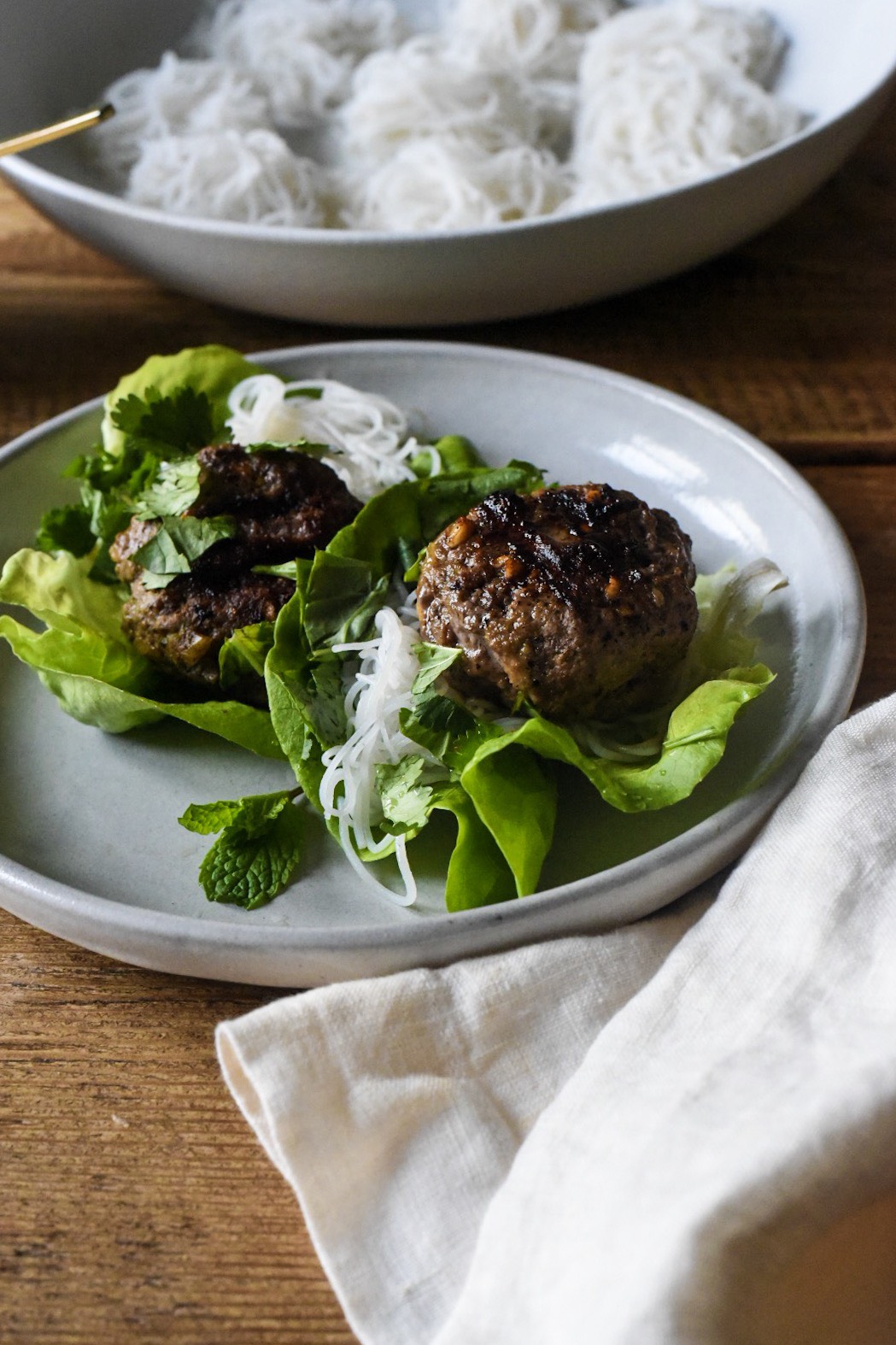 For me, it was important to feel like this space was more of a creative outlet.
But then it started to feel like work.
My real work during the day started to blend with my moonlighting on nights and weekends, and I felt consumed by … well, work. As my day job responsibilities expanded and I let myself stretch and grow, I had little room left to be creative elsewhere. All this is to say was I felt like I was on a train, moving a million miles an hour, and I hardly had a moment to look around.
Hawaii was exactly what I needed. And more. It enabled me to gain some perspective and reflect on everything that had happened leading up to, well, now.
My new year's resolution (inspired by a friend) was to invest in my mental health.
I started seeing a therapist a few months ago to cope with my anxiety. I'm sharing this here, publicly, openly, because I believe in de-stigmatizing the fact that we all could use some guidance.
I was cracking under pressure — both real and self-imposed. My good friends started noticing. I had a health scare that freaked the living shit out of me (everything turned out ok). The bottom line, I knew, was that something had to change.
I'm happy to report that a lot of the shifts I've made in my life have been extremely positive. I continue to see my therapist, who has helped me in so many ways become better attuned to myself, kinder, and more understanding. Through this work, I've allowed myself to be more at peace with the currents.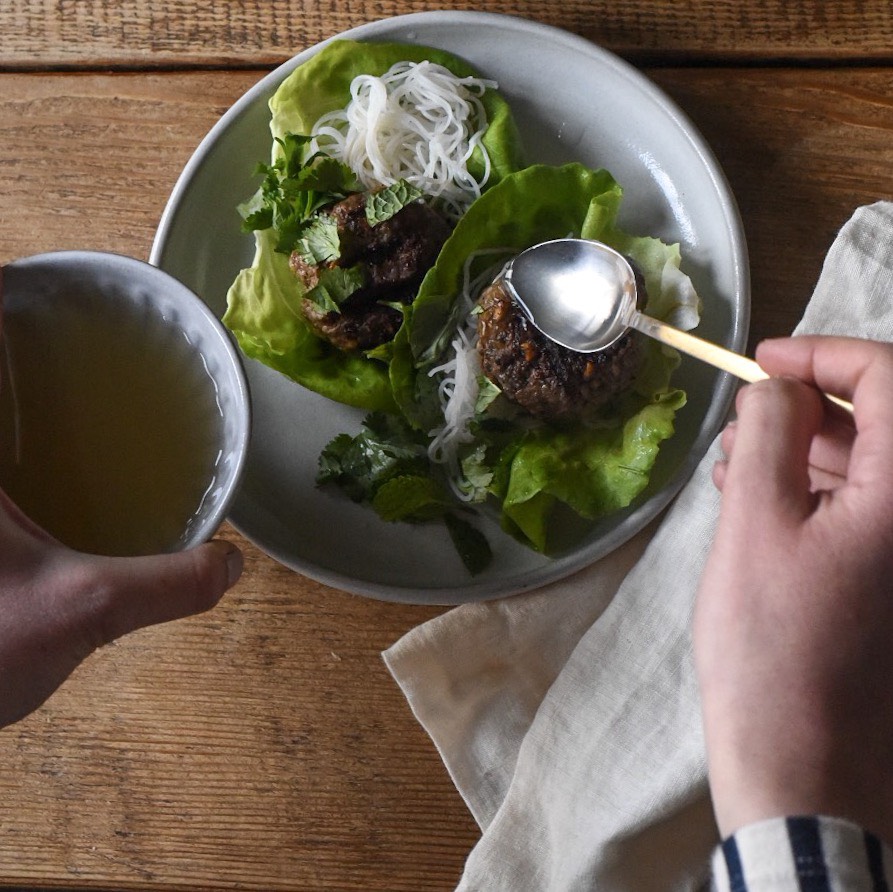 And I have let go of a lot of my expectations. The stuff that I used to analyze and over-analyze in my head. I'm more aware of the fact that life is constant change, even if some of those changes require a mourning period.
And you know what? Surprisingly, I've started to enjoy some of the things that I got burned out on. I've been playing around with recipes and flavors. I truly loved photographing all the things in Hawaii, especially with my new zoom lens. And if I can find the time, I promise to share a travel guide to Oahu with you. I've really enjoyed posting to Instagram — something that I used to dread.
I'm as curious as ever. About the latest cooking techniques, gardening, interior design, and of course, travel. I've become addicted to my local library and have read 7 books since January. I highly recommend Girls Burn Brighter and Eleanor Oliphant is Completely Fine.
Today, I'm sharing a recipe from a cookbook I immediately fell hard for because it speaks to my great love of Vietnamese cuisine, but presents it in a super approachable fashion for the home cook who might be intimidated by an Asian pantry.
We actually made these lettuce wraps a few weeks ago (shortly after this Chocolate Bribery Cake!). The timing of my return feels somewhat relevant. I turn 36 this week. I feel really good about that age. It feels slightly more impressive that 35 and eons away from 40. Though, they say it creeps up on you! I drank my first Moon Juice "dust" today (thanks to one of my bffs, M, for my early birthday present) and rode my bike (twice) this weekend.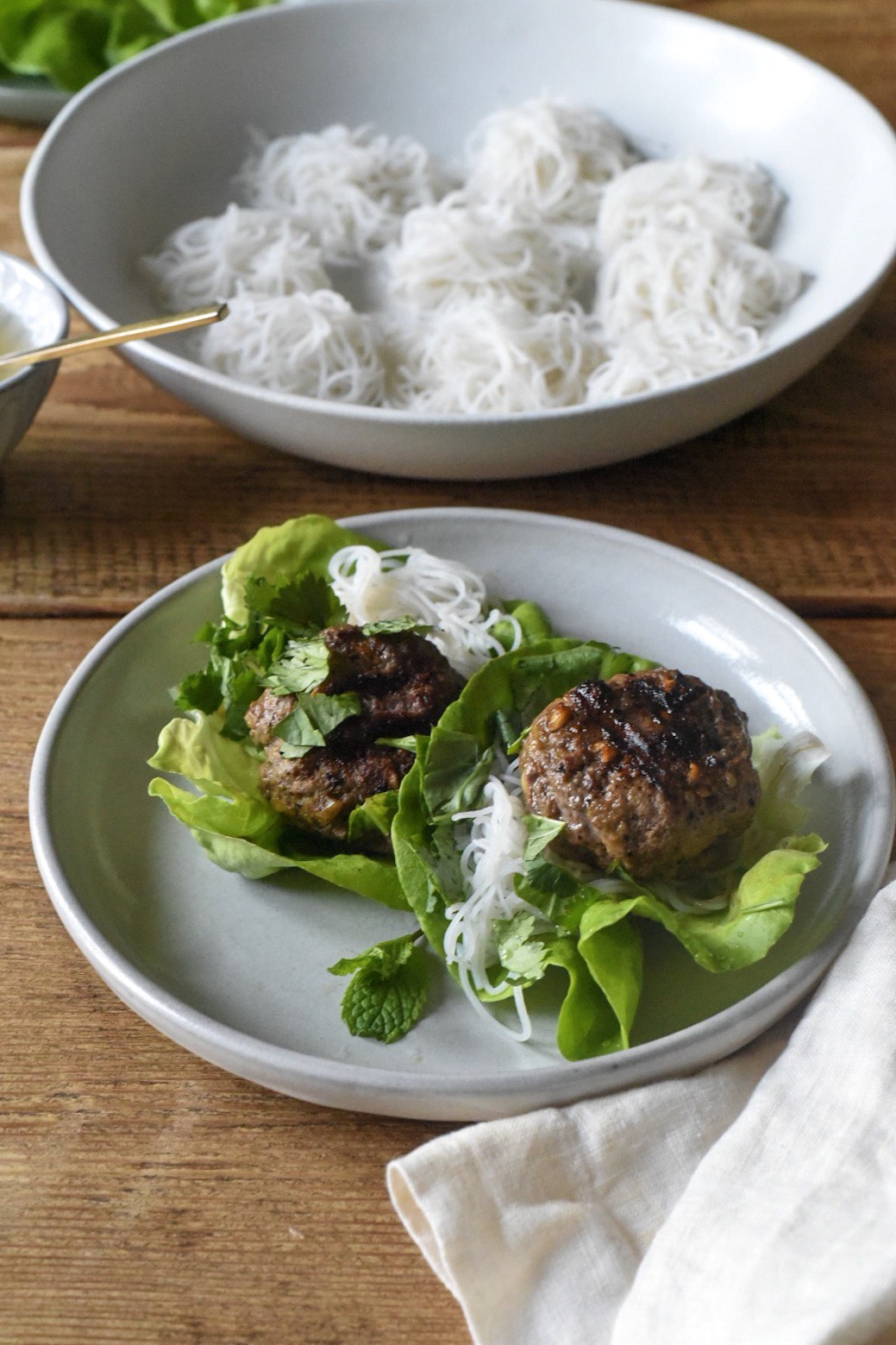 A friend recently asked me if we'll stay in Seattle "forever." I told her I have no idea — but never say never.
Curry-Scented Grilled Beef Lettuce Wraps
barely adapted from Vietnamese Food Any Day
1/2 cup of unsalted roasted peanuts, finely chopped
3 green onions, finely chopped
1 tablespoon of Madras-style curry
3/4 teaspoon of freshly ground black pepper
3 tablespoons of water
1 tablespoon of oyster sauce
1 tablespoon of fish sauce
1 1/2 pounds of ground beef
6 ounces of dried rice noodles
Nuoc Cham dipping sauce (recipe below)
Plenty of butter lettuce leaves
Fresh mint or basil
Fresh cilantro
For the Nuoc Cham dipping sauce:
2- 2 1/2 tablespoons of sugar
3-4 tablespoons of freshly-squeezed lime juice
1/2 cup of warm water
2 teaspoons of unseasoned Japanese rice vinegar (we used brown rice vinegar)
3-4 tablespoons of fish sauce
1. Combine the peanuts, green onions, curry powder, pepper, water, oyster sauce, and fish sauce in a medium bowl. Mix the beef in using your fingers and form the mixture into 2 inch wide, 1/2 inch thick patties.
2. Make the Nuoc Cham dipping sauce: combine 2 tablespoons of sugar, 3 tablespoons of lime juice, and warm water in a bowl. Taste the mixture. Add more lime juice or sugar, to taste. If you taste bitterness, add a little vinegar. Add the fish sauce, stirring to combine.
3. Bring a large pot of unsalted water to a boil. Add the noodles, and cook according to package instructions. Drain the noodles in a colander and rinse with cold water. Using your fingers, form the noodles into 2-inch "nests," arranging them on a serving dish.
4. Oil a cast-iron stovetop grill and heat over medium-high heat. Add the beef patties, in batches, cooking for 4-5 minutes, flipping them midway through the cooking time. Cook to medium or medium-well done. Transfer the patties to a serving dish as they finish cooking.
5. Now comes the fun part 🙂 Arrange the lettuce leaves on another serving plate and let everyone assemble their own lettuce wraps with a rice noodle nests, beef patties, herbs (to taste) and a drizzle of Nuoc Cham dipping sauce (to taste).