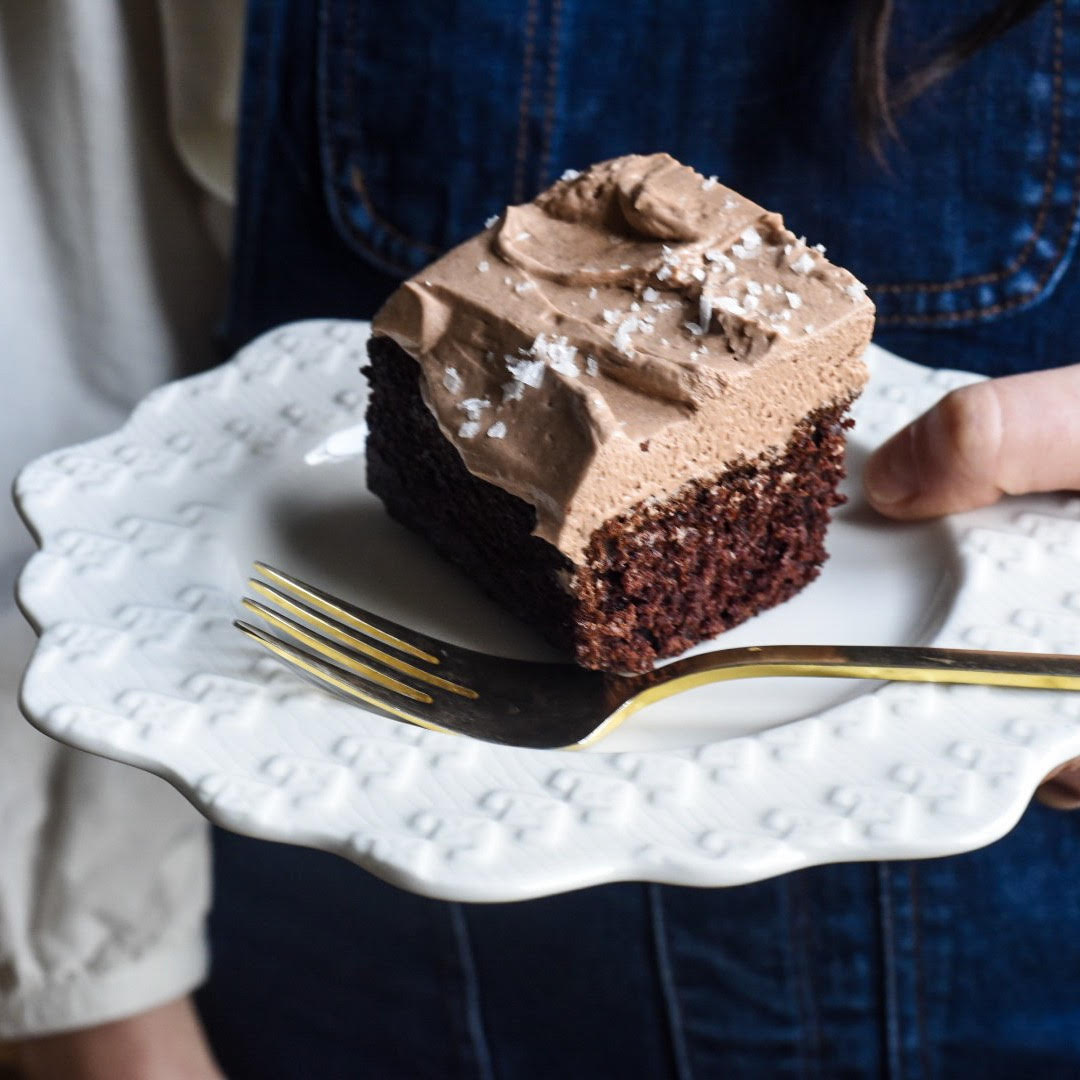 I still remember that weird feeling of publishing something "on the internet" and getting comments and emails from complete strangers saying they could relate. Or that they had tried the recipe and it was awesome. Or the beans were too dry. Or they, too, hate April Fool's Day. There was something magical about getting that little notification ding.
I went on a company retreat last week during which we did one of those Myers-Briggs-like tests to explore who we are as people. I've always loved horoscopes on a very surface level but this particular test felt like it totally nailed me. In addition to being a great source of conversation for my colleagues, I found that it made me think more about who I am and what motivates me. The assessment found that I have a spirit of adventure, a distaste for (boring) details, and a highly extraverted nature that thrives in the company of people. It pinned me down as "fiery sunshine." This is both my great strength and one of my biggest challenges.
When life isn't a series of spontaneous adventures, I tend to get a little bored. A little down. A little unmotivated. So what's a girl to do with that — especially when 70% of my week is pretty routine? Cake is, naturally, the answer. At least some of the time.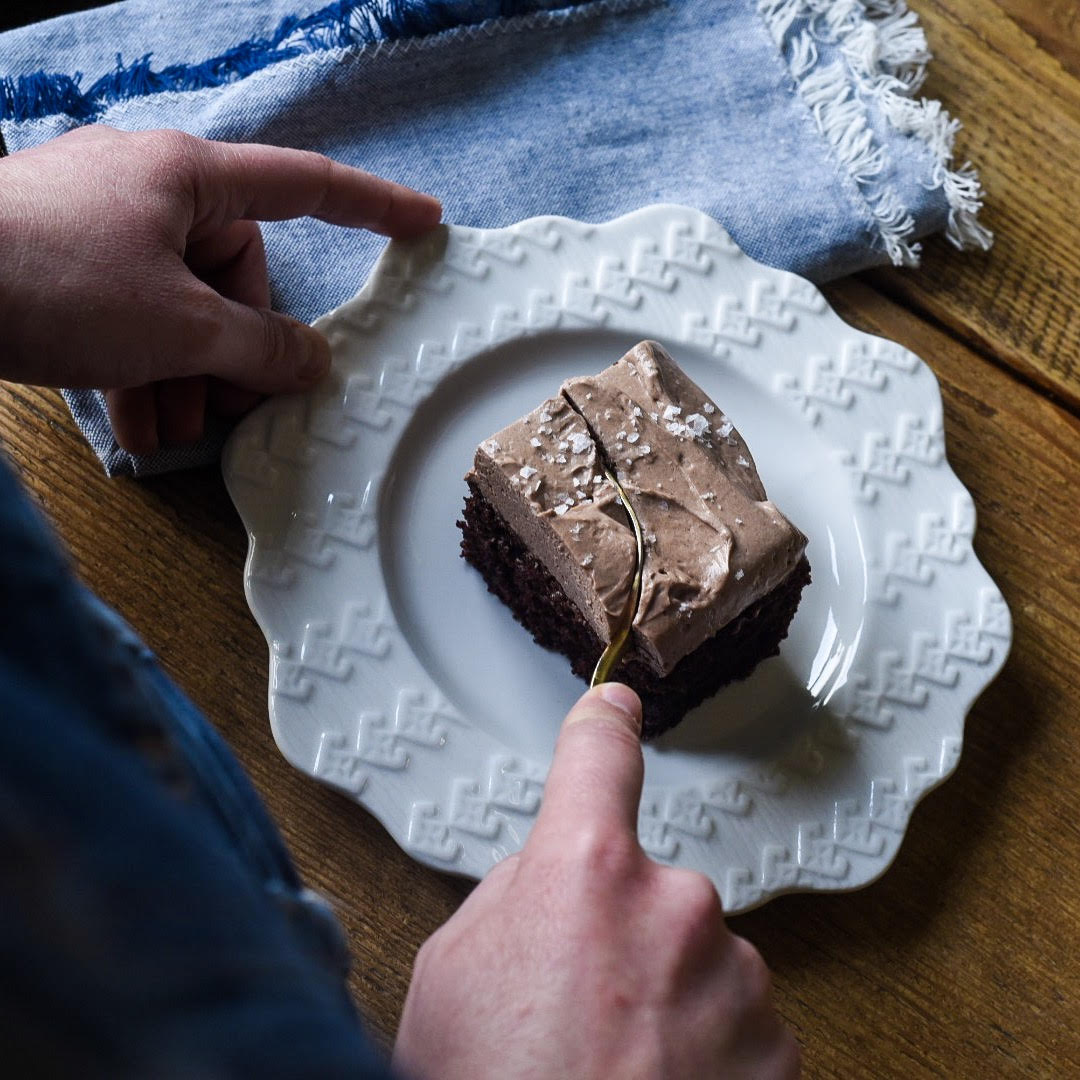 Odette Williams' new book, Simple Cake, might just be the thing you're looking for if you, like me, like an excuse for adventure and spontaneity but, say, don't have something specific to celebrate on a given week. Odette ingeniously offers up endless combinations of cake bases, frostings, glazes, and toppings that can be paired together for virtually every occasion (or non-occasion).
I thought long and hard about which cake to make first and landed on none other than this deep, dark, chocolate "Bribery Cake" recipe which, mind you, is slathered in Chocolate Swiss Merengue Buttercream and sprinkled with MALDON SEA SALT. Yes, people. This is the cake to make when your heart and/or mind are needing a little something extra, ya know what I'm saying?
P.S. Looking for more casual cakes? Check out these chocolate-mint cupcakes, too.
P.P.S. If you're feeling nostalgic, be sure to check out our latest release from our vinyl record club for full-length covers, SOUNDS DELICIOUS: No Vacation covering The Cranberries' debut album Everybody Else Is Doing It, So Why Can't We?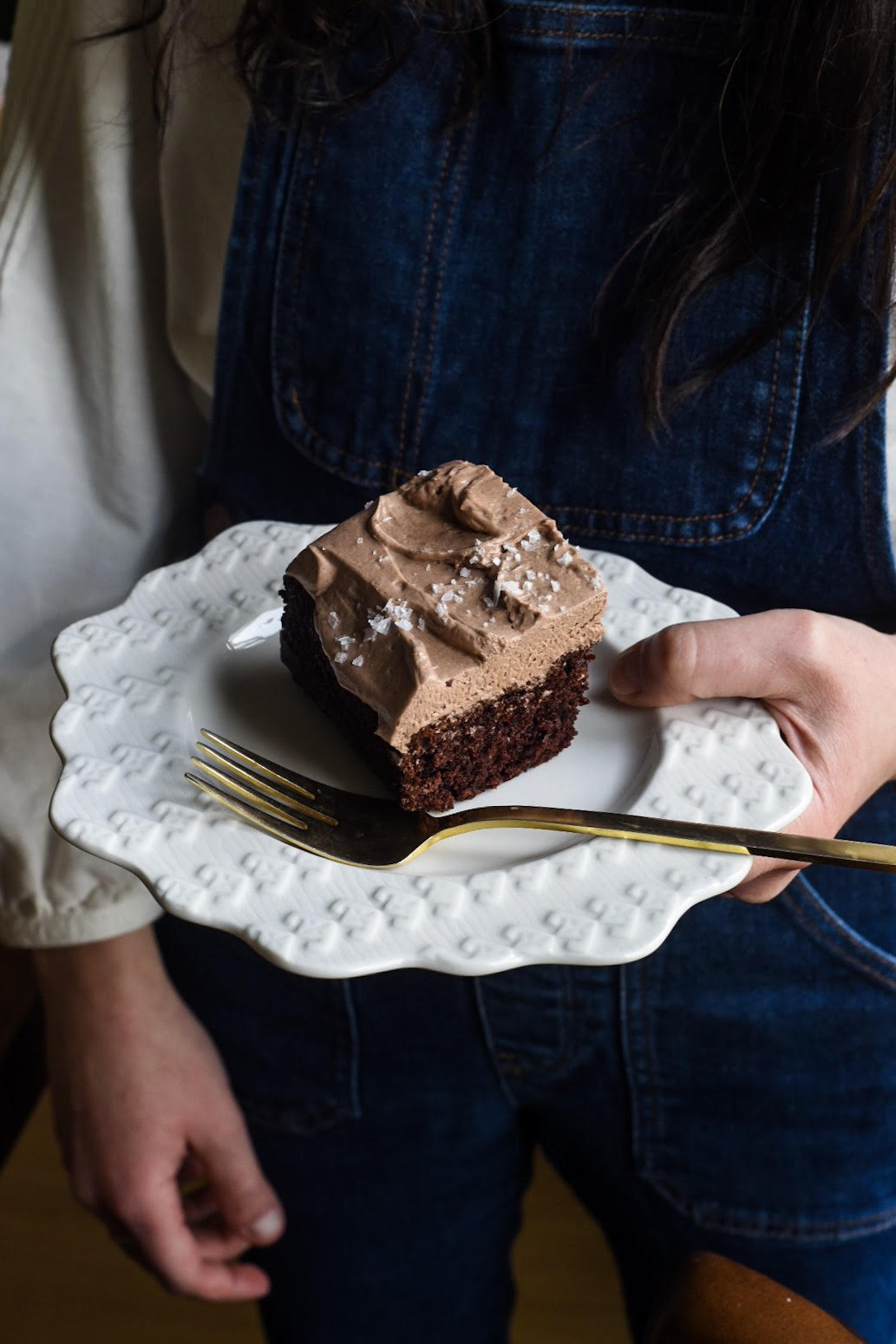 Chocolate Bribery Cake
adapted from Simple Cake
For the cake:
1 3/4 cups of all-purpose flour
1/2 cup of unsweetened Dutch-processed cocoa powder
1 1/2 teaspoons of baking powder
1 1/2 teaspoons of baking soda
1/2 teaspoon of kosher salt
1 1/2 cups of sugar
2 large eggs, at room temperature
1 cup of milk, preferably whole
1/2 cup of canola oil
1/2 teaspoon of bourbon vanilla extract
1 cup of boiling water
For the Chocolate Swiss Merengue Buttercream:
2 sticks of unsalted butter, at room temperature
3 egg whites from 3 large eggs, at room temperature
1 cup of sugar
1/4 teaspoon of cream of tartar
1/4 teaspoon of kosher salt
1/2 teaspoon of bourbon vanilla extract
2 tablespoons of unsweetened Dutch-processed cocoa powder
1. To make the cake: preheat your over to 350 degrees Fahrenheit. For a square cake, grease a 9 x 9 inch cake pan and line with parchment paper.
2. Sift together the flour, cocoa powder, baking powder, baking soda, and salt over a large mixing bowl.
3. Whisk in the sugar.
4. Combine the eggs, milk, oil, and vanilla in another bowl. Whisk until smooth.
5. Slowly whisk the wet ingredients into the dried ingredients until your batter is smooth and lump-free.
6. Pour in the boiling water and stir until fully incorporated.
7. Pour the batter into the prepared pan and bake in the center of the oven for 50 minutes or until a toothpick inserted into the center comes out clean.
8. Let the cake rest for 10 minutes before running a butter knife around the edges and carefully inverting it onto a serving platter. Let cool.
9. To make the frosting: Cut the butter into small cubes. Fill a small saucepan with water and bring to boil. Lower the temperature to a simmer, then place the egg whites, sugar, cream of tartar, and salt into a metal mixing bowl. Place the metal mixing bowl directly over the pot, without letting the water touch the bottom.
10. Whisk the mixture constantly, until it reached a temperature of 160 – 165 degrees Fahrenheit. This should take about 4 minutes or so.
11. Transfer the mixture into the bowl of a stand mixer fitted with a whisk attachment and beat on high for about four minutes, or until the mixture is white and fluffy, with "stand-up peaks." If your mixture isn't thickening, just keep beating it. You can transfer the bowl to the fridge for about 10-15 minutes to speed up the process.
12. Once your mixture has reached your desired consistency, add the butter, one tablespoon at a time, beating constantly. Beat in the vanilla extract and cocoa powder.
13. To prepare the cake, use an offset spatula to spread the frosting (only once your cake base has cooled fully!). Then, sprinkle generously with Maldon Sea Salt. Keep the cake at room temperature to maintain the desired consistency and eat right away. We placed some of our leftovers in the fridge and allowed them to come to room temperature before eating again. There were no complaints 🙂