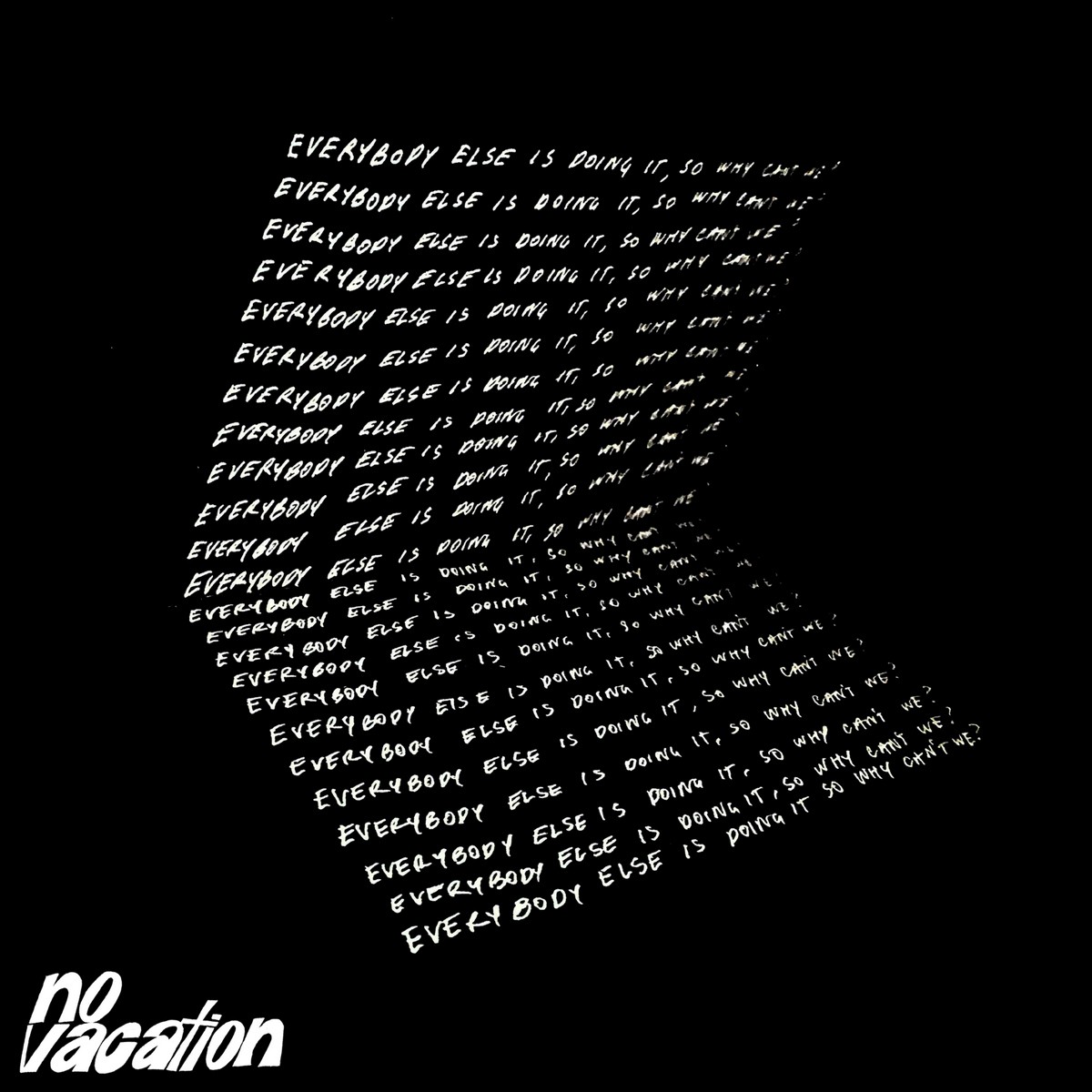 We're very excited to announce the lucky thirteenth edition of our SOUNDS DELICIOUS series. This time around our good friends in No Vacation are paying tribute to the late Dolores O'Riordan with a full album cover of The Cranberries' debut album Everybody Else Is Doing It, So Why Can't We?
The fine people at Paste Magazine were kinda enough to premiere the album's first single, "Linger," earlier this afternoon as their Daily Dose (i.e. today's "song you absolutely, positively need to hear"). We're super duper extra proud of this one and the work No Vacation put into it.
Nat from No Vacation had this to say about the album:
One of the biggest challenges in this process was trying to create something that in essence is still the Cranberries, while also sounding like No Vacation. The most difficult part of recording was figuring out where to start, but after we had established a plan and vision, the rest followed.

I think that in covering this album, it allowed us to expand by working on various instrumental parts that we wouldn't have been able to do through No Vacation. It allowed us to experiment with different sounds and processes. I think that the best part of the experience was hanging out and spending time figuring out new ways to record each other at home and made us realize how hard it is to make a cover that represents two ideas in one song.
Harrison from No Vacation talked about how it helped the band in their own songwriting:
My favorite part of making this cover album was that, to a degree, I treated it as more of an inquiry into what sounds and textures we might use or incorporate into future recordings. Since we pushed the boundaries a bit and stepped out of our comfort zone, I truly believe it helped us develop our most recent songs, if not in their entirety, at least in my guitar tones.
Meanwhile, Sab talked about the challenges of tackling a full album cover:
The whole cover process was new to us because we had never thought to cover an album in full. With the passing of Dolores, we knew that we wanted to create a piece that was a tribute to the Cranberries to honor their music.

Although we had known of the Cranberries and their most famous songs, we had never really listened to their music very much in depth.

When it came time to record the album, we realized that many of the songs we hadn't heard before. It was a challenge to listen to a song that was unfamiliar and otherwise new to us, while trying to recreate it as something of our own and maintain the integrity of it in the process.
No Vacation's version of Everybody Else Is Doing It, So Why Can't We?  is only available by subscribing to SOUNDS DELICIOUS. In addition to a deluxe edition for our Kickstarter supporters, it's available on white vinyl for members and gift orders of 6-months or more (while supplies last) and on black vinyl for all other orders. As always, each copies comes packaged with an MP3 digital download of the album. As always, it's limited edition – so act fast! We're expecting these to begin shipping mid-April.
Below you can listen to "Linger" and check out the tracklisting and some of their upcoming tour dates:
Tracklisting
Still Do
Dreams
Sunday
Pretty
Waltzing Back
Not Sorry
Linger
Wanted
Still Can't…
I Will Always
How
Put Me Down
No Vacation Summer Tour
May Tour Dates
May 22, 2019Burlington, VT, US@ ArtsRiot
May 23, 2019Allston, MA, US @ Great Scott
May 24, 2019Washington, DC, US @ Union Stage
May 25, 2019Philadelphia, PA, US @ PhilaMOCA
May 26, 2019 New York, NY, US @ The Bowery Ballroom
May 28, 2019 Raleigh, NC, US @ Kings
May 29, 2019Atlanta, GA, US @ Purgatory at The Masquerade
May 30, 2019Orlando, FL, US @ Soundbar
May 31, 2019 Margate, FL, US @ O'Malley's Sports Bar
June Tour Dates
June 01, 2019Tampa, FL, US @ Crowbar
June 03, 2019 New Orleans, LA, US @ Gasa Gasa
June 04, 2019 Houston, TX, US @ Satellite Bar
June 05, 2019 San Antonio, TX, US @ Paper Tiger
June 06, 2019Austin, TX, US @ Barracuda
June 07, 2019Dallas, TX, US @ Three Links
June 08, 2019 Oklahoma City, OK, US  @ 89th Street (formerly the Conservatory)
June 09, 2019Santa Fe, NM, US @ Meow Wolf
June 11, 2019El Paso, TX, US @ Lowbrow Palace
June 13, 2019Phoenix, AZ, US @ The Rebel Lounge
June 14, 2019San Diego, CA, US @ Irenic
June 15, 2019Santa Ana, CA, US @ Constellation Room at the Observatory
June 16, 2019San Francisco, CA, US @ Great American Music Hall
June 19, 2019 Portland, OR, US @ Paris Theatre
June 20, 2019 Seattle, WA, US @ The Vera Project
June 21, 2019 Spokane, WA, US @ The Bartlett
June 22, 2019Boise, ID, US @ The Shredder
June 25, 2019 Salt Lake City, UT, US @ Kilby Court
June 26, 2019Denver, CO, US @ Larimer Lounge
June 27, 2019Omaha, NE, US @ Slowdown
June 28, 2019Minneapolis, MN, US @ 7th Street Entry
June 29, 2019Chicago, IL, US @ Subterranean
July Tour Dates
July 02, 2019Stockholm, Sweden @ Melodybox
July 03, 2019Groningen, Netherlands @ VERA
July 04, 2019Hamburg, Germany @ Molotow
July 04, 2019Prague, Czech Republic
July 06, 2019Warsaw, Poland @ Progresja
July 08, 2019 Vienna, Austria @ Vienna Arena (Arena Wien)
July 10, 2019Dour, Belgium @ Dour Festival
July 10, 2019Zagreb, Croatia @ Club Mochvara
July 11, 2019Dudingen, Switzerland @ Bad Bonn
July 13, 2019Dour, Belgium @ Dour Festival
July 16, 2019Paris, France @ La Boule Noire
July 17, 2019Amsterdam, Netherlands @ Paradiso
July 18, 2019 Suffolk, UK
July 18, 2019Düsseldorf, Germany @ Kassette
July 19, 2019Offenbach, Germany @ Hafen 2
July 20, 2019Gräfenhainichen, Germany @ Melt Festival
July 22, 2019Brighton, UK @ The Green Door Store
July 23, 2019London, UK @ The Dome, Tufnell Park
July 24, 2019Bristol, UK @ Exchange
July 25, 2019Leicester, UK @ The Soundhouse
July 26, 2019Manchester, UK @ Yes
July 27, 2019 Glasgow, UK @ Broadcast
July 29, 2019 Dublin, Ireland @ The Grand Social
July 30, 2019 Leeds, UK @ Brudenell Social Club
August Tour Date
August 02, 2019 Malaga, Spain @ Canela Party