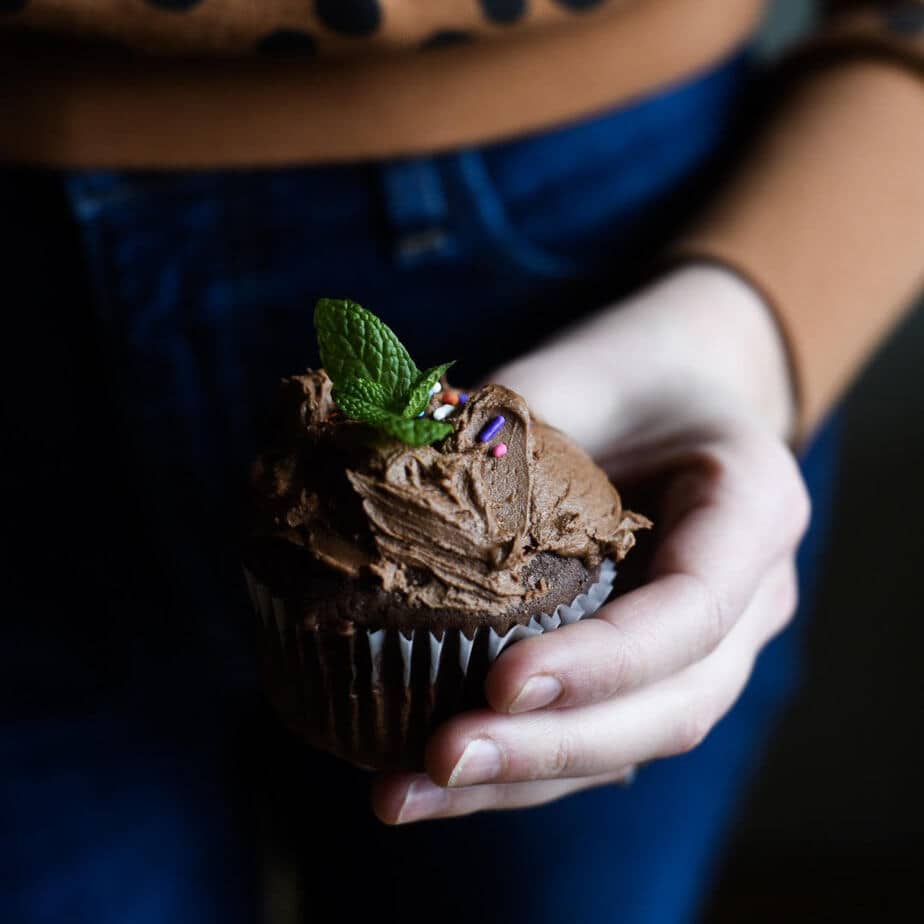 I've never been a cupcake person. I'm not much for pie, either. But it takes a certain type of cupcake (and a certain type of pie) to win my heart. Usually, it's a combination that involves chocolate. But not the type that's cloyingly sweet.
My oldest daughter has become quite the chocolate connoisseur — she'll pass over the milk chocolate and go straight for the good, dark stuff. We're alike in more ways than one. So, for her 6th birthday, I made her a pink frosted vanilla cake paired with these mint-chocolate cupcakes. I'll be honest: I had, for a moment, thought I'd delicately top each cupcake with a fresh mint leaf, but then remembered I'd be serving them to a bunch of six year olds. I opted for sprinkles (the India Tree ones are my favorite). But I strongly feel that the next time I make these for a mixed group of children and adults, I'll go for the gold, err, mint.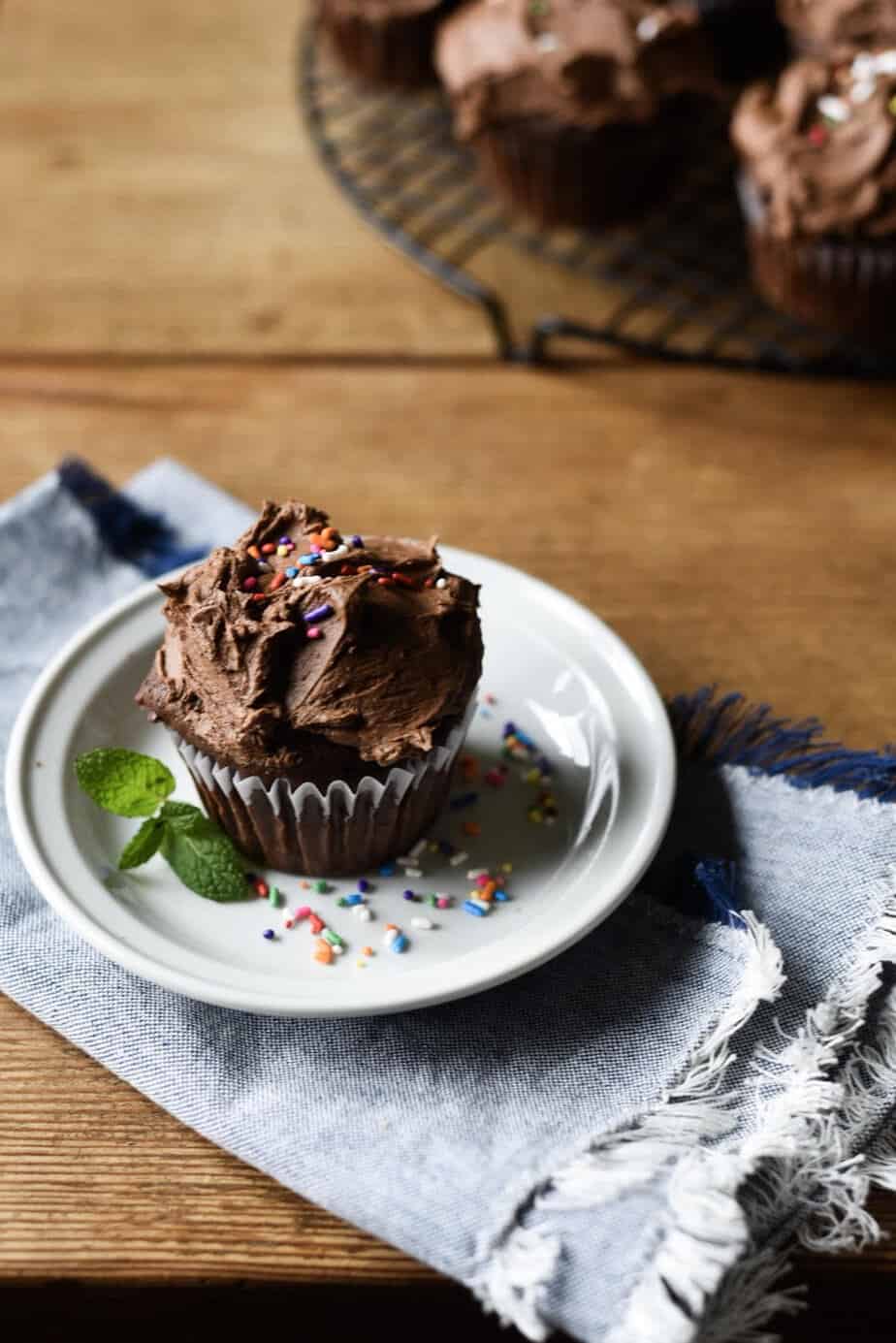 The recipe, which is very lightly adapted from this one from  Joy of Baking, couldn't be easier. In fact, I whipped these up the morning of the party without so much as breaking a sweat. I mean, to be fair, I was breaking a sweat about hosting a party for 16 six year olds, but the cupcakes felt like, "I got this!"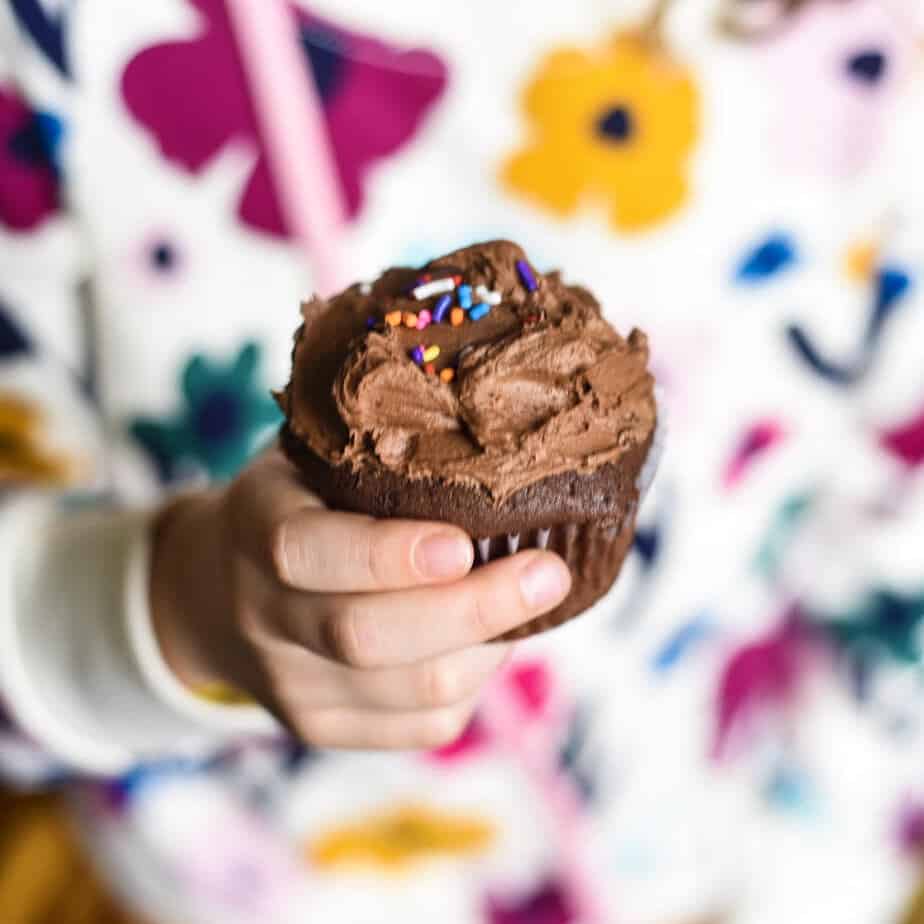 I remember when she was a baby, Matt and I would talk about that day, so far in the future, when she would be old enough to have a conversation with. I precisely remember thinking about riding a train with her sitting next to me. No train in particular, and no specific destination, but just the idea of being in transit with a small person who had thoughts and perspective and opinions.
I won't say that these six years were short (though each passing year feels short-er). But man, it's crazy to think that I'm the mother of a kindergartner. We've been working on getting her to learn to read. Tonight, she told me, "I want to do everything perfectly." The statement pierced my heart a little as it dug into something I've been struggling with…hmm, my whole life. I patiently told her that doing everything perfectly wasn't something to strive for. And then I chewed my nails and pondered into my wine.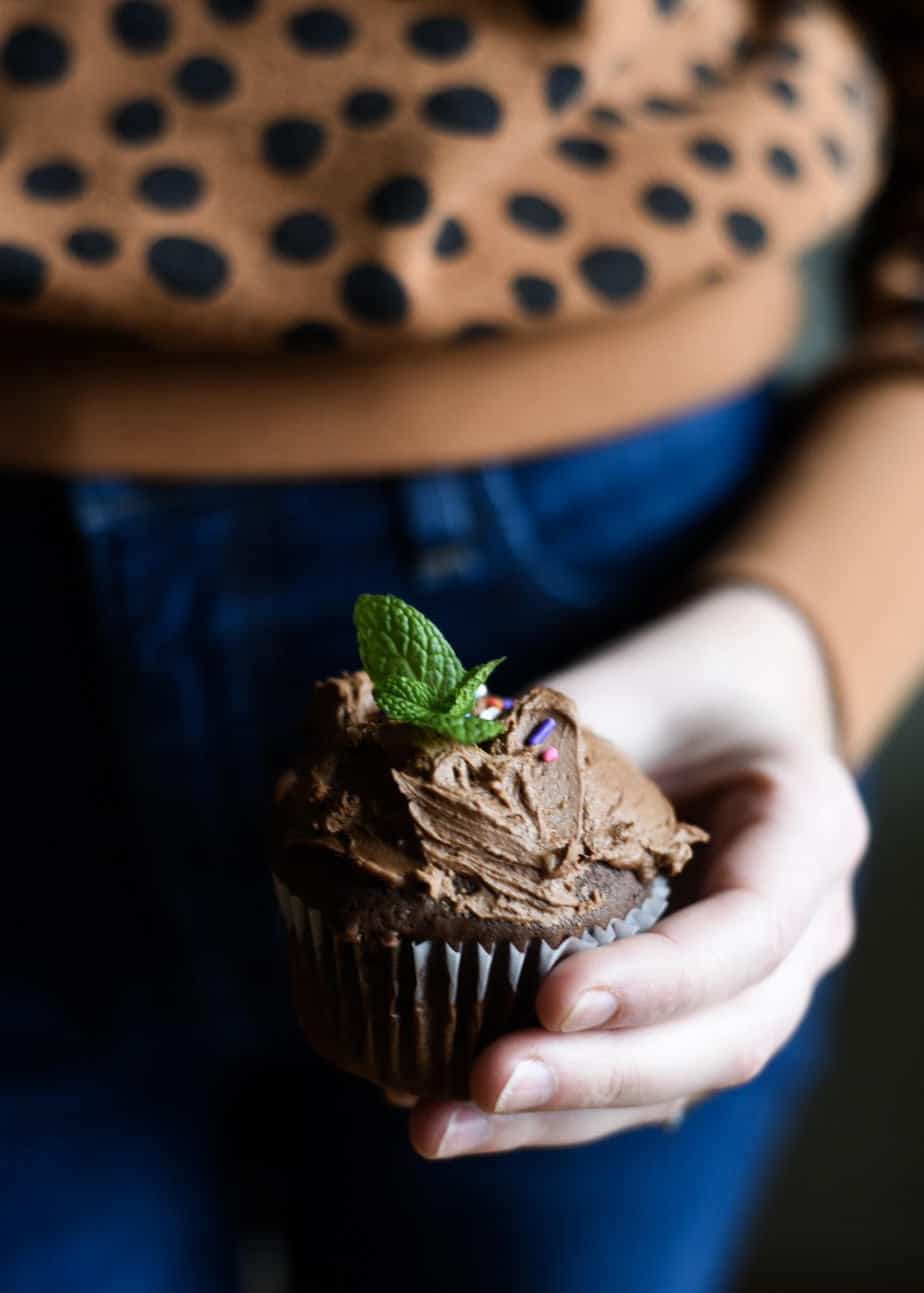 Being a parent means seeing your love of chocolate reflected back at you, but also your perfectionism. There will be many more days when we over-indulge in chocolate and also days when we teach each other that it's more important to look in rather than to look out.
It's a brilliant circle of life to realize that you're growing and learning more from a child than you ever imagined. I'm grateful that, like me, she too always appreciates an occasion for cake. But is also happy to make an occasion for cake. And can end the day with a reflection like, "Mama, I want to learn all the things, and just keep learning." Me, too, baby girl. I'll strive for that, too.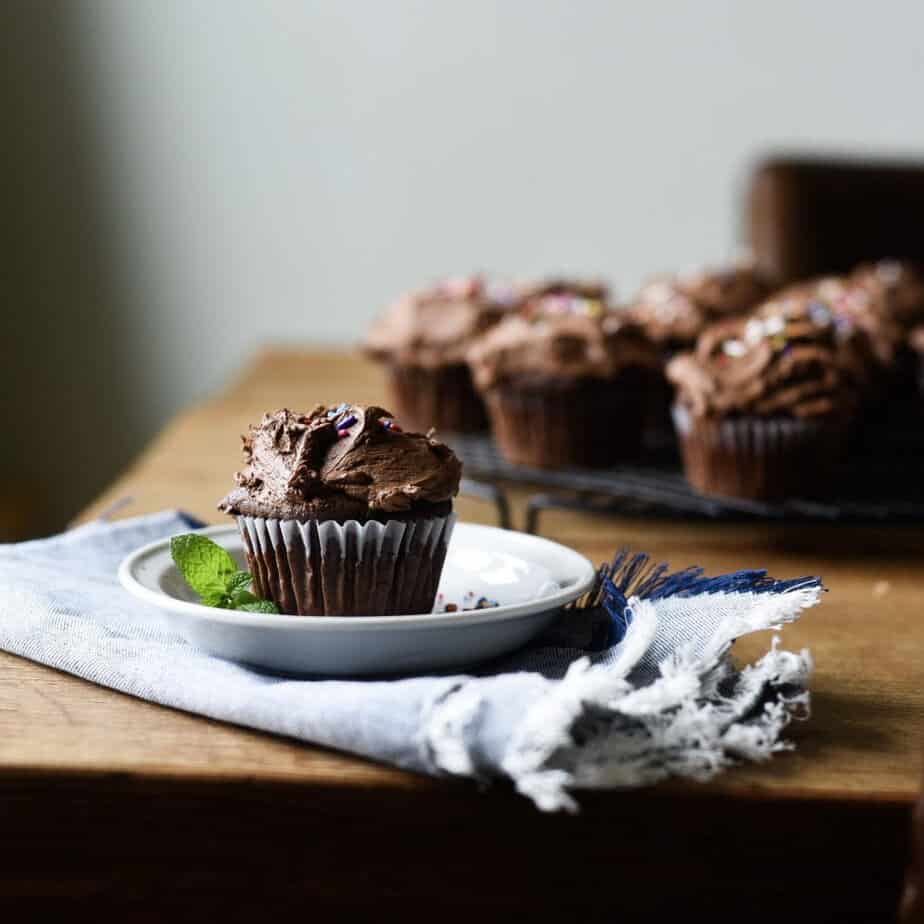 I know I could have opted to make the frosting glossy and swirly, but I went the wild and free route, using just an offset spatula to smear it on. You can call these "casual birthday cupcakes," or something like that.
Easiest Chocolate-Mint Cupcakes
adapted from Joy of Baking
1/2 cup of unsweetened cocoa powder
1 cup of boiling water
1 1/3 cups of all purpose flour
1 teaspoon of baking powder
1/4 teaspoon of baking soda
1/2 teaspoon of kosher salt
1/2 cup of unsalted butter, at room temperature
1 cup of natural cane sugar
2 teaspoons of bourbon vanilla extract
2 large eggs, at room temperature
For the chocolate frosting:
4 ounces of semi-sweet chocolate chunks
2/3 cup of unsalted butter, at room temperature
1 1/3 cups of powdered sugar
1 1/2 teaspoons of bourbon vanilla extract
1/4 teaspoon of peppermint extract
sprinkles and/or mint leaves, for garnish
1. Preheat your oven to 350 degrees F and line a 12 cup muffin pan with paper liners.
2. Add the cocoa powder to a small bowl. Pour in the hot water and whisk until smooth. Let cool.
3. Combine the flour, baking powder, baking soda, and kosher salt in another bowl. Whisk to incorporate.
4. Add the butter to the bowl of a stand mixer fitted with a paddle attachment. Beat for several minutes until smooth. Add the sugar and vanilla extract and beat until light and fluffy.
5. Scrape down the sides of the bowl, then beat in the eggs, one at a time.
6. Scrape down the sides of the bowl and beat in 1/3 of the dry mixture, then 1/2 the cocoa mixture. Add another 1/3 of the flour mixture, then the rest of the cocoa mixture, and end with the remaining flour mixture.
7. Fill each paper liner 3/4 full and bake for about 18 minutes (or until risen, and a toothpick inserted into the center comes out clean). Remove from the oven and let cool.
8. Make the frosting: add the chocolate chunks to a heatproof bowl and place it over a small pot of gently boiling water. Stir occasionally, until melted. Remove the bowl from the pot and place on a trivet. Let cool.
9. Add the butter to the bowl of a stand mixer fitted with a paddle attachment and beat until smooth. Add the powdered sugar, vanilla and peppermint extracts and beat on high speed for 2-3 minutes, or until fluffy. Add the chocolate, then beat, gradually increasing the speed, until you have a smooth and creamy frosting (about 3 minutes).
10. Frost your cupcakes to your liking. I like to keep it chill by using an offset spatula, but you can also use a piping bag and a star tip. Dust with sprinkles and top each cupcake with a fresh mint leaf, if desired.