Last month, Matt and I were presented with the opportunity of a lifetime to go to Japan on an 'inspiration trip.' We were selected to join a small group of creative influencers as part of UGG Australia's Creative Council. You can read more about that here and watch a little video that UGG Australia's team helped us create.
Nearly a month has passed since our return, and I am only now just pulling my thoughts together about the trip. We had been talking about taking a trip to Japan for years but the circumstances were just never right. When the stars aligned, we knew we had to dive in.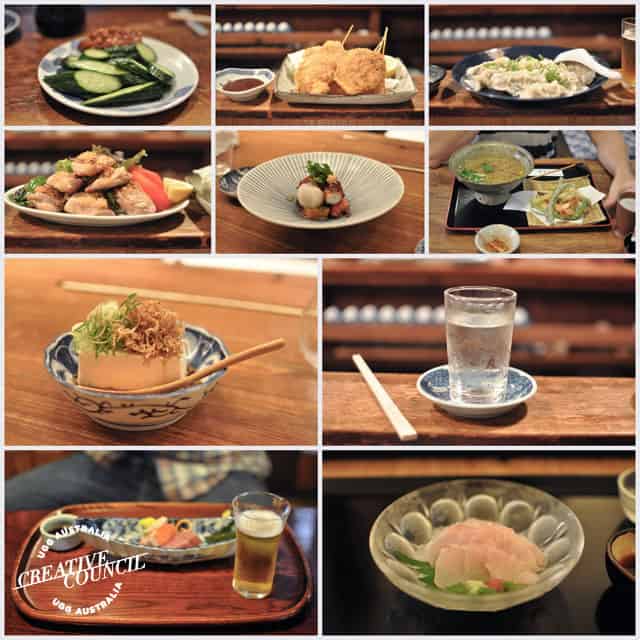 Travel is magic and this trip was very much so. It was my first time in Asia (Matt had traveled to Asia when he was younger) and I was so incredibly thrilled to allow myself to take it all in. Japan is a country for all of your senses, and it's very easy to get overwhelmed, feel like you did not plan enough/are not doing enough/eating enough/and don't have enough time. Keyword here being 'enough.' Although the country is small, it is incredibly varied and we knew that with 10 days to play with, we would only get a taste of what Japan was all about. As a disclaimer, I want to say that this is certainly not an all-inclusive Japan travel guide. Rather, I'd like to share with you some of our impressions and highlights, as well as our recommendations for planning a trip to Japan.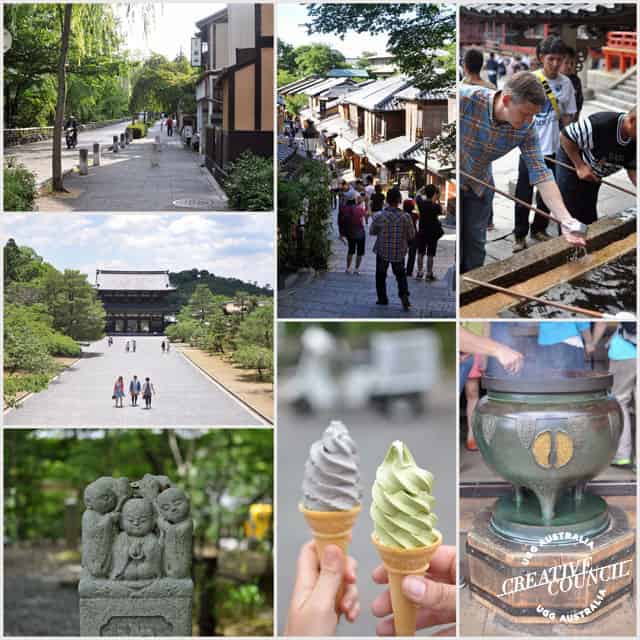 Tokyo, Kyoto and Nara
We focused our time on the top to cities on most people's itineraries: Tokyo and Kyoto, and left ourselves a day for a short side trip to Nara. If I were to do the trip over, I would probably still focus on these three cities with one caveat: Tokyo is intense. I've been to a lot of big cities (Moscow, Buenos Aires, Rome, New York, London) but nothing and I mean nothing compared to Tokyo. It was vast unlike anything I had ever seen. Crossing the street, I felt like a tiny pixel on a screen. My Western senses were challenged daily (for example: often, businesses could be found on a random, unmarked alley or on the 6th floor of a building). Before you go, I would highly recommend negotiating a cell phone plan that will allow you to utilize Google Maps as you're walking around (note: you will still get lost).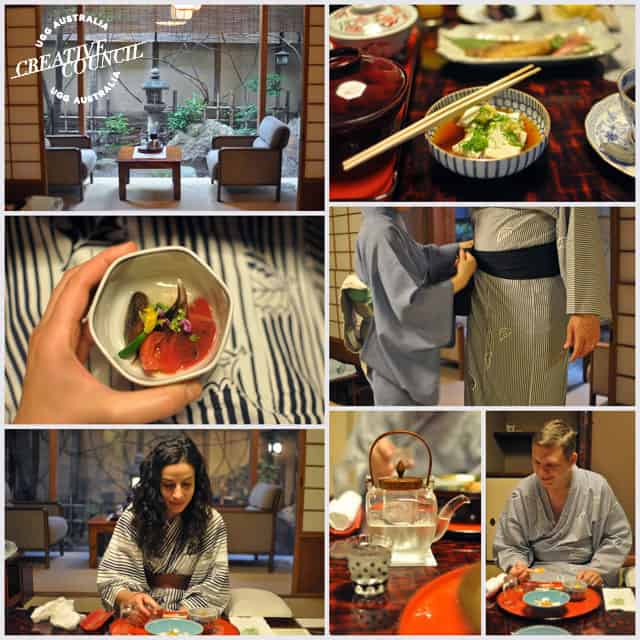 What I loved about our itinerary was how diverse it was. One day, we'd be shopping the depachikas (massive department stores filled with shops, restaurants, and gourmet food) and stopping into a coffee shop and the next we'd be popping in and out of temples, or petting wild deer in a park. We chose to stay at a traditional ryokan one night in Kyoto where we were served a multi-course Japanese breakfast and dinner, wore yukatas, and took a traditional pre-dinner bath.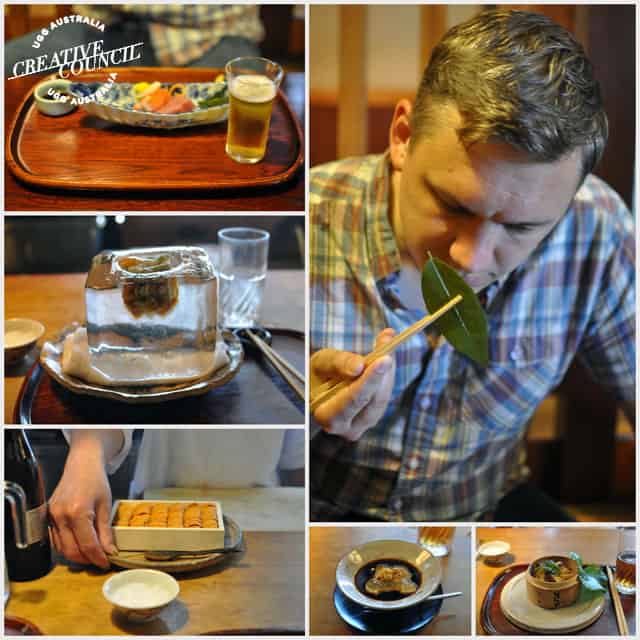 In Nara, we saw the largest bronze Buddah in the world, meandered through temples and gardens, fed wild deer in Nara Park, and ended our evening at an izakaya (bar with food) where we first tried a Japanese spice called sancho (it makes your tongue literally tingle).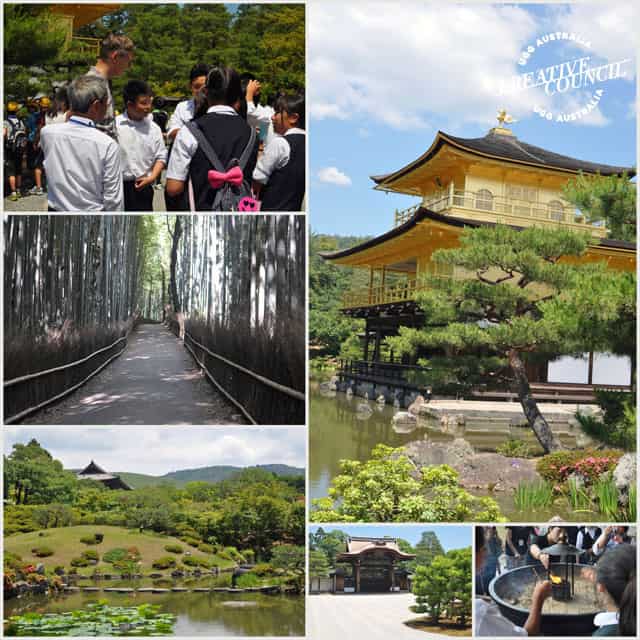 When I said that my Western senses were challenged, I meant it: I ate at restaurants in department stores, enjoyed clean bathrooms in train stations, left my iPhone in a hotel lobby in the morning and then got it back in the evening, and ate desserts made out of beans.
Sushi, izakayas, kaiseki, ramen, mate, soba
While after spending a week in Italy, I was ready for some Thai food and a cheeseburger, I found myself overwhelmed by Japanese cuisine in the very best of ways. Of course, sushi was on the menu (raw fish is often served as part of your meal, regardless of what you are eating), but there were also plenty of noodles, chicken, beef, pickled vegetables, black sesame ice cream, a spectrum of tea and coffee, and desserts that are eaten first with your eyes, and then with your mouth.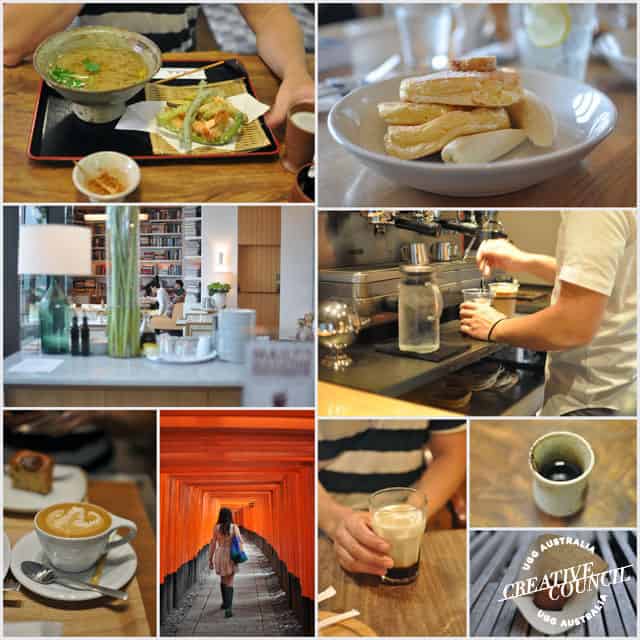 By far, our most intriguing meals were those that involved ingredients we had never heard of. At lunch recently, a friend mentioned that the golden rule of restaurant food is that everything on your plate should be edible. Interestingly enough, I noticed a number of occasions when things on my plate in Japan were served to intrigue your other senses; for example, a cherry leaf was placed over several slices of raw fish; our waitress told us to smell it first, set it aside, and then eat our fish. At the same restaurant, we slurped down our dashi (the broth served with soba noodles) from a giant block of ice.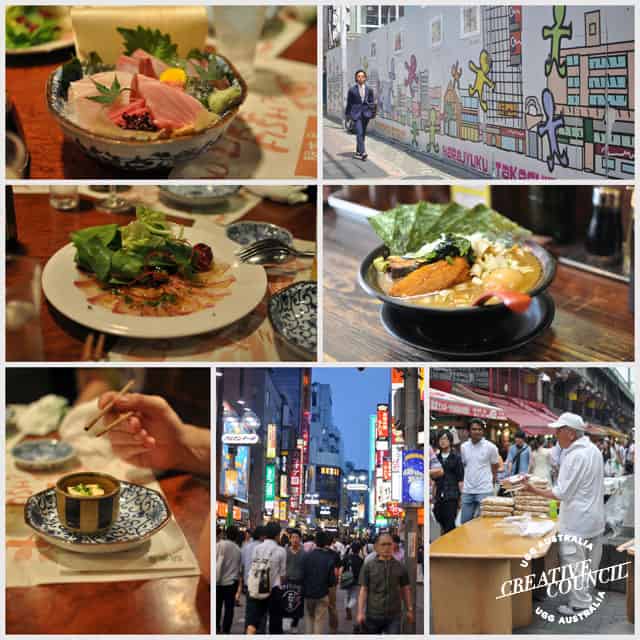 We sampled a lot of cold tofu topped with green onion and crispy baby sardines and Kaiseki, or Japanese haute cuisine, which features a progression of dishes that all highlight seasonal ingredients and often turned lunch into an event. Everything from simply steamed vegetables to rice dishes seemed to have that certain 'wow' factor.
Japanese people are some of the most food-centric I know, and it shows in the amount of food options their country offers. From standing ramen joints where you essentially 'order' your bowl of noodles from a coin-opp machine to izakayas (where bar food is taken to the next level), there is no shortage of destinations for every budget. A tip a number of friends and readers shared with us early on was to frequent department store basements which are filled with a myriad of food stands, grocery stores that sell sushi, and anything and everything fried on a stick. For vegetarians, soba is a great choice for dinner or lunch and can be enjoyed hot or cold.
Of course Japan is famous for its tea, but we found a number of equally-impressive coffee spots in some of the unlikeliest places (including a beautiful little coffee shop tucked into a neighborhood and a local chain in a train station that served pour-over coffee).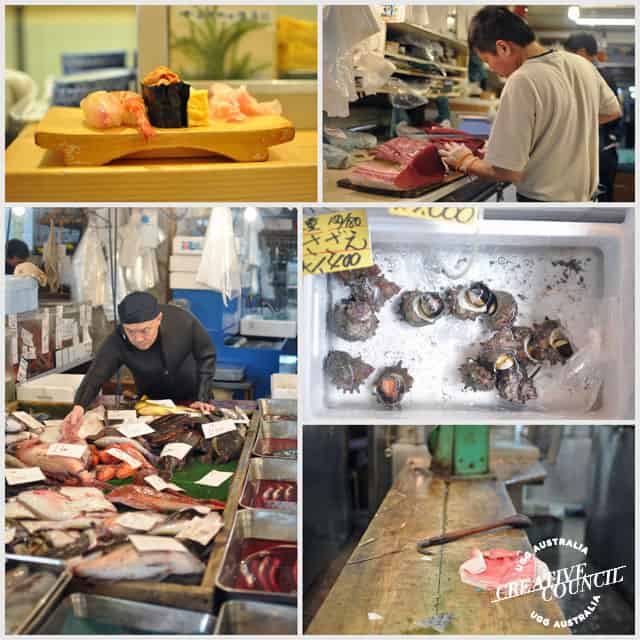 What we learned
When we first began planning our trip, we were overwhelmed by options. Thankfully, we had great recommendations from both friends and readers. Here are our top tips for planning a trip to Japan, and enjoying your time there.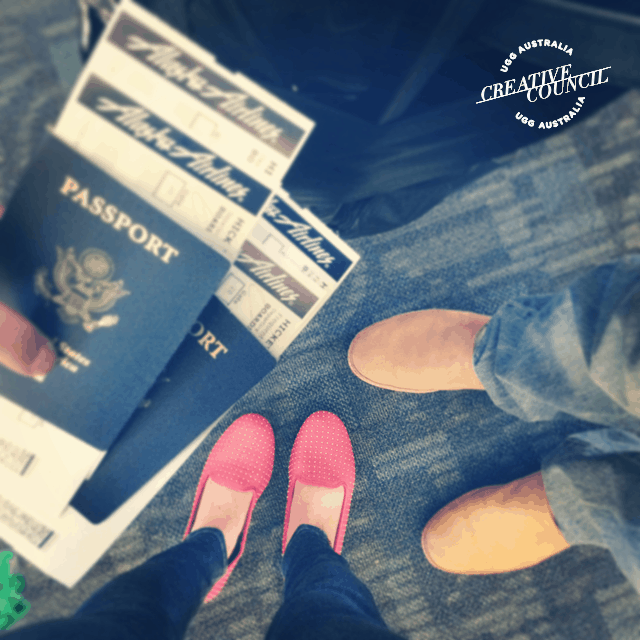 1. Skip the 4 am tuna auction. Everyone and I mean EVERYONE will tell you to get up at the crack of dawn and try to catch the tuna auction at the largest fish market in the world. Only a few people get in, and frankly, you're better off getting some extra shut-eye and just browsing the market after 9. If you're dying for your breakfast sushi fix, there are plenty of options at the market. We hit Sushi Daiwa and happened to catch the Hairy Bikers filming.
2. Download Google Maps to your phone. You'll still get lost, but having GPS on your phone will help you tremendously.
3. Buy a JR rail pass, before you go.The circle line in Tokyo is serviced by JR and you can also use this pass to travel between numerous cities. We used it to get from Tokyo to Kyoto, from Kyoto to Nara, and also from Tokyo to the airport. You'll need to buy it outside of Japan and validate it when you first use it. Remember: once you validate, the clock starts ticking on your pass, so make sure you plan your travels accordingly.
4. Get cash from a post office. Heidi and Wayne shared this great piece of advice with us. It's strangely very difficult to find ATMs that accept foreign cards in Japan, but the post office is the best place to go if you need some cash.
5. Reserve popular restaurants in advance. If you're trying to get into a great restaurant, it's best to make a reservation. The easiest way to do this is to have your hotel call ahead.
6. Don't fear the English menu. I've been trained to avoid any place that has a 'tourist' or English menu but in Japan, most good restaurants tend to have English menus, so there's no need to feel like you're falling prey to a tourist trap.
7. Whiskey is expensive. Make sure to familiarize yourself with the exchange rate so you don't find yourself getting a $50 glass of whiskey (unless, of course, you're looking for a $50 glass of whiskey).
8. Buy goodies. Japan is a shopper's dream. We spent a lot of time at Loft, where we stocked up on washi tape and all sorts of knick knacks, and we also purchased quite a bit of tea, mate, and traditional Japanese sweets from gourmet shops in the Ginza department store basements in Tokyo.
9. Wear comfortable shoes. You're going to do a lot of walking so make sure you've got a comfy set of shoes. Matt lived in his UGG Reeftons, which were perfect for slipping on and off between temple visits.
10. Don't get too overwhelmed. Sometimes, you just want to eat a stack of pancakes and wander without worrying about how many temples you can hit in one day. Let yourself get a little lost, don't be too hard on yourself if you wander away from your itinerary, and make sure you focus on a few priorities, whatever they may be.
11. Don't be alarmed...when schoolchildren stop you to interview you. There are no fewer than twenty photos of Matt and I with groups of schoolchildren floating around Japanese classrooms, I'm sure.
Highlights
Tempra Matsu: This family-owned restaurant was one of the best meals we had in Kyoto. It's worth hopping in a cab and getting their kaiseki menu.
Izakaya Maru: A modern izakaya experience in Tokyo where we sampled wagyu beef and other tasty delicacies. Highly recommended.
Gogyo: There are a few locations of this restaurant in Japan and you must go for the burnt miso ramen.
Granbell Hotel: This was a fantastic base and a great introduction to Tokyo. Centrally located, clean and modern with free breakfast to boot.
Loft: There are a few locations of this can't miss store. It's probably where we spent most of our money. We stocked up on kitchen supplies, washi tape, and Moomin objects.
Kitahara Soba in Nara: A wonderful little spot for lunch on the walk between the Isuien Garden and Tōdai-ji . Try the local specialty: soda made of persimmon vinegar.
Oku: A fabulous restaurant in the Gion region of Kyoto. We went for dinner and enjoyed a kaiseki menu.
Omotesando Koffee: The first time we tried coming to this tiny little outpost in the Omotesando district of Tokyo, we wandered for what felt like hours. It's a lesson in perseverence that we finally found this place and it was well-worth it for the fabulous coffee, serene setting and out of control cubed canales.
Ogawa Coffee in Kyoto: This is a local chain that we discovered in the Kyoto train station (right below our hotel) and we were impressed by how good it was. Pourovers, latte art, and a variety of roasts to choose from. Grab a coffee and a pastry before hopping on the train to Nara.
Bill's (for western breakfast): There is nothing wrong with satisfying a craving for a stack of pancakes in Japan. This is Australian chef's Bill Granger's spot and it's where you go when you want a filling (not cheap) Western breakfast. Every table around us ordered the ricotta hotcakes with honeycomb butter (and with good reason). The location is lovely.
Sushi Daiwa: This is where we enjoyed our official 'sushi breakfast.' There are a number of sushi spots in the Tsukiji Market, the most well-reviewed of which is Sushi Dai.
Hiiragiya Ryokan: If you're looking to experience ryokan living, we recommend this ryokan, one of the oldest in Kyoto. Be sure to read up on ryokan living before you go, and come hungry/ adventurous.
Hotel Granvia Kyoto: After spending a night at a ryokan, we relocated to more modern digs. Located in the massive Kyoto Station, this hotel was a great base for exploring Kyoto, as well as taking day trips. When we came back from Nara in the evening, it was awesome to just walk upstairs from the train to our hotel room.
Shopping in Ginza: Department stores in Ginza featured some of the best basement shopping. We picked up sweets, teas, and other delectable treats.
Wandering Harajuku/Omotesando: Hands down, this was our favorite area to explore in Tokyo. Tons of restaurants, cafes, shops, and incredible people watching.
Philosopher's Walk in Kyoto: Walking along this beautiful path, popping in and out of temples, and making stops to eat green tea and black sesame soft serve was one of my favorite experiences.
Big Love Records: Another hard-to-find spot (located upstairs in what looks like a residential building), this record shop is definitely a place to visit if you're a music/vinyl enthusiast. We didn't walk away empty-handed.
Another highlight was definitely having a sushi dinner at Sushi Sei with my Tokyo-based colleague. Afterwards, she took us to nearby Bar's Bar for drinks and I must say it was really nice to have a Japanese friend order and translate everything for us.
You can check out more photos by visiting our Facebook page.
This post is a collaboration with the Creative Council by UGG Australia.