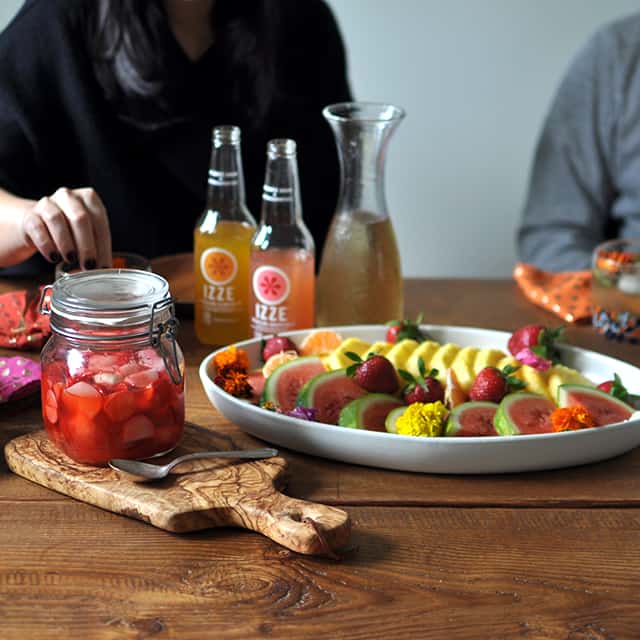 This is a sponsored post in partnership with IZZE. All words and opinions are our own. Thank you for supporting the brands that help us do what we do!
There are few things I love more than entertaining but the truth is, the traditional way to entertain really, really stresses me out. There's a lot of pomp and circumstance involved in setting out your fine china or making a Sunday roast. I mean, does anyone even own fine china anymore?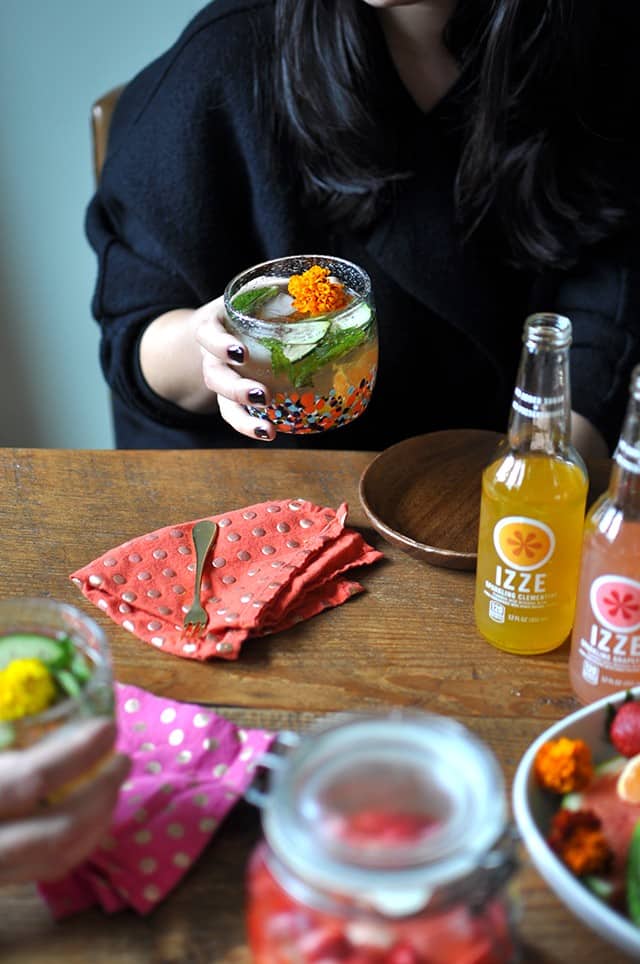 My way of entertaining is preferably much more chill. I'd rather kick my (bare) feet up and enjoy my company than run back and forth between the kitchen and the dining room wondering if I've burned something in the oven (that's happened!). When I think back to the chillest time I've ever had in my life, I can't help but reminisce about our trip to Tulum, Mexico. Even our 'fanciest' dinner out — at Hartwood — was refreshingly laid back. And between the dreary winter weather in the Pacific Northwest, a big move, and still being in the 'fog' of having two newish babies, I've been thinking back to that trip A LOT. But throughout my life, I know I can rely on three things to instantly perk up my mood: good company, good libations, and good food. So taking a page out of Hartwood's new cookbook, I recently hosted a little 'Friendsday Night' with a few dear friends at our new house in Seattle.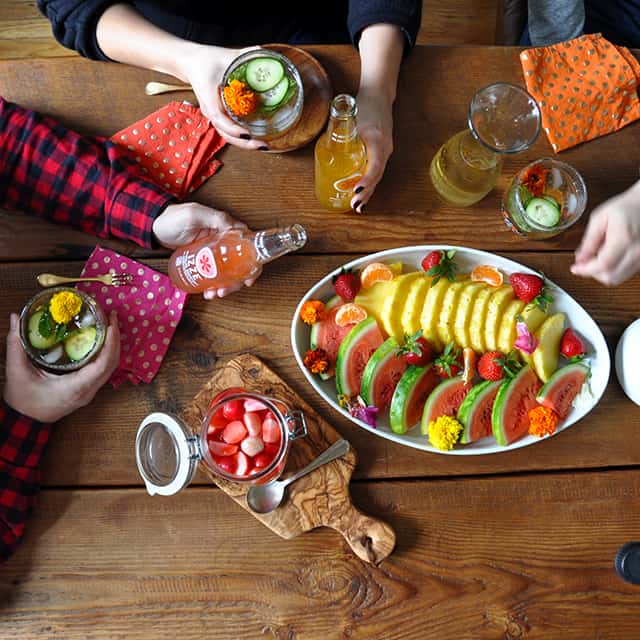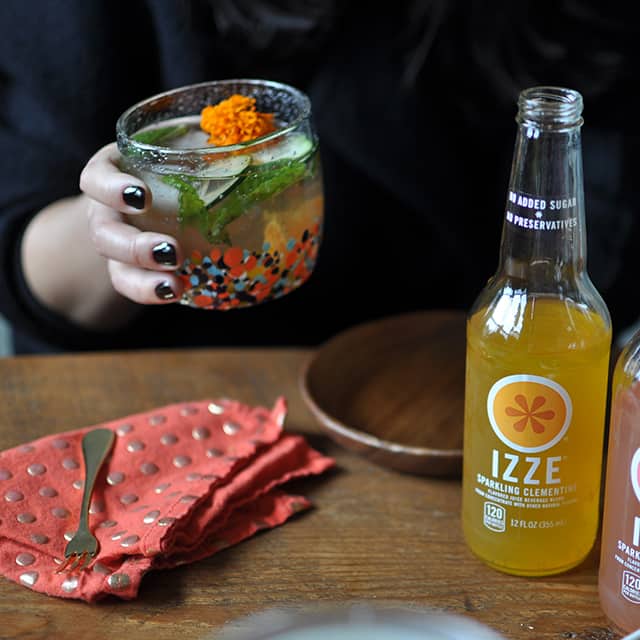 One of the things that I value most about living in a city is how easy it is to host an impromptu gathering — I've found that most people love an excuse to get out on a random night of the week, especially if it doesn't involve a lot of planning, coordination, or looking for parking. Since a lot of us lead pretty busy lives moving up in our careers, parenting, traveling, etc. — we tend to place more value in the really important stuff: friends and conversation. We're lucky enough to have moved closer to a couple of close friends of ours, who've made our transition to our new city not only easier, but really welcoming.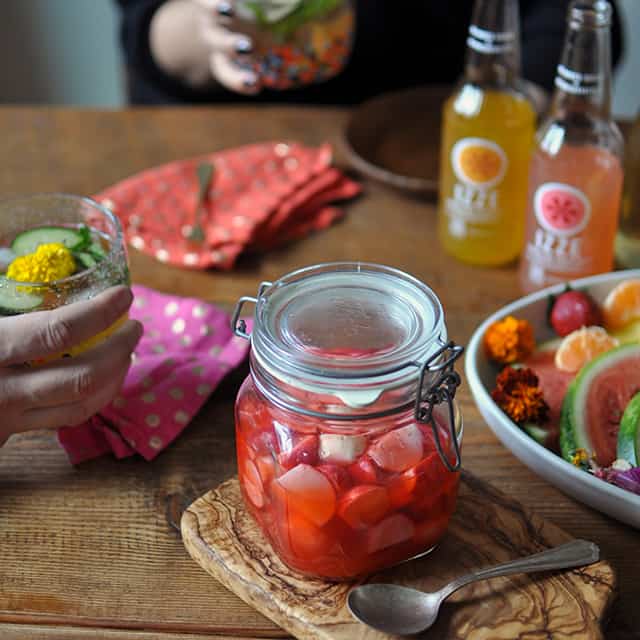 I realized recently that my approach to entertaining has had to evolve — I'm no longer as invested in having everything be 100% homemade, or 100% perfect. Having friends over doesn't necessarily mean high tea with the Queen. Here's my new approach to an any day get together with friends: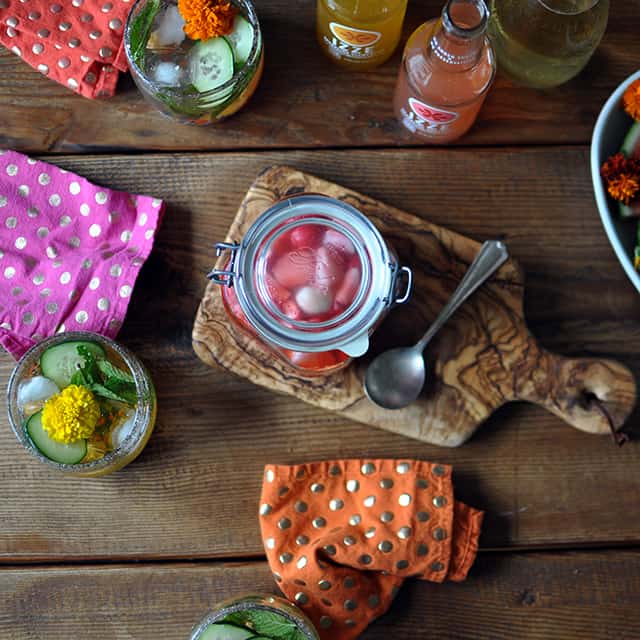 Create a focus for the 'event.' Don't feel like every get together has to be breakfast, lunch, or dinner. For friends with kids, a happy hour with some appetizers could be a welcomed way to feel like they're getting a 'night out' while still getting home in time to put the baby to bed.
Consider a theme, then plan around it. Draw inspiration from your travels. Mexico and Italy are two of our favorite destinations so we naturally gravitate towards flavors and vibes from these regions.
Prepare at least one 'signature' dish or beverage. Doing a pizza night? Bake some brownies for dessert. A bagel brunch? Set up a mimosa bar. You get the idea.
Make a playlist in advance. We've got you covered for your next 'any night' event.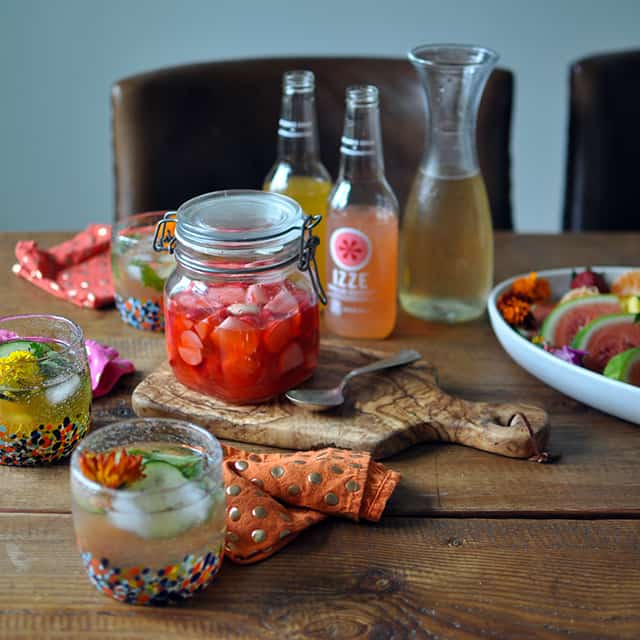 For our little gathering, I decided to invite friends over for late afternoon drinks and a few snacks to brighten up a gray day. I loaded up on some Chardonnay, IZZE natural flavored sodas (sparkling clementine and sparkling grapefruit are my fave), and plenty of tropical fruit cause, hello, it's been a long winter. I decided to make a twist on Hartwood's wine cooler recipe, using a variety of IZZE drinks as mixers. And since I like everything with a side of pickle, I also made a quick batch recipe for pickled radishes. I've included both recipes, below.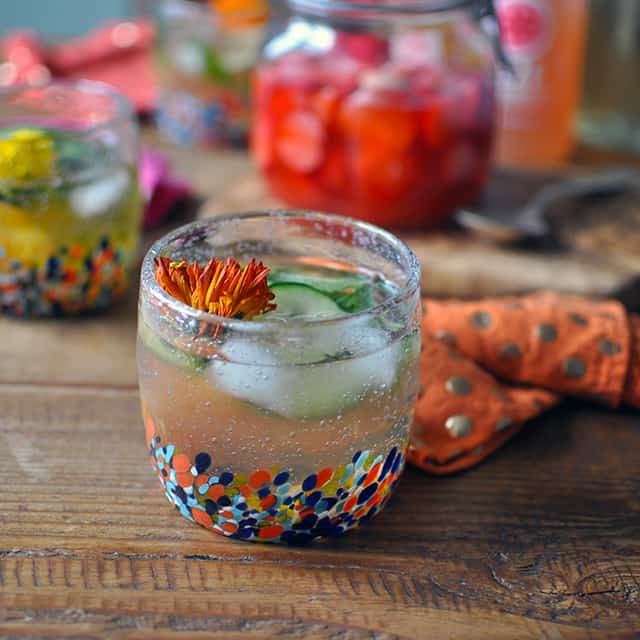 Wine Cooler
adapted from Hartwood
*makes 1 drink
handful of mint leaves
2-3 thin slices of ginger
2-3 slices of cucumber
2-3 clementine segments
1 cup of dry Chardonnay
1/4 cup of IZZE's clementine or grapefruit natural soda (more, to taste)
Add the mint and ginger to a glass and muddle them together. Add a handful of ice cubes, fruit, and wine. Top off with IZZE soda of your choice and give it a gentle stir before sipping. Garnish with edible flowers, if you like.
Pickled Radishes
adapted from Hartwood
2 bunches of radishes, trimmed and quartered
1/2 cup of vinegar
1/2 cup of freshly squeezed lime juice
1 tablespoon of kosher salt.
Combine all of the ingredients in a glass jar with a tight fitting lid. Let sit for at least 4 hours before serving.
This is a sponsored post in partnership with IZZE. All words and opinions are our own. Thank you for supporting the brands that help us do what we do!