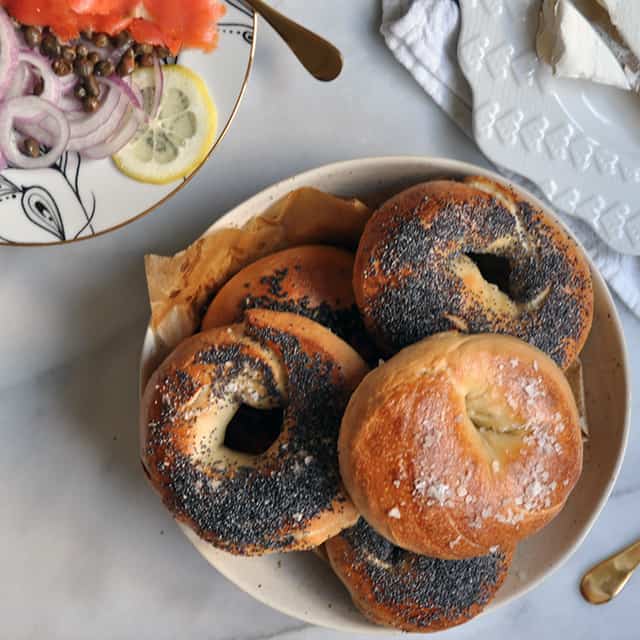 Elijah's Deli welcomed me with open Jewish grandma arms the first time my parents dropped me off in San Diego to start college as a freshman. And visit after visit, we always seemed to end up there for lunch or brunch. Nestled in an inconspicuous mall in La Jolla, it was the sort of place you stumble into, so to speak, and then are convinced is some secret jewel you and only you know about. I felt that way about Elijah's for years. Like "Lemme tell you about this place…" Now I'm gonna make you do some Internet research to find it.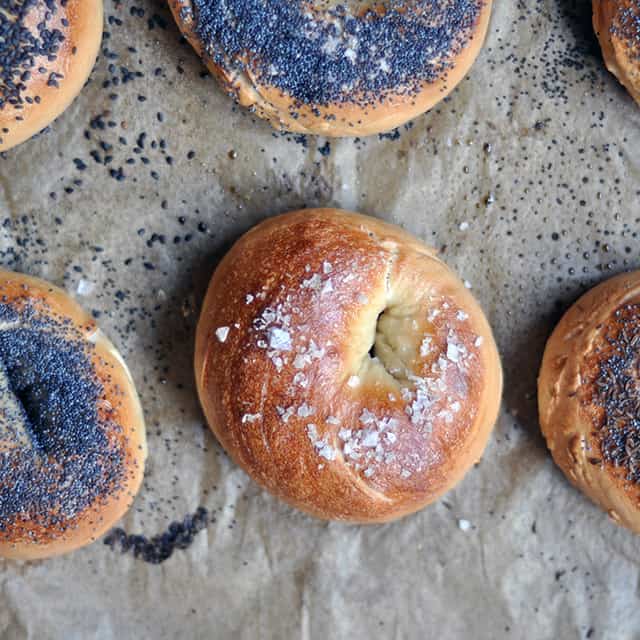 Back then, you would have never pegged me 'a foodie.' I ordered exactly the same thing from Elijah's menu: a poppy seed bagel with lox, and always a side of their barrel of pickles. Lest they left the barrel off the table (it was, indeed, a barrel), my dad or I would kindly remind the waiter that the pickles were the highlight of our show. Little did they know it would surely be emptied before we'd leave.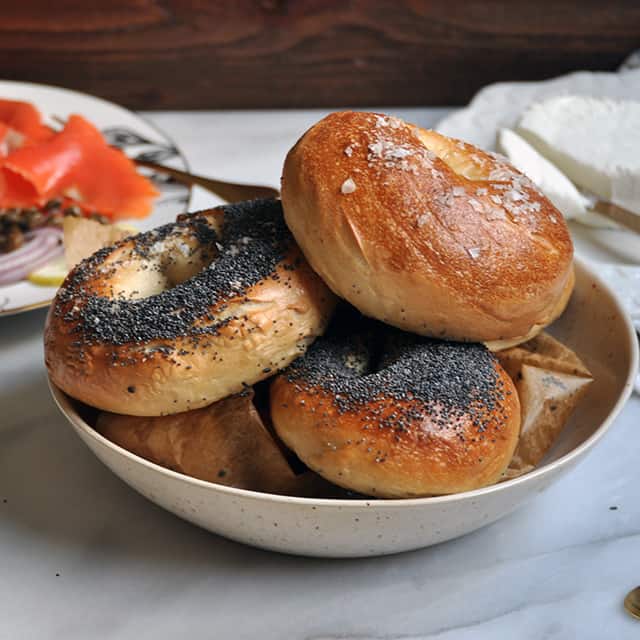 Going to Elijah's felt like a visit to my grandparents' house, where everything was friendly and familiar, and you got your food exactly how you liked it (but with a little extra butter and cream). There was plenty of spacious polyurethane-covered seating inside, as well as metal chairs and umbrella-covered tables outside for the choosing. Plain and simple: Elijah's felt like home. Those bagels felt like home. Or at least every nostalgic East Coast-filled memory of childhood I held near and dear to my heart as a college freshman.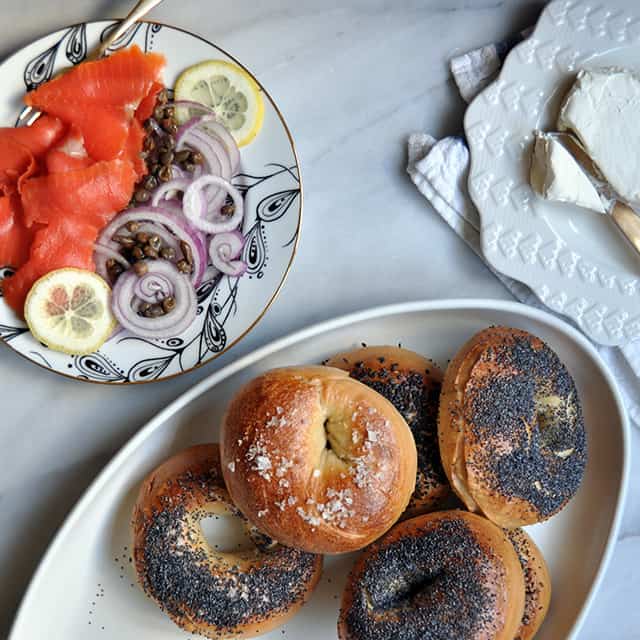 I've never been picky about my bagels: I've eaten them all. From New York delis to school cafeterias, my bagel preference has always been forgiving, to say the least. But somewhere between those regular visits to Elijah's and settling into San Francisco where bagels (let's be honest) aren't really 'a thing,' my bagel habit abruptly ended. I'd eat a bagel on rare occasions that warranted such a treat: business trips to New York.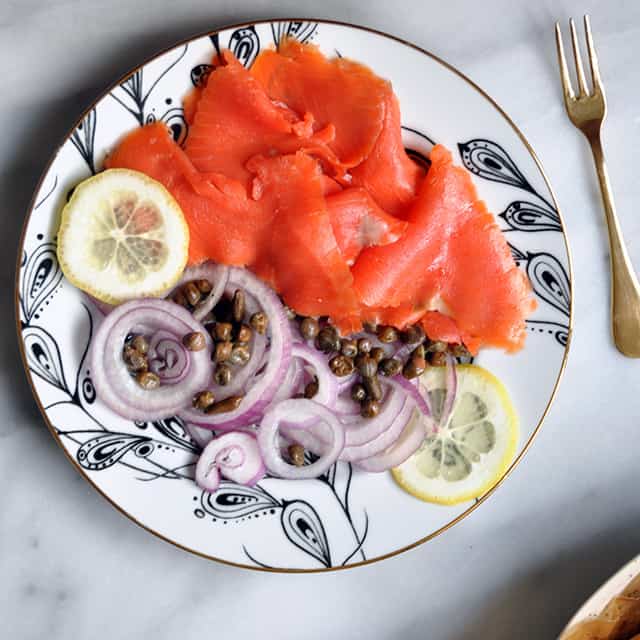 Truthfully, I'd never considered making homemade bagels: they felt like so much work, and given my neutrality toward really good bagels, I wondered if they'd be worth the time. Do you see where I'm headed here? Thing is, making bagels from scratch, at home, is SO WORTH IT, regardless of where you live. And having a bagel brunch involves very little else (Bloody Mary's are optional). Most of the 'work' happens in stages, and the bagels themselves rise overnight. There's a two-step process for boiling and then baking them, but otherwise, they're pretty straightforward. The best part is you can top them with virtually anything you like: poppy seeds, sesame seeds, salt.
So there you have it folks. Go and make yourselves some bagels, will ya?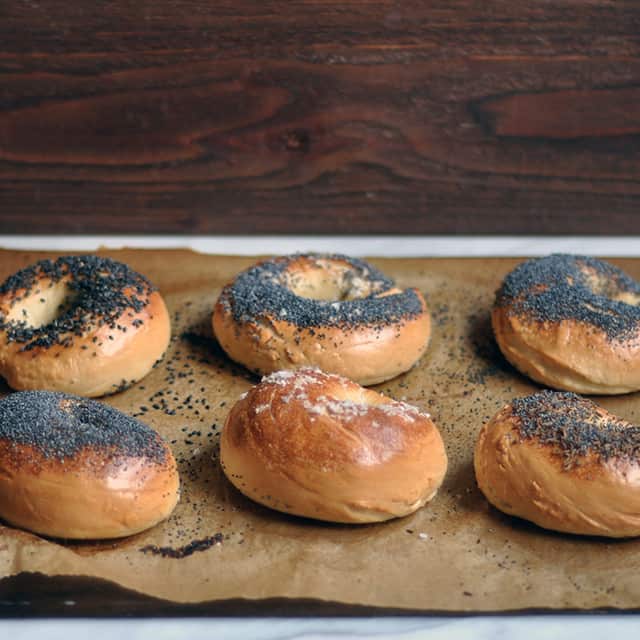 Homemade Bagels
adapted from Peter Reinhart, via Food52
*makes about 6 large bagels
3 1/2 cups of all-purpose flour
3 teaspoons of coarse kosher salt, divided
3/4 teaspoon of instant yeast
1 tablespoon of honey or barley malt syrup
1 cup plus 2 tablespoons of room temperature water
1 teaspoon of baking soda
poppy seeds, sesame seeds (black and white), caraway seeds, and flaky sea salt, for topping
1. Add the flour, 2 teaspoons of the salt, yeast, honey, and water to a large bowl and use a large wooden spoon and/or your hands to mix until a stiff dough forms. Add a little more water, if necessary.
2. Let the dough rest for 5 minutes, then transfer it to a floured surface and knead for about 3 minutes (or until it's smooth). You can also knead it using a stand mixer fitted with a dough hook.
4. Oil a large bowl and place your ball of dough into it. Cover the bowl with plastic wrap and let sit in the refrigerator for an hour or two.
5. Line a baking sheet with parchment paper and lightly grease it. Remove the dough from the refrigerator and cut it into 6 pieces. Roll the dough pieces into balls and then into approximately 10-inch logs. Pinch the ends.
6. Wrap a dough log around your knuckle and squeeze/roll the ends together until the binding feels secure. Repeat with each log, then place the bagels on the parchment paper and cover with plastic wrap. At this stage, place the bagels into the refrigerator and let them proof overnight
7. An hour before baking, remove the bagels from the refrigerator and let them come to room temperature. Fill a large Dutch oven with at least 4 inches of water. Cover and bring to a boil, then add 1 teaspoon of salt and baking powder. Dial down the heat to a simmer and preheat your oven to 500 degrees F.
8. Float test your bagels: fill a bowl with cold water and drop one of your bagels in. If it floats, you can proceed to the next step. If not, let sit for another 15-20 minutes.
9. Working in batches, drop the bagels into the water and let cook for 1 minute, then flip and cook for another 30 seconds before returning to the baking sheet.
10. Sprinkle bagels with toppings of your choice, then place them in the oven and immediately reduce the heat to 450 degrees F. Bake for 8 minutes, then rotate the baking sheet and bake for 8-12 minutes more, or until the bagels are golden.
11. Remove the bagels from the oven and wait approximately 30 minutes before eating.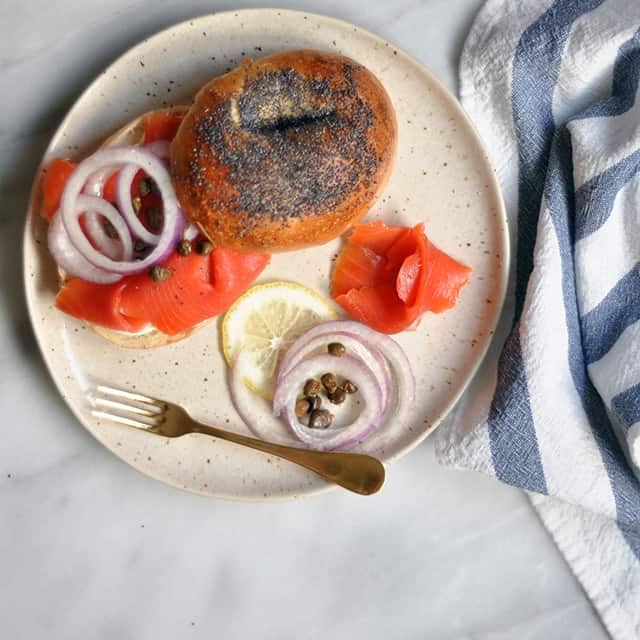 For the bagel brunch menu:
Smoked salmon (there are so many delicious options: try a combination of cold and hot-smoked salmon). You can also try smoked trout
Capers (we love big, fat Sicilian capers, though caper berries are also nice for decorating platters and are great to nibble on)
Thinly sliced red onion
Cream cheese
Thinly sliced radishes
Thinly sliced cucumbers
Tomato slices
Lemon slices, for garnish
The Merry Mary (or Bloody Mary recipe of your choice)