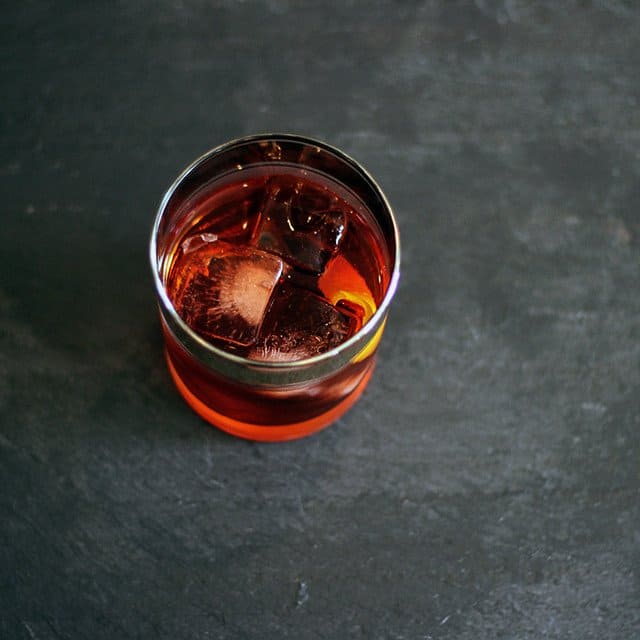 It's believed that Count Camillo Negroni asked his bartender to stiffen up an Americano cocktail (comprised of soda water, sweet vermouth, and campari) with a swap of gin instead of soda water way back in Italy in 1919.
Since then, the Negroni has become the perfect mixed drink for any occasion — a sublime balance of sweet, bitter, and spirit. Order it at a fancy cocktail bar or a dingy dive bar. Sip it before dinner as an aperitif, or after dinner to ease digestion.
There is so much love for this drink that an entire week is dedicated to it, with participation from restaurants and bars around the world. With such a simple recipe of equal parts gin, sweet vermouth, and Campari, the drink is really hard to mess up. However, I'm going to suggest a version based on my personal taste. Feel free to adjust, but expect 1:1:1 at most bars.
Glass
Old-fashioned glass or just a plain old tumbler
Recipe:
1.5 oz gin (I recommend Beefeater)
.75 oz sweet vermouth (I recommend Carpano Antica)
.75 oz orange bitter liqueur (Campari, accept no substitutions unless you're seeking variation)
Orange peel garnish
Combine all ingredients in the glass. Add a couple of ice cubes (I recommend using Tovolo Perfect Cube Ice Trays to make your ice). Stir until chilled (10 seconds, at least). Take one strip of orange peel and gently squeeze  it over the drink to release the oils. Then, rub the peel around the rim of the glass and drop it into the drink for garnish. If you're feeling adventurous, try a flamed peel (see video).
Photography and styling by Hannah Levy.