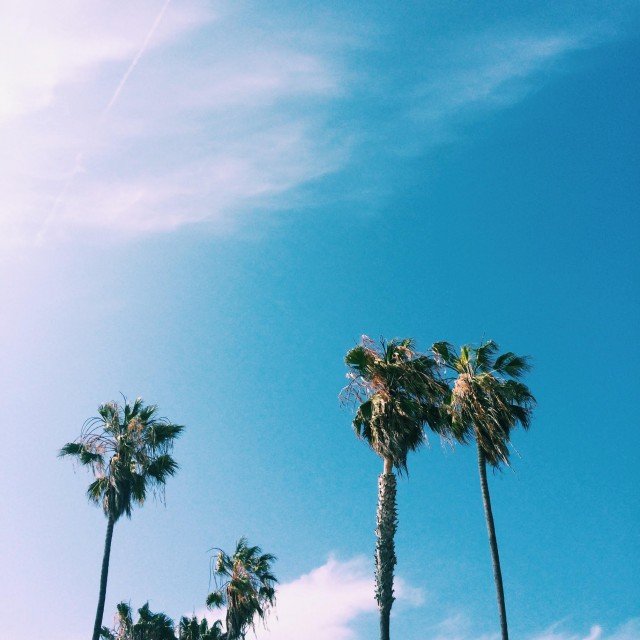 A few months ago, we took a family trip to Los Angeles. We'd both been many times before, both together and separately, but we'd never really explored the city as adults. Since I was pregnant and we wanted to go somewhere close with Neko, LA seemed like a great option. I've been meaning to share a few snaps from the trip, and to tell you about some of our favorite spots.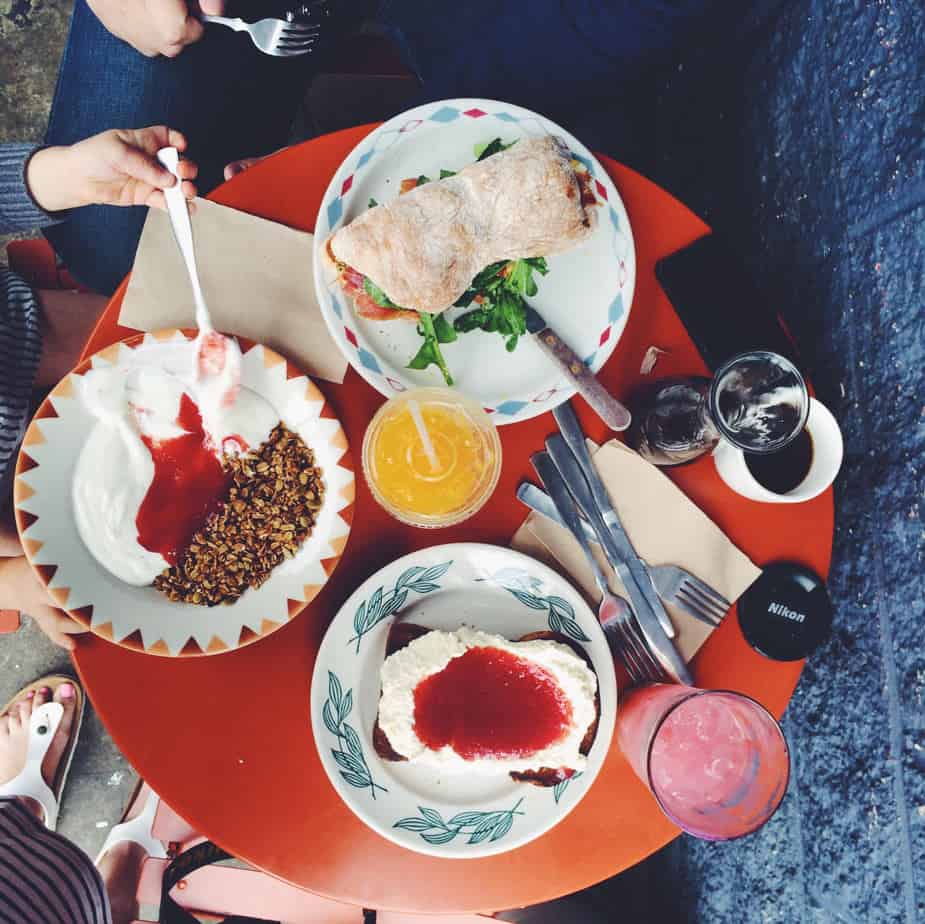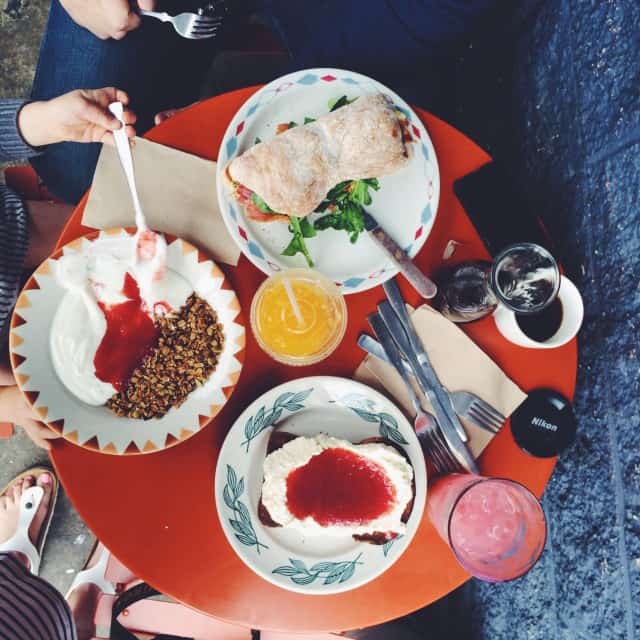 Where we stayed
We LOVE staying at the Ace Hotel in Palm Springs — it's one of the few places where I feel like I can chill for a few days without feeling like I need to get out (that's hard for someone who has as much energy as me!).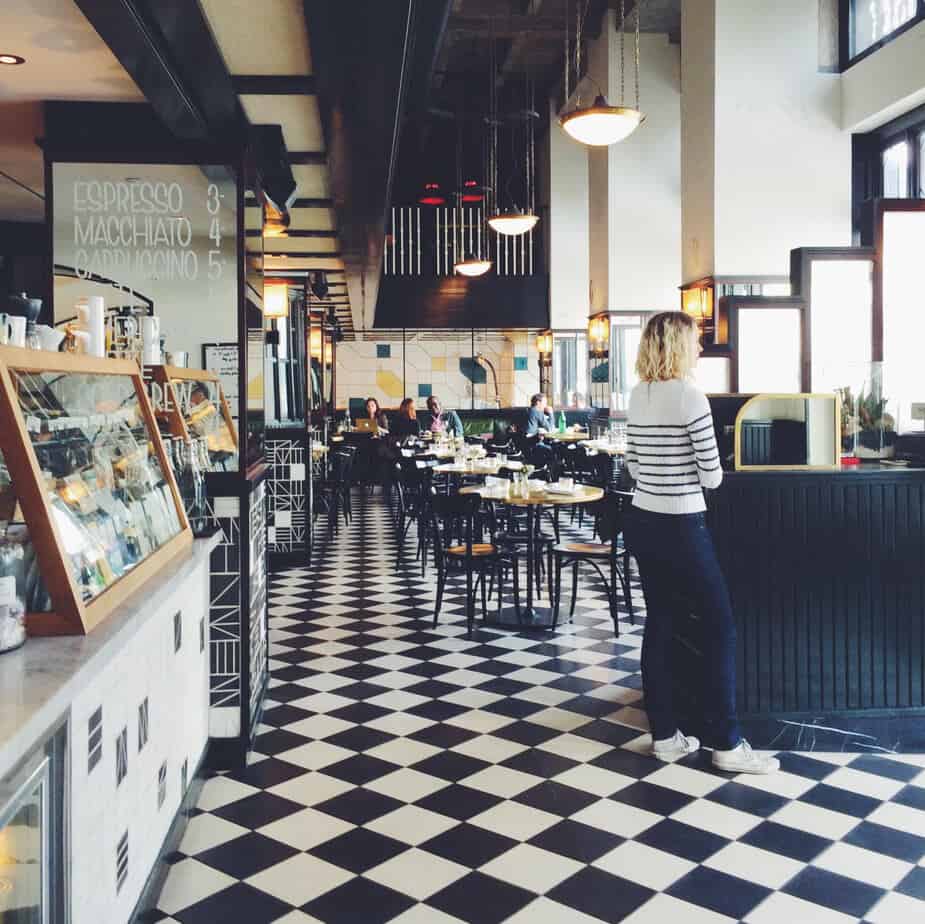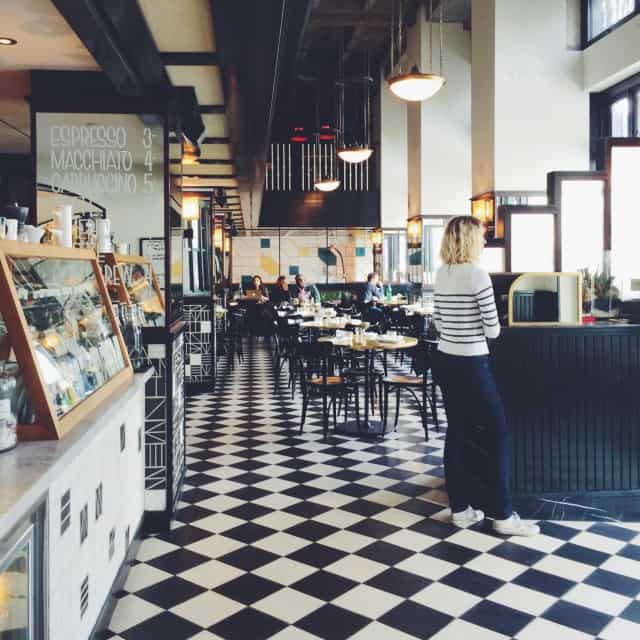 Ever since Ace opened in downtown LA, I've been wanting to check it out. It felt like a great option for us because we knew we'd be staying in most nights and the evening we flew in, we'd probably eat dinner there, too. It did not disappoint! Not only is the location super central (you can easily get to Santa Monica, Venice, Echo Park, and more), but the food and vibe are super good and fun. We enjoyed dinner and breakfast there (the ricotta pancakes are amazing), and fueled up on coffee at the coffee bar (there's even a juice bar, for those who are into that).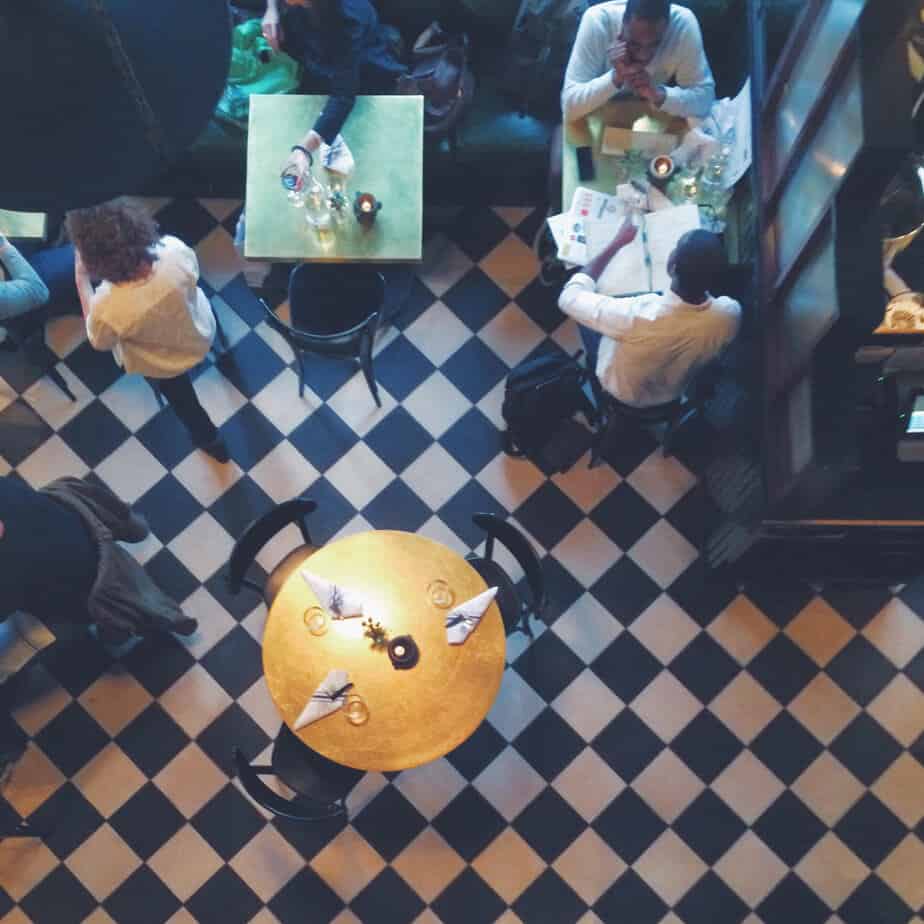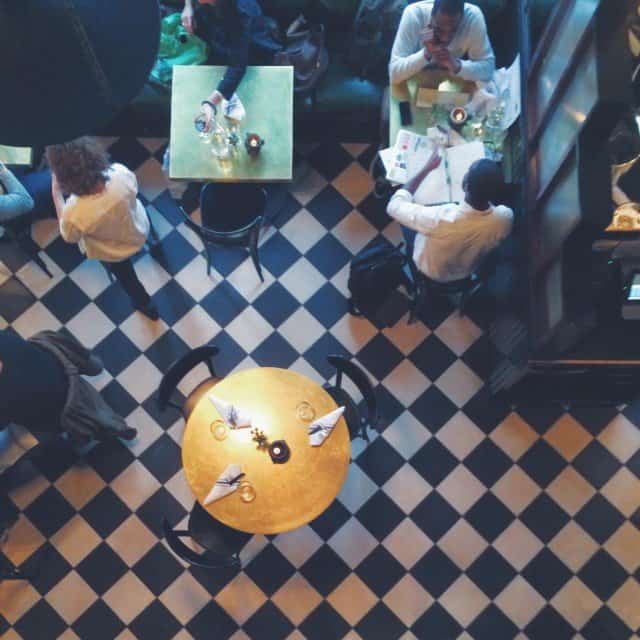 Where we ate
In addition to eating at the Ace, we got to check out a few restaurants and spots that have been on our list for a long time.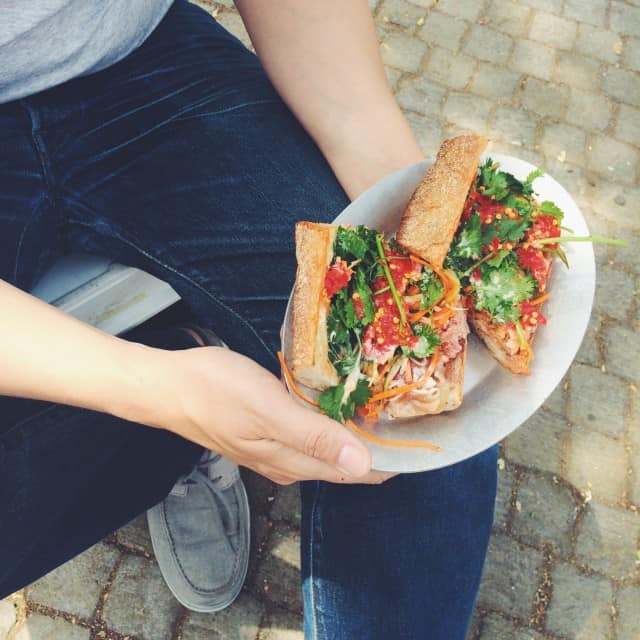 Sqirl: Being parents to a toddler and all, we were able to get to Sqirl well before the long line of brunchers. Of course we had the ricotta toast — Matt's biggest regret is not adding a side order of their house bacon to his order. Everything was so damn good, and well worth the trip.
Gjusta bakery: This hidden little spot in Venice is no secret, but it felt like a hidden gem in some ways. Some people may scoff at the casual crate outdoor seating but we loved it. We got a selection of salads, treats, and cold beverages (including my recent obsession: shrub) and enjoyed a relaxing lunch since Neko fell asleep in her stroller.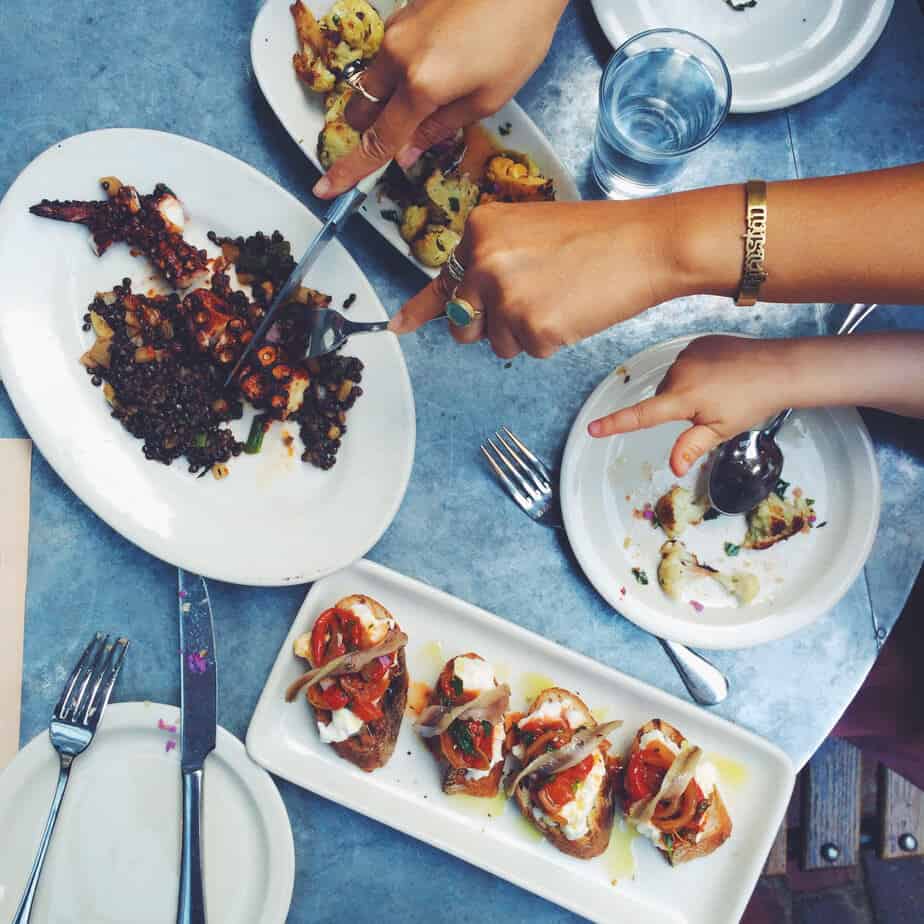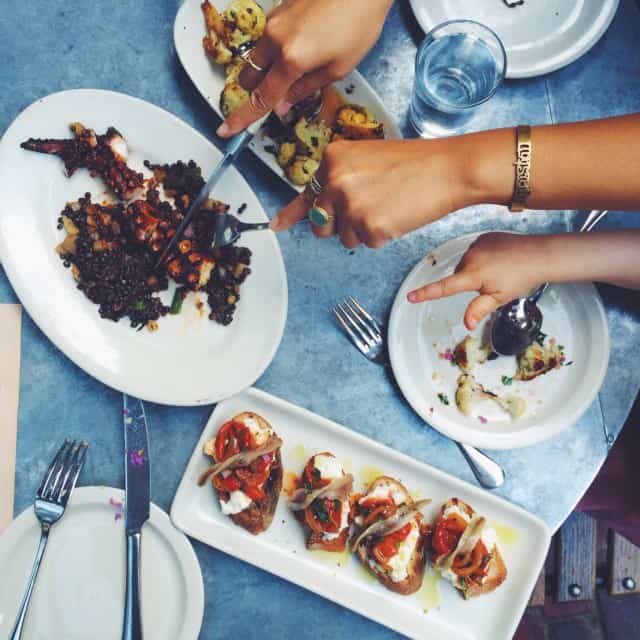 Gjelina: Our friend got us a last minute reservation for dinner here and it truly was everything we hoped it would be. We split a ton of different things family-style and then walked around Venice with some Van Leeuwen ice cream (from the truck just down the street). I can't wait for the cookbook!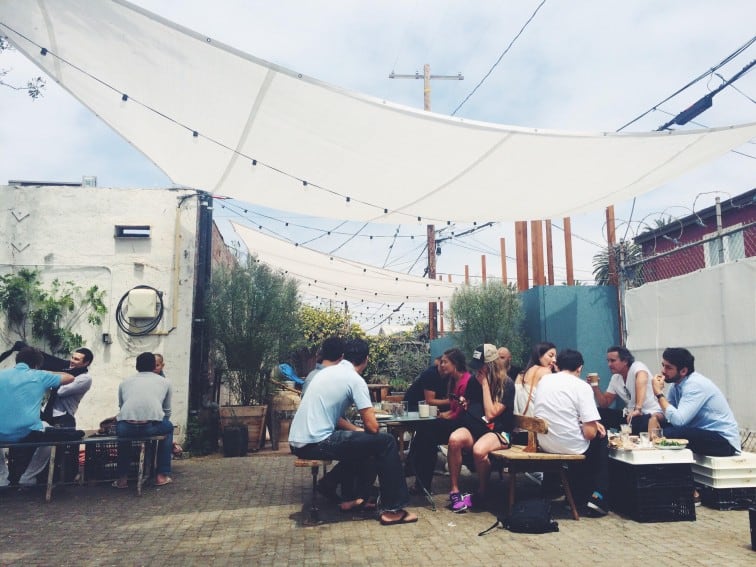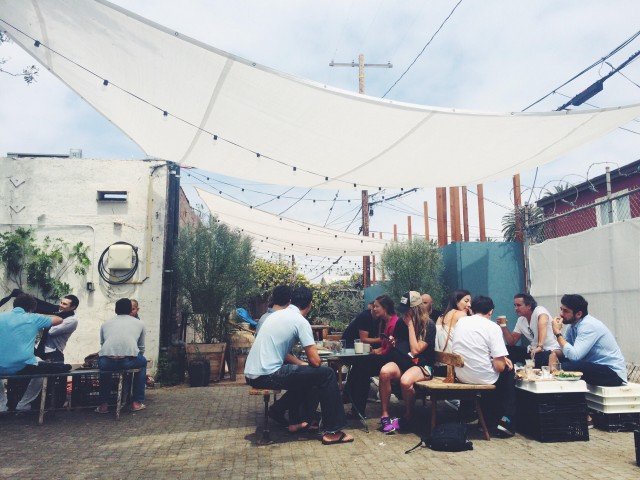 Sycamore Kitchen: We came here the morning of my birthday and I couldn't pass up a decaf cappuccino and a salted caramel pecan babka roll. The location isn't anything special, but it's a great casual spot for coffee and breakfast.
Grant Central Market: On our last day, we wanted to spend a little time walking around downtown LA and of course stopped by this famous market. Surprisingly, we didn't have too long of a wait for our sandwiches at Eggslut and Neko got some of her favorite — rice and beans.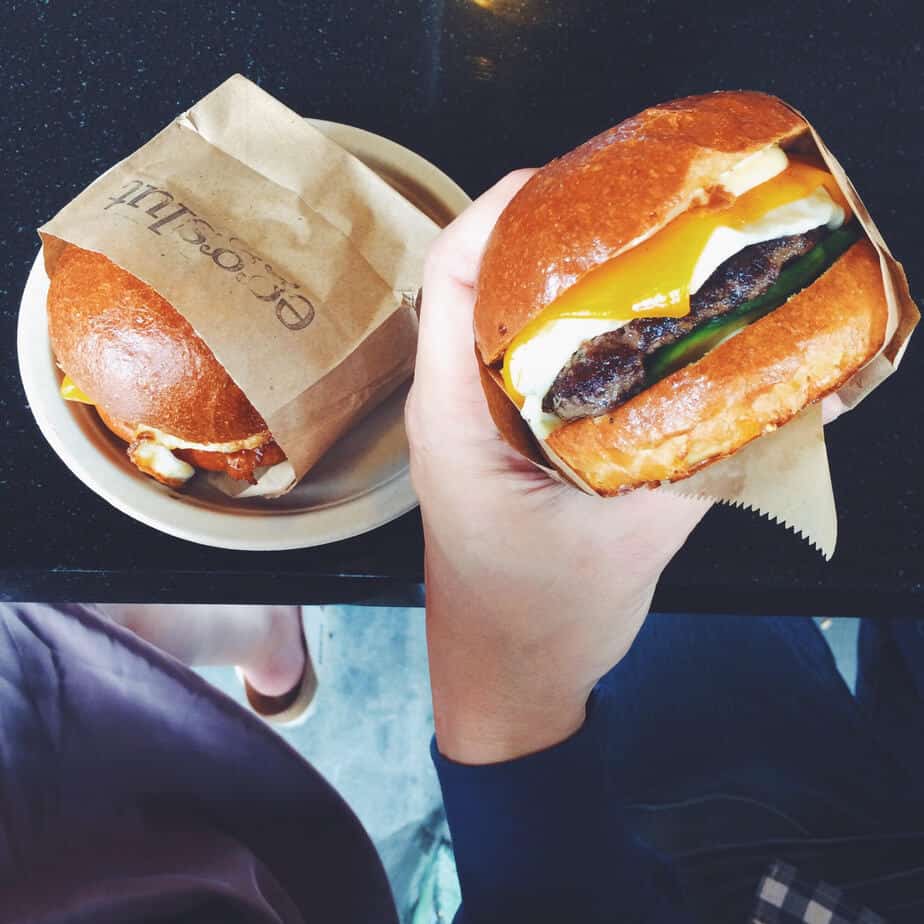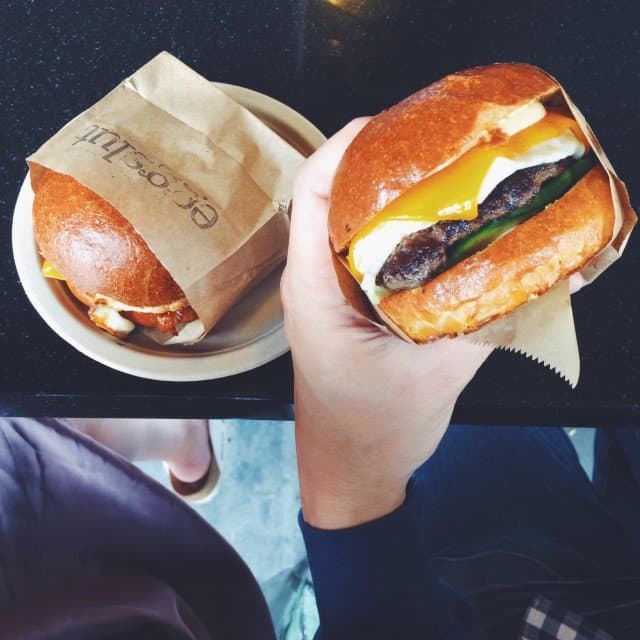 Bottega Louie: It was such a treat to meet our friends Nicole and Andrew for lunch here. Hands down, the most delicious thing I ate here was the portobello fries. I couldn't keep my hands off of them! The macarons were not too shabby, either…
Verve Coffee Roasters: Although Verve started in Santa Cruz, my first visit was to this LA spot where they also sell juice! The space was beautiful and just a short walk from our hotel.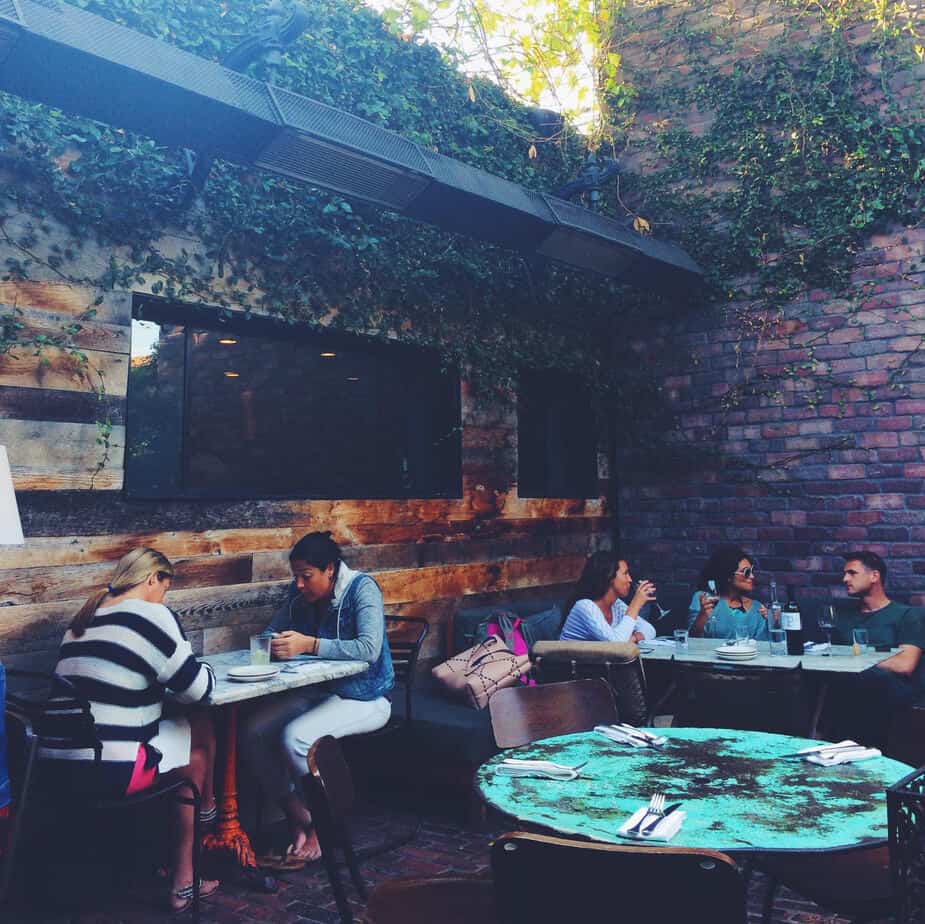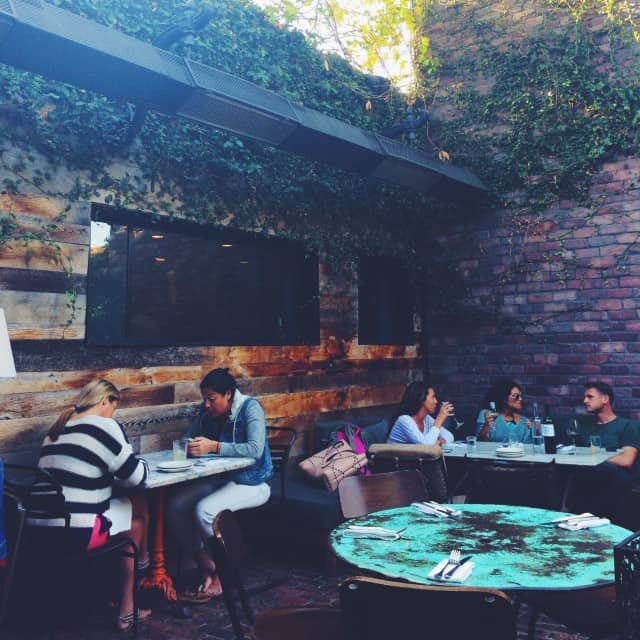 What we did
Santa Monica Pier: Despite the iffy weather (we were unfortunately there during 'June Gloom'), I really wanted to take Neko to the iconic pier. She rode a few rides with dad (her first — she was so proud of herself!), we caught some great views, and she got to meet Elmo, her hero. We also just sat in the sand and enjoyed people watching.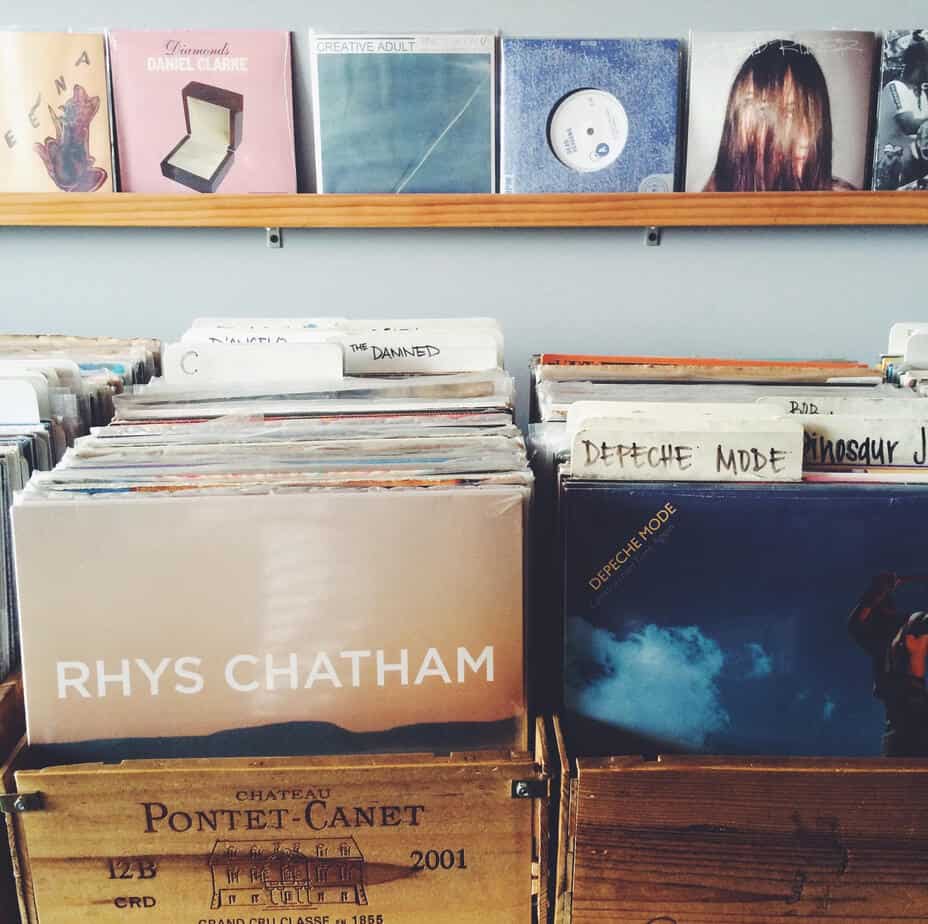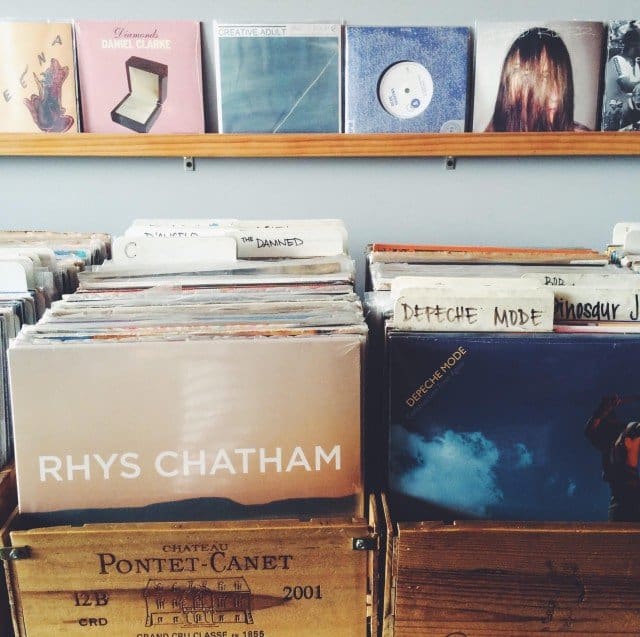 Griffith Observatory: I've been wanting to come here for ages. You can actually hike around but since we had our stroller and weren't super prepared for that, we just wandered the grounds. I can imagine it's even better at night. There's a nearby park with a merry-go-round and a petting zoo for kids, too!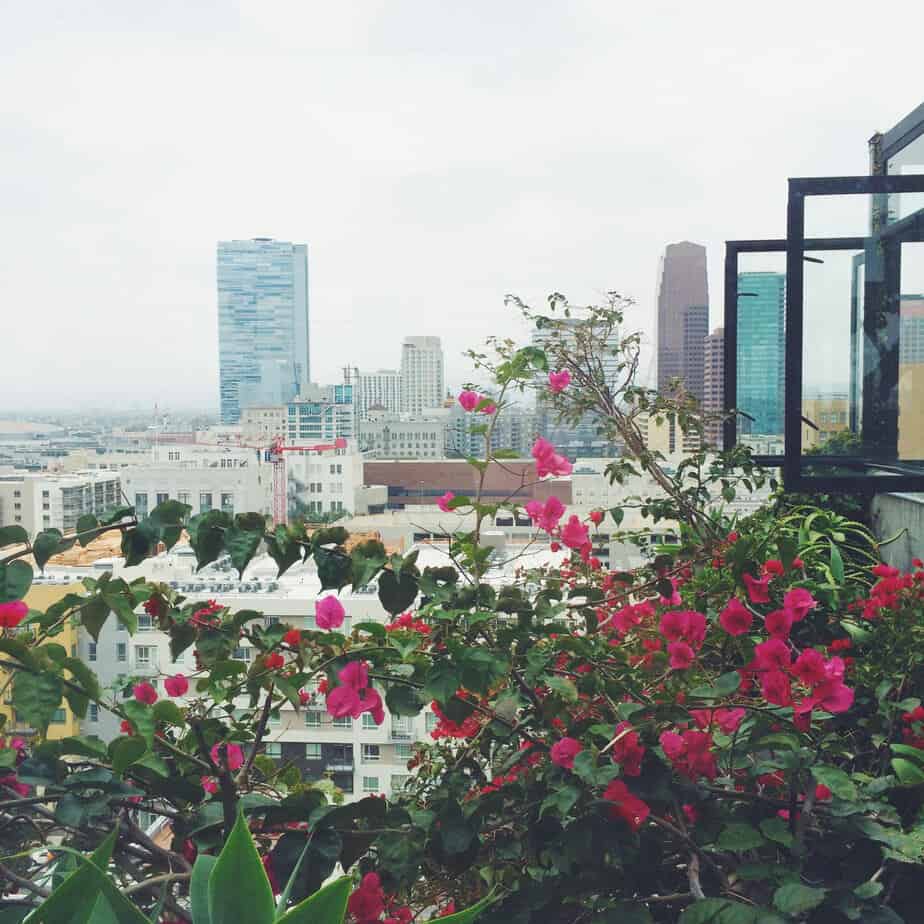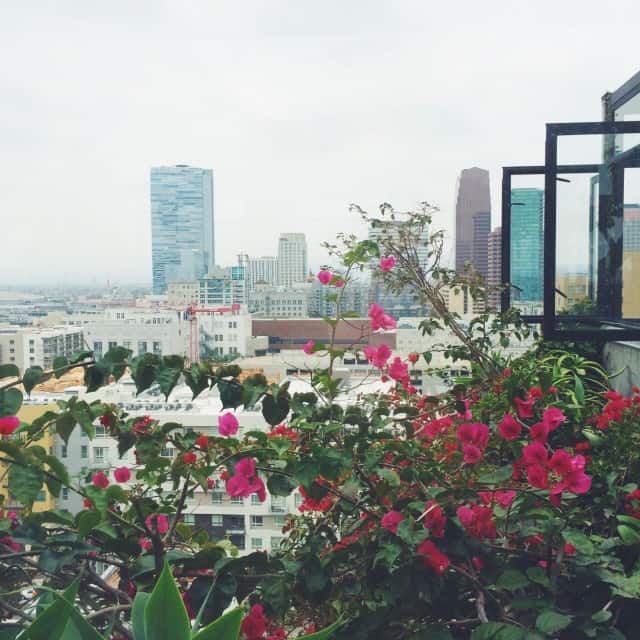 Venice Beach: Venice has always been one of my favorite places in LA. It's quirky and full of energy though it's also become super trendy. There are lots of amazing restaurants here, great shops, and of course, the boardwalk and famous Muscle Beach (great for people watching!).
LACMA: We spent the better part of an afternoon at the Los Angeles County Museum of Modern Art and I would definitely recommend it. There were a couple of really cool exhibits but the real attraction was the interactive outdoor yellow noodle setup — all the kids could have probably spent hours in there. I've been to both the Getty Museum and the Getty Villa before so I wanted to check out something new, but those are two museums I would definitely recommend to a visitor as well.
Origami Vinyl: We (obviously) never go on vacation without popping into some record stores. This charming one in Echo Park was on Matt's list.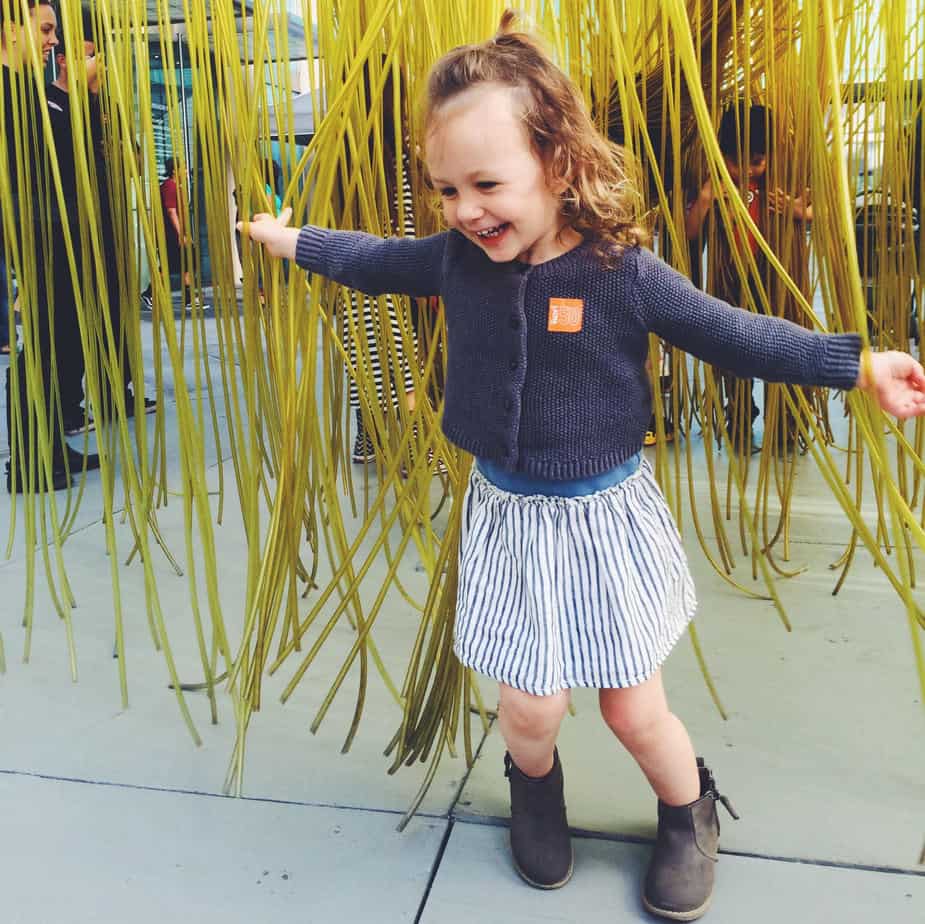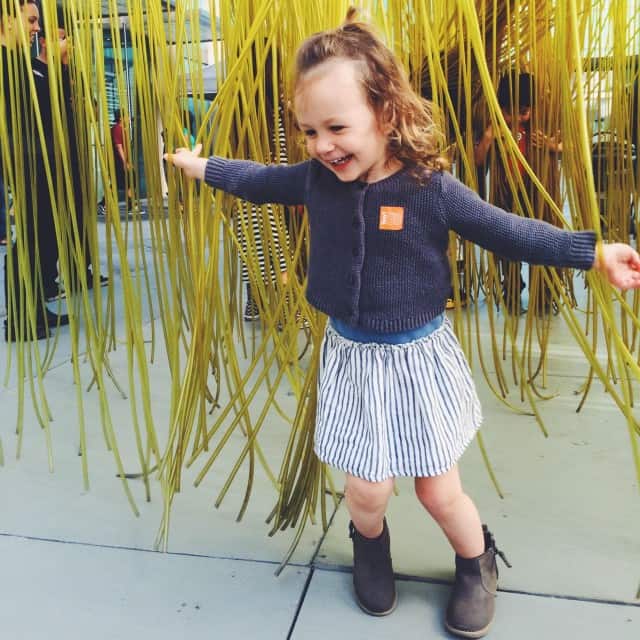 As I mentioned earlier, the weather didn't quite cooperate with us so we skipped a few of our planned adventures — I had been hoping to have a beach day in Malibu and spend more time up in the rooftop pool at the Ace — but all in all, it was a really wonderful trip.
Traveling with kids is definitely different than going on solo adventures, and this trip was very different from the one we took with Neko to Nashville and Louisville when she was just 2 months old. But the cool thing about going somewhere with a toddler is seeing her enthusiasm for all of the various activities. She was convinced that LA was the Ace Hotel (as in, "are we going back to LA now?"). This trip was a special one especially because it was our last adventure before the twins as a family of three. And I'm already looking forward to the next.
What are your favorite places in LA? I'd love to hear!