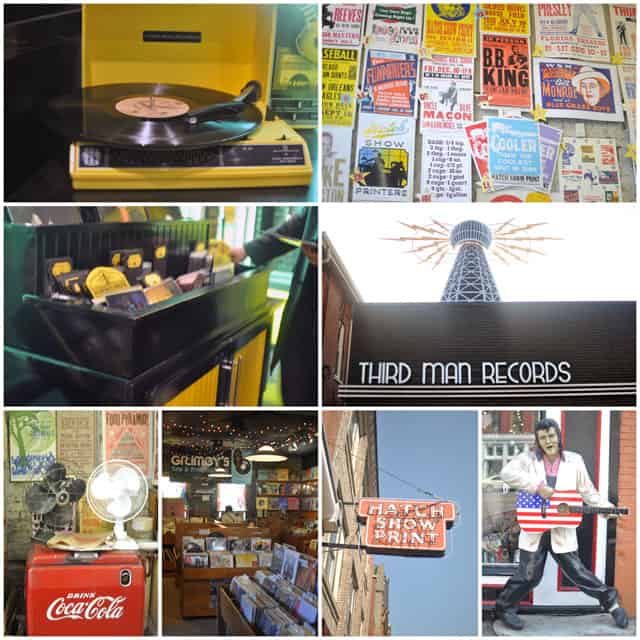 Although we just returned from a trip to Japan, my Nashville City Guide has been a long time coming, so I'm finally sharing it (don't worry, Japan is soon to come!).
Nashville has been on my 'to-do' list as a city to visit for quite some time. I must admit that country is probably my least favorite genre of music and I've never owned a pair of cowboy boots, but something about Nashville struck a chord with me. I wasn't interested in visiting the honky tonk bars on the strip known as 'Nashvegas.' I wanted to see the Nashville I kept hearing about — the one with cool little boutiques and hip restaurants. A people's city.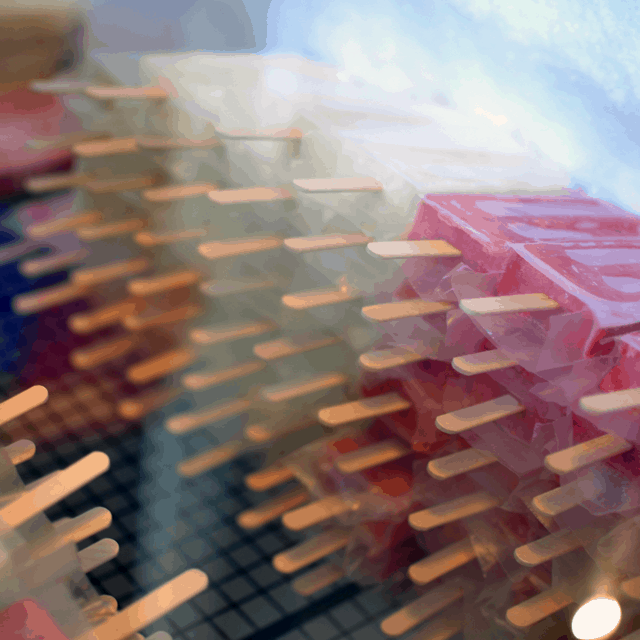 While we were planning a family vacation to visit family in Ohio, right around Neko's 2 month birthday, taking a trip to Nashville felt a little far-fetched. But the more we started to play around with the idea, the more realistic it seemed until, finally, we made a plan, booked a hotel room*, and started gathering recommendations. I'll tell you this: when you know you can rely on someone's recommendations, trip-planning becomes easy. Like, really easy. Thanks to Nicole's fantastic two-part Nashville guide, and Shanna's thoughtful list of suggestions for places and spaces that were baby-friendly, our Nashville itinerary was filled to the brim.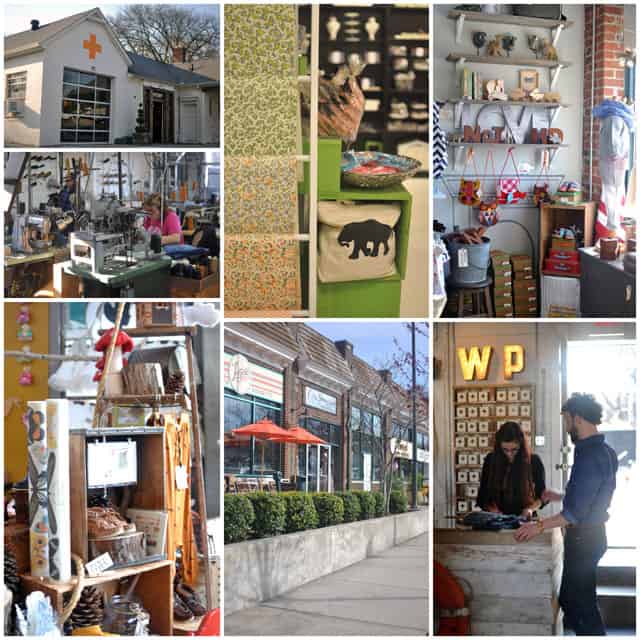 Traveling with a baby really is quite the feat mostly because you never really know where your day will take you. Luckily, we were able to check out many of the places we hoped to visit.
Nashville is an interesting place and I found it to be quite different than I expected. It offers a commanding downtown, like any city, with tall buildings, bridges, and a welcoming skyline. But beyond that, it sprawls and sprawls into areas that feel like a mixture of suburbs and small cities. Like San Francisco, Nashville is neighborhood-centric. Each one features a small, walkable strip of shops and restaurants, and many neighborhoods are anchored by beautiful outdoor parks, which I really loved. That said, it's definitely a driving city. We lingered in some neighborhoods longer than others, but definitely found ourselves driving a lot from point A to point B. It was clear that some parts of Nashville (specifically East Nashville) were definitely the 'hot' spots for hanging out. We pretty much had all of our meals here and didn't regret that decision for a second.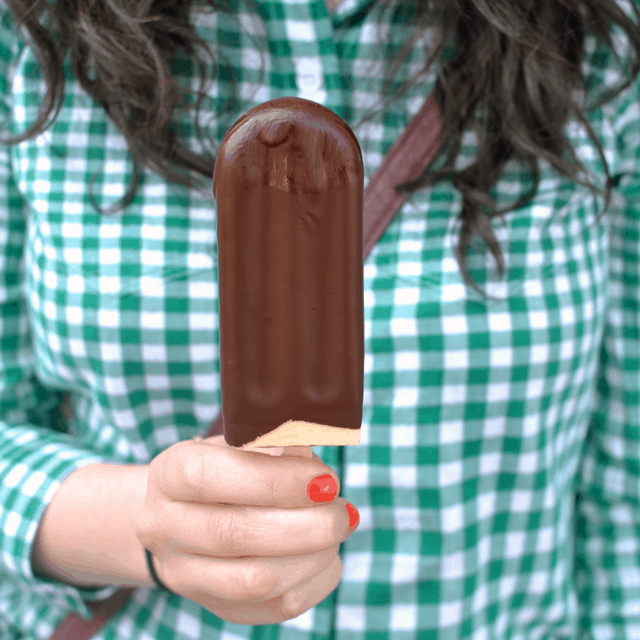 In addition to wandering around East Nashville, we did take a short afternoon stroll down Broadway (the honky tonk part of downtown) where we popped into Hatch Show Print, one of the oldest operating printers in America, snapped some photos of Elvis, and did a little people watching. I wondered how many tourists probably spend most of their time in this part of town and hardly wander out. I was a little sad that we didn't get to check out any live shows while we were in town, but I knew that was the compromise we had to make when we decided to bring Neko with us rather than leaving her for a few days with the grandparents.
Although we didn't see any live shows, we certainly didn't feel like we missed out on Nashville's music scene. We popped by Jack White's Third Man Records, where we picked up a few records and a baby onesie for Neko, an awesome record shop called Grimey's, and took a full tour of United Record Pressing, the plant that presses all of Turntable Kitchen's records (more on that in a separate post). Nashville may be the home of country, but it's certainly not missing a beat when it comes to other music genres.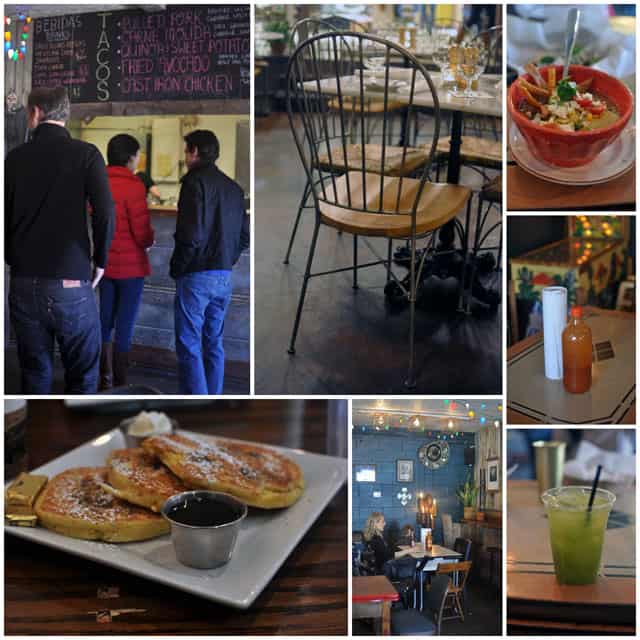 It's hard to say what our favorite meal was of the trip, as they were all so good. Our first meal was at Mas Tacos, a small but insanely popular hole-in-the-wall. A bonus of this meal was dining with Shanna and Tim who are just incredibly lovely. Silly Goose, whose chef was recently nominated for Food & Wine's "Best New Chef," was an absolute standout. The creative flavors of our dishes, impressive takes on salads, and fantastic iced teas really blew us away. I won't lie, though, we rushed through our meal as Neko started fussing and we didn't have a chance to grab a scoop of Jeni's Ice Cream next door.
Meanwhile, Marche reminded me of some of my favorite spots in San Francisco: it features beautifully rustic decor, a small menu focused on locally-sourced food, and delicious treats (like locally-made honey and chocolate) for sale. Las Paletas, the gourmet popsicle shop you may have heard of, was another 'wow.' You can choose any flavor and have it dipped in locally-made melted chocolate! For breakfast, we tried Fido, a coffee shop that serves delicious breakfasts and is packed to the brim. I was so excited to find out my friend Kathryne happened to be passing through town and was so happy to be able to squeeze in a breakfast date with her.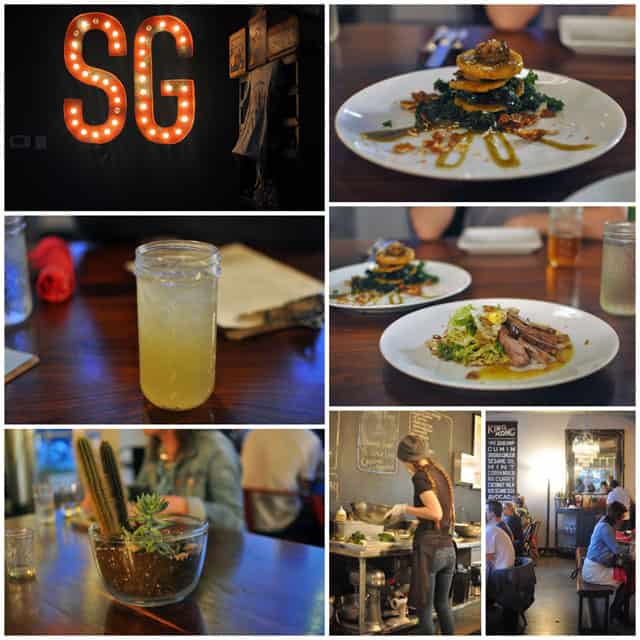 Though I typically travel to eat and not to shop, I was absolutely smitten with Tweed, a baby store run by a friend of a friend. I'm pretty sure we spent about an hour just chatting with Maggie (the shop owner) about how amazing her selection of baby clothes, toys, and decor was. If you have a baby, or know someone who has one, you must stop by here.
Alas, what else can I say? We barely just scratched the surface of Nashville, and I'm sure there is lots and lots more to do and see, but I wanted to share a list of places we visited.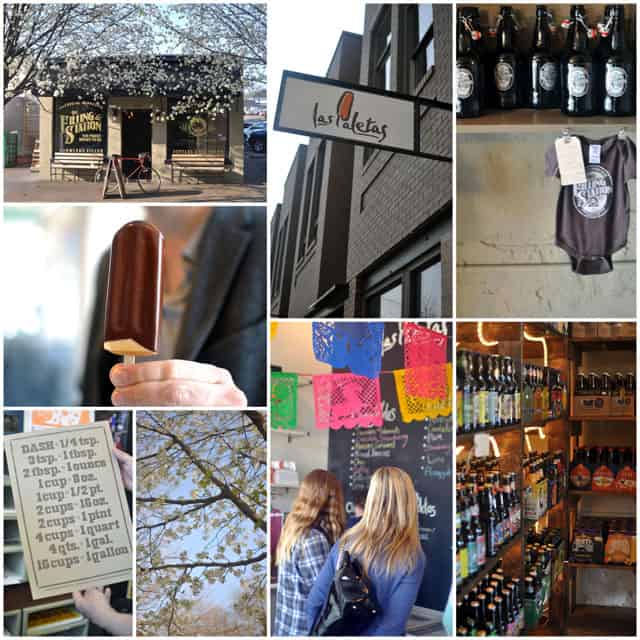 Eat
Silly Goose: probably the most unique meal we had in Nashville. Great casual vibe that's perfect for lunch or dinner with a small or large group. This place gets packed. Next door, you'll find Jeni's Splendid Ice Creams (originally from Columbus, OH). It's a must.
Marche: Came highly recommended and lived up to our expectations. Small menu that changes regularly, fresh ingredients, and warm, rustic, casual setting (think: reclaimed wood dining tables and metal bistro chairs). We also picked up a jar of locally-made creamed honey and chocolate here (they sell bread and eggs, too!). The housemade foccaccia is soaked in oil but is out of this world delicious. We hear sister restaurant Margot is also quite good.
Fido: Clearly a local hotspot for breakfast. Matt said the best cup of coffee on our entire trip came from here.
Las Paletas: A rainbow of popsicles await. Choose fruit flavors, or opt for caramel and have it dipped it chocolate. I could have had two.
Mas Tacos: Coming from California, we have pretty high standards for Mexican food. The tacos here are really inventive (quinoa and sweet potato), the tortilla soup is homey, and agua frescas (try the pineapple and cilantro) are really refreshing. It's a hole-in-the-wall, so don't expect anything fancier than paper towels, cactuses, and giant bottles of hot sauce on the tables.
Visit
12 South/Sevier Park: A lovely park for strolling near Las Paletas.
Shelby Bottoms Park: Another pretty park in East Nashville.
Frothy Monkey: A popular cafe/breakfast joint for a homey and casual bite in the morning. There are a few locations throughout Nashville.
Hatch Show Print: One of the oldest operating printers in America. Stop by here when you're hitting the tourist strip. I loved browsing their creative posters.
United Record Pressing: The plant that presses our records conducts tours for record and music history buffs. Contact them to schedule a tour.
Shop
Tweed Baby Outfitters: An adorable baby store. I'm so sad Neko has almost outgrown her outfits from here.
imogene + willie: Super hip store that specializes in American-made clothes. I'm jonesing for a pair of their jeans.
The Filling Station: Craft beers galore (I also loved that they sell pint glasses AND baby onesies).
Stay
The Hutton Hotel: Located in downtown, this hotel came highly recommended to us and was a great base for our excursions.
We picked up a few bars of chocolate from Olive & Sinclair, and I wish I still had some…It was so creamy and delicious.
*The folks at the Hutton Hotel kindly offered a discounted room rate.
Huge, HUGE thanks to Shanna and Nicole for their fantastic recommendations. Be sure to check out their posts about Nashville.