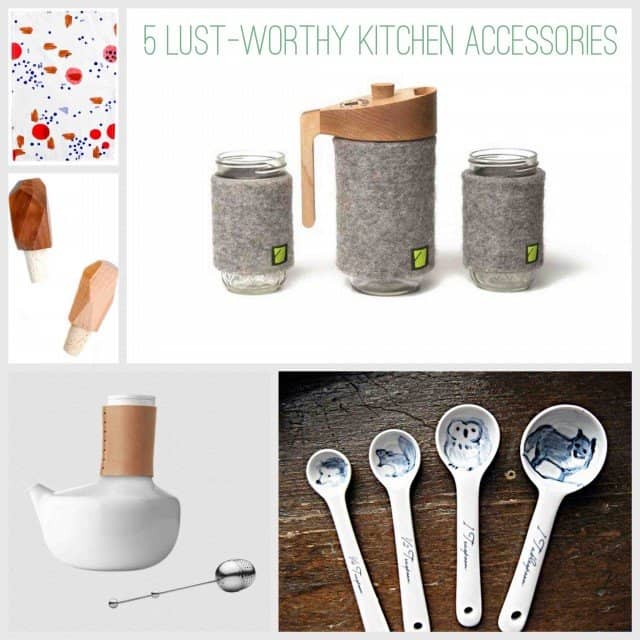 Links for all product images, below.

Kelly's blog, Design Crush, is a daily stop for inspiration. I can't remember how I first came across her site, but we have since become 'Internet friends.' Kelly has exceptional taste and a keen eye for all things cool, so I am thrilled to have her stop by Turntable Kitchen today, and share a few of her favorite Stylish in the Kitchen finds. Thanks so much, Kelly! — Kasey
We'll be back from our trip to Japan with fresh posts next week!

Hello, TTKers! Kelly from Design Crush here. I've been tapped to share a little something while your usuals are off exploring in Japan and couldn't be more excited, so let's get started with the 5 Lust-Worthy Kitchen Accessories I can't get off my mind.
The Portland Press is a mason-jar based French press currently being crowd-funded for production. With its sturdy build, insulating woolen sleeve, and beautiful maple lid this is a beautiful take on the classic apparatus used for brewing one of nature's finest beverages.
Two of my loves — art and cooking — are combined in this set of Forest Animal Ceramic Measuring Spoons. Each spoon is handpainted and almost too pretty to use! Just imagine all of the delicious dishes the fox, owl, squirrel, and hedgehog will be a part of in your kitchen.
Having tea would become an even more beautiful ritual with this limited edition Alfredo Tea Pot. The porcelain vessel with stitched leather handle and custom tea egg is a showstopper that would never see the inside of my cabinets.
This might be the most perfect bottle stopper in the history of bottle stoppers. The Faceted Wood Bottle Stopper is every style in one. Masculine and feminine, modern and classic, and a sure fit for every bar.
I love a good kitchen textile, and the Sketched Shapes Tea Towel couldn't be more cheery with its hand-drawn colorful print. Just right for summer patio entertaining and dish washing! Psst… there's a matching oven mitt, too!