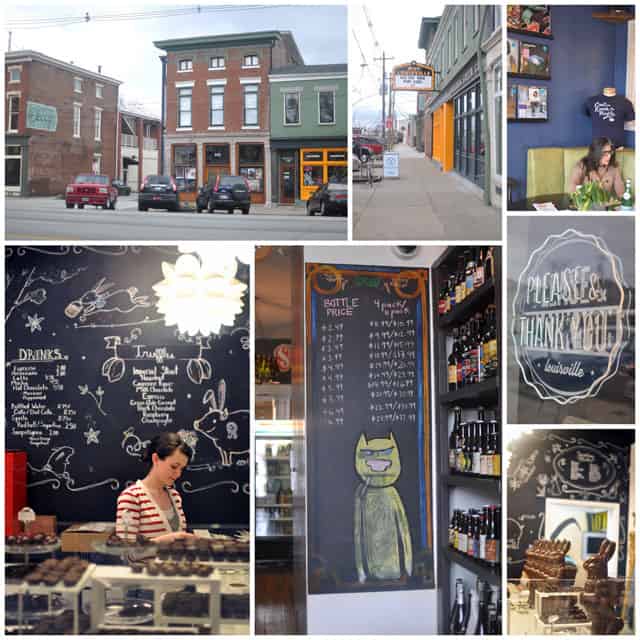 A few months ago, I was flipping through Flipboard (ha!) on my iPad in bed when I came across Lonely Planet's list of Top 10 US travel destinations. The number one place on their list? Louisville, Kentucky. I yelled out to Matt, who was brushing his teeth in the bathroom to relay my curiosity about this city I frankly knew very little about. "Louisville?" he said, "well, that's only a few hours' drive from Dayton." We had already been planning a trip to visit family in Dayton, Ohio, and being the overachieving travelers that we are, decided to tack on a mini family roadtrip. We'd stop by Louisville, continue on to Nashville, and loop back around to Louisville before returning to Dayton for a few more days with family.
Was I crazy to think that I could enjoy a 10 day trip with a 2 month old? Maybe. Was I scared about every single thing that could possibly go wrong on the plane, in the airport, and on the road? Absolutely. But was I willing to step up to the challenge in the hopes that Neko would prove to be an adventuresome little traveler like her parents? I thought so.
I'm not going to lie, traveling with Neko was not easy. In addition to having to pack a lot more stuff than we'd ever bring for ourselves on a 10 day long trip, we had to be patient, flexible, and resourceful on the road. We learned a few things along the way that I'll share in a separate post but overall, our time in Louisville was very enjoyable and I'd like to tell you about a few of the things we saw, did, and ate.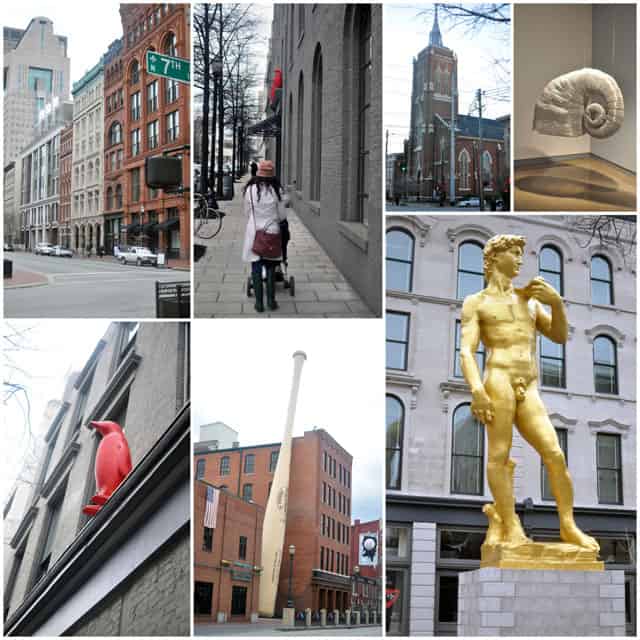 First of, if you come to Louisville, you must drink bourbon. It's sort of a given. Most bourbon in this country comes from Louisville, and while we didn't get the opportunity to visit any distilleries along Kentucky's bourbon trail, we're already making plans to return just for this reason. That said, we enjoyed some really tasty pours and cocktails spotlighting the hometown tonic. The highlight of our trip as quite possibly the hotel where we stayed.
It's no surprise that Lonely Planet specifically mentioned the 21c Museum Hotel as the place to throw down your suitcases (or just stop by for a visit). Bon Appetit recently gave them a shoutout, too. It's definitely the hippest spot in town. The hotel is both a place to stay and a place to hang out (much like the Ace). It's peppered with art installations, a museum, and possibly one of the best restaurants in town — Proof on Main. We had a perfectly peaceful dinner (with the baby!) our first night in at Proof. We were impressed by the selection of cocktails featuring numerous housemade syrups and fantastic regionally-sourced ingredients in refined dishes. The whimsical finishing touch at the end of our meal was a plateful of cotton candy. We also enjoyed breakfast at Proof, which was included egg benedicts and granola with local honey.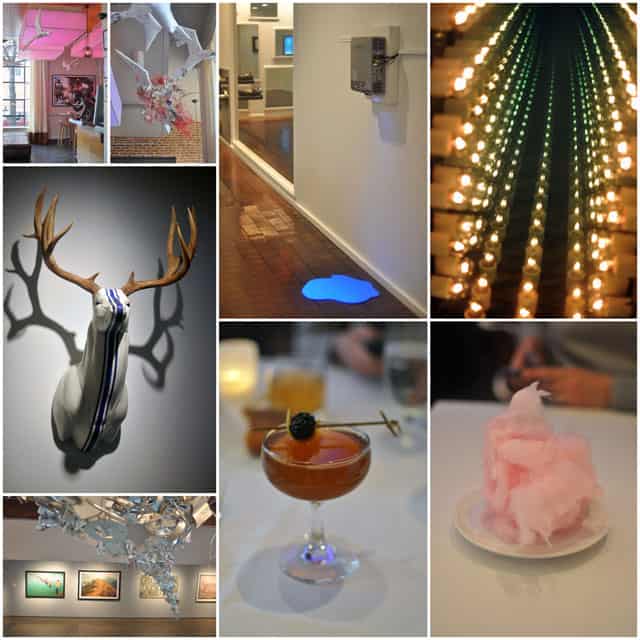 Like many of the cities in the region, Louisville is a driving city. The downtown skyline is pierced by a number of towering modern buildings, a number of older brick buildings, and little greenery. But drive just a few minutes and you'll find yourself in a little neighborhood mecca featuring cool little stores, coffeeshops, and bakeries unlike those you'd find in a city like San Francisco or Brooklyn.
We enjoyed popping by Please & Thank You, as well as Quills, both local coffeeshops that also serve as small record shops. Our last evening in Louisville (on our return from Nashville) was spent at Harvest, a farm-to-table restaurant that is actually owned by a farmer. The restaurant walls highlight photos of local farmers whose crops are sourced for the restaurant's dishes (there's even a map of Kentucky that displays where all of the ingredients come from). The two-sided menu (one that's more traditional and one that's more modern) isn't unreasonably long or short; there's just enough there to please everyone. I opted for the turkey bacon burger with housemade relish and crispy slaw while Matt went all out with the barbecue plate. We ended our meal with a sorghum cookie sandwich filled with cream and candied bacon. I was especially excited to have picked up some sorghum at the Butchertown Market to bring back home. Considered the Southern version of molasses, it's a new-to-me addition to my pantry and I'm looking forward to experimenting with it.
One of the best parts about food and music blogging is the opportunity it grants us to meet like-minded people both online and in person. That said, a highlight of our trip to Louisville was actually stopping by Zach's (of the blog We Listen for You) place for bourbon and conversation. He and Matt met at SXSW last year, before he ever thought we'd be taking a trip to Kentucky. We considered listing his number and address here as in 'give him a call for a good time in Louisville' but then thought otherwise. It's wild to think that I went to 'some guy's house in Kentucky' — with my baby, no less — but the crazy thing about this community is that everyone is so welcoming, supportive, creative, and just plain nice. There's a lot to be said about the fact that many of my good friends are people I've gotten to know through our writing.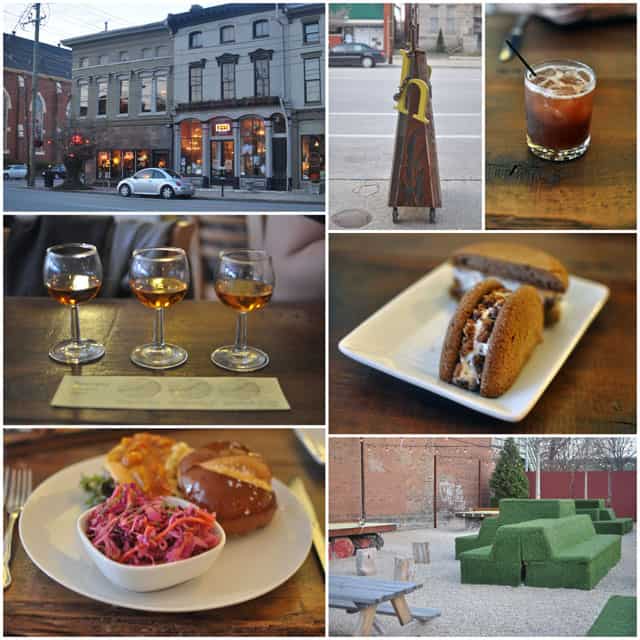 Stay:
21C Museum Hotel
Eat:
Proof on Main
Harvest
Places we didn't have a chance to check out but were highly recommended to us:
Blue Dog Bakery and Cafe
Garage Bar
Hammerheads (for BBQ)
Hillbilly Tea
Explore:
NuLu / East Market Street (where you'll find Please & Thank You, as well as Harvest. Garage Bar also came highly recommended and looks like a really fun spot to check out for food and drink.)
Bardstown Roard in the Highlands (a worthwhile stop includes Holy Grale, a bar housed in an old Unitarian church).
Butchertown Market: a small collection of local shops in a historic building in Butchertown. We picked up goodies like local chocolates, bourbon vanilla, and sorghum here.
Bourbon Trail: we hope to go back just to visit Woodford Reserve and Angel's Envy. In the meantime, we picked up a bottle of this.
*The 21C Museum Hotel kindly provided us with a discounted room so that we could check out the experience and share it with you.