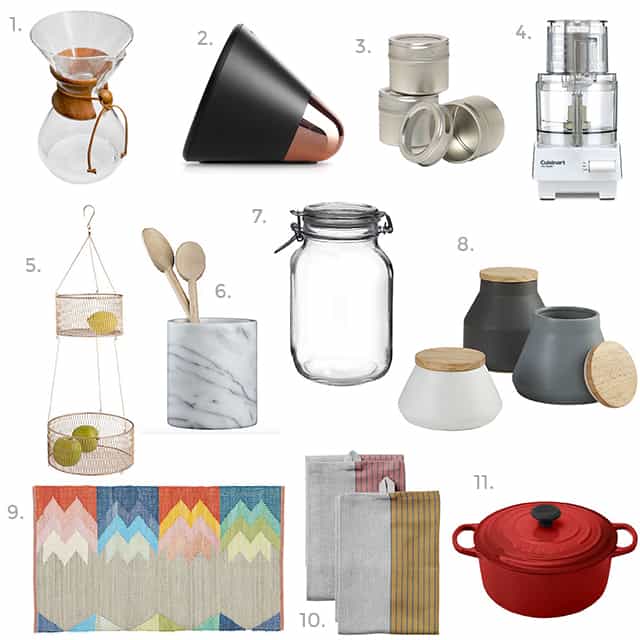 We've been living with a very small kitchen for many years now. At first, I didn't even notice. Then, it felt cozy. These days, it often feels cramped. But we've made it work! You kind of have to, when you live in a city apartment — those dreamy open kitchens aren't the sort of thing most of us can afford.
Despite the fact that we've have to fit a lot of life into a very small kitchen space, we've found ways to make it a place where our family can commune and enjoy spending time together. I thought I'd put together a roundup of some ways to make a small kitchen space work for you, too.
1 Chemex 6-Cup Classic Series Glass Coffee Maker: More often than not, this is our preferred way to prepare coffee. Our Chemex sits in a little corner on the countertop, alongside our grinder.
2. Aether Cone. While our apartment is small enough that records we play in the living room are still heard in the kitchen, I still often enjoy the convenience and fun of the Aether Cone, which works with your BlueTooth and Rdio.
3. Kamenstein Magnetic Spice Tins. As you can imagine, we have a TON of spices. I actually keep spices in a few different places but often the ones I reach for are those that I've collected on the side of my fridge. These little tins can be arranged any which way and save tons of space on your counter and in your pantry. My most-used spices (like cinnamon) are just an arms reach away.
4. Cuisinart DLC-10S Pro Classic 7-Cup Food Processor. When you have a small kitchen, it's best to invest in a few kitchen tools that you'll use often — after all, counter space is precious! My mom swears by this food processor and now I do, too. I use it for everything from mixing dough to making pesto and grinding nuts (even to make my own homemade Nutella sometimes!)
5. 2-tier copper basket. We're a big fruit and vegetable family but we have very little room in our kitchen to store our weekly farmer's market hauls. For apples, bananas, and go-to's like avocados and onions, this hanging basket is attractive and saves space.
6. French Kitchen Marble Utensil Holder. I'll have to wait a little while before I can have the decked-out-in-marble kitchen of my dreams. For now, accessories help.
7. Bormioli Fido Clear Canning Jar 3 Liter. I use simple glass jars for everything from storing grains and flours in our cupboards to displaying homemade granola on the counter. They're cheap, convenient, and allow you to see what's inside.
8. Neutral canisters. Although I love my glass containers, I enjoy displaying a few pretty little pieces, too. These would be perfect for coffee beans, homemade candies, or sugar.
9. Featherbottom rug. In our brown, dark rental kitchen, pops of color are a must. It's amazing how much a bright rug can really change the mood.
10. Ikea dish towels. Next time you're at Ikea, do yourself a favor and stock up on their dish towels. They're super cheap, cute, and totally multi-purpose.
11. Le Creuset Signature Enameled Cast-Iron 5-1/2-Quart Round French (Dutch) Oven. When Matt and I got married, we had a few key items on our registry and this dutch oven was one of them. Rather than buying a ton of cheap pots and pans, invest in a few long-lasting pieces. Not only will you save space, but you'll find that you really don't need that many. We use ours for making roasts, stews, soups, and even homemade bread.
I'd love to hear your tips for living with a small kitchen and making it functional (and stylish).