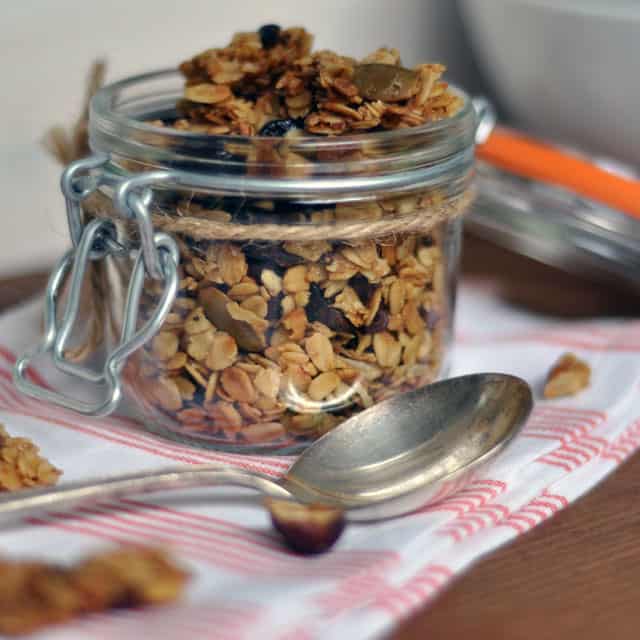 If I had to guess, I'd say that granola makes up about 30% of my diet. You see, five days a week, my typical breakfast involves yogurt, granola, and fresh fruit. I also have a naughty habit of standing in the kitchen, snacking on granola straight from the jar after I've already finished my breakfast.  On occasion, I'll have a bowl of oatmeal instead.
But let's talk about granola. There are usually two glass jars filled with it on my counter at any given time. I often make a fresh batch on weeknight evenings, mixing everything, spreading it out on a baking sheet, and then working on a blog post while it bakes. It only requires the occasional stir and takes literally 5 minutes to pull together. The thing about granola is that it is infinitely flexible: you choose your grains, nuts, dried fruits, sweeteners and nutritional extras (like flax seeds and wheat germ), so it's a good idea to stock up on your favorites from the bulk bin.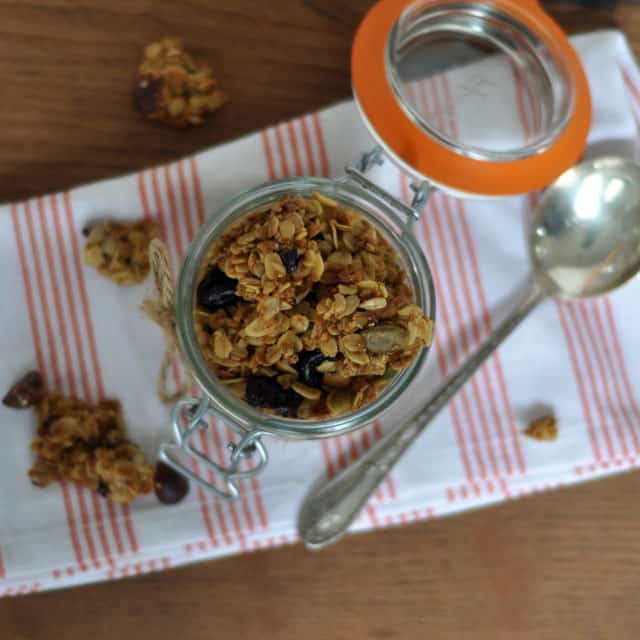 For years, I was addicted to this stuff. I'd buy boxes and boxes at Trader Joe's. You'd think I was stocking up in case of a shortage (I do that in general, though). And then one day, I realized I could make granola at home, and make it however I liked, and I never looked back. For the same reason that I have not become a regular bread baker, I imagine that some people will never make a habit of whipping up their own granola at home. There are a handful of fantastic artisanal granola brands out there so seek them out if you don't want to commit the time and effort. If you eat as much granola as I do, you should consider making yours at home for a few reasons:
Homemade granola is healthier. Since you control what goes into it, you know there are no preservatives and much less sugar than what you'd find in the store-bought kind.
Homemade granola is cheaper. Learn to shop the bulk bin (Erin has some tips!) and you can be well on your way to saving some serious cash. I buy my oats for less than $1/pound and find that nuts and dried fruit are both cheaper when you buy them in bulk. The bonus is that you only need to buy what you'll use.
Homemade granola is tastier. Like all things homemade, granola you make at home is better than the stuff you'll buy in a box from the store.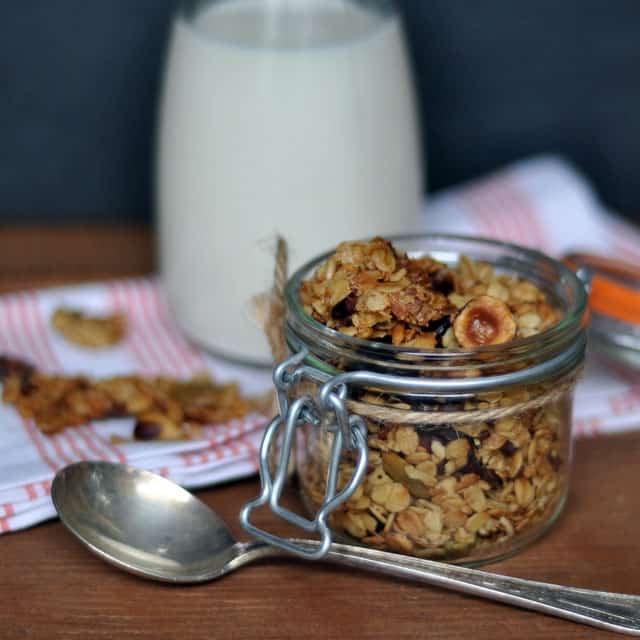 Today I'm celebrating the arrival of a special blog friend's baby; a few fellow food bloggers have come together to throw her a virtual baby shower and I'm thrilled to contribute a recipe for my favorite granola of late. Since Lisa is gluten-free, I imagine she'd prefer making this with gluten-free oats, though I do know that not all GF folks are sensitive to oats. If we were all meeting in person, I'd bring jars of granola as little gifts for people, and for Lisa, I'd make a HUGE batch because I know pretty soon she'll probably be spending some time away from the kitchen and with her soon-to-be-here little boy.
Lisa, I'm so thrilled for you, and hope that someday soon, your little man and my little lady can have a real-life play date.
Check out what my fellow bloggers are cooking up for Lisa's shower:

Maple-Olive Oil Granola with Cocoa Nibs, Hazelnuts and Cherries
Note: I love the chocolate-y crunch of the cocoa nibs in my granola and have become a bit obsessed with adding them to my granola. I've used honey instead of maple syrup before (though you may want to warm and melt it first), and I've also added 1/2 cup of wheat germ for extra crunch. Play around, just make sure to not skimp on the oil…
3 cups of old-fashioned oats
1/4 cup of sunflower seeds
3/4 cup of hazelnuts
1/4 cup of pepitas (pumpkin seeds)
2 tablespoons of cocoa nibs
2 teaspoons of ground cinnamon
1/4 teaspoon of freshly-ground nutmeg
1 teaspoon of vanilla extract
1/2 cup of pure maple syrup
1/2 cup of olive oil
pinch of coarse sea salt
1/3 – 1/2 cup of dried cherries (to your preference)
1. Preheat your oven to 300 degrees F. Combine all of the granola ingredients, except the dried cherries, in a large bowl and mix well using a wooden spoon. You want everything to be well coated in the spices, oil, and maple syrup.
2. Transfer the mixture to a large rimmed baking sheet, spreading it evenly to the edges and pressing it down flat using your wooden spoon.
3. Bake in the oven for about 30 – 40 minutes, checking and stirring every 10-15 minutes or so, as needed. Be sure to flatten the granola back down after stirring each time. The granola is done when everything looks golden and toasty.
4. Let cool for about 5-8 minutes before stirring in the cherries (I find that this helps create some of those fabulous granola 'chunks'). Transfer to glass jars and store at room temperature.
Musical Pairings: Jorge Ben – Africa Brasil + Maple-Olive Oil Granola with Cocoa Nibs, Hazelnuts and Cherries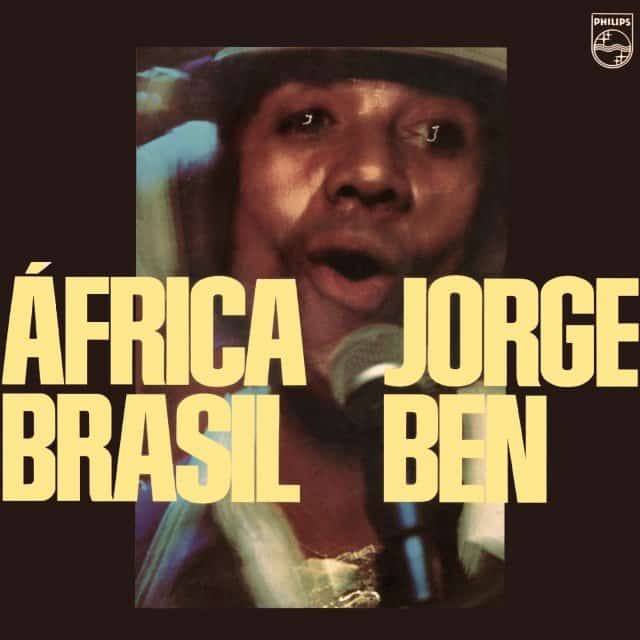 More on the Turntable.