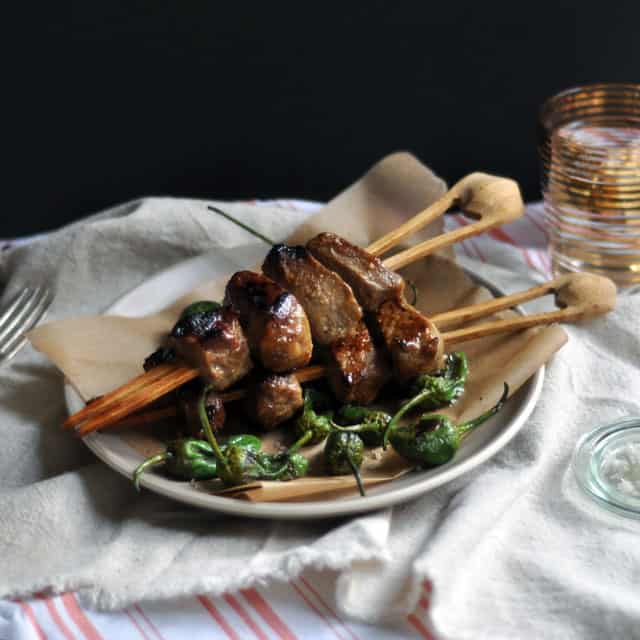 I love a good party. Friends and appetizers, bubbly drinks and a spread of desserts. I'm continually inspired by and excited about new cookbooks, but the past month has been a particularly fruitful one. First, there was Sprouted Kitchen, then Jerusalem, then What Katie Ate, and now, my friend Aida has come out with a cookbook, nay, a TOME that may just be your new cooking bible. You see, Aida has been in the food biz for quite a while, and her flavor profiles are very much in line with mine. She loves bold ingredients, is inspired by California, the Mediterranean, the Middle East, and Southeast Asia, among other places. She's methodical and relentless when it comes to recipe testing to perfection.
Aida's new book, Aida Mollenkamp's Keys to the Kitchen, is a a treat for every cook, whether beginner or advanced. Beyond the straightforward recipes, which include dishes like Romaine Salad with Cornbread + Whiskey Onions, Indian Burritos, and Peruvian Skirt Steak Saute, Aida packed her book with endless helpful tips, 'riffs,' 'recipes within recipes,' recipe takeaways, pantry pointers, knife skills, and everything in between. The first day I sat down with the book, I picked up a number of new ideas for ways to waste less food and the proper way to store leftovers.
Suffice it to say, this is a cookbook you want to own. When Aida asked me to join a virtual dinner party to celebrate the launch of her book, I jumped right in. I had a hard time settling on which recipe I'd share with you first, but decided that these Miso-Marinated Beef Skewers with Shisito Peppers were a good introduction. I feel this recipe demonstrates Aida's sensibility and creativity, combining flavors you may not expect. I love a good miso glaze, but tend to associate it with seafood. Here, it's used as a marinade for beef which you can grill on an indoor or outdoor grill. You can use any seasonal veggies you'd like, but I loved Aida's suggestion for shishito peppers, a mild Japanese pepper similar to padróns. I imagine the marinade would be delicious with tofu as well. Our beautiful bamboo skewers were gifted by AHeirloom (we also have their California cutting board).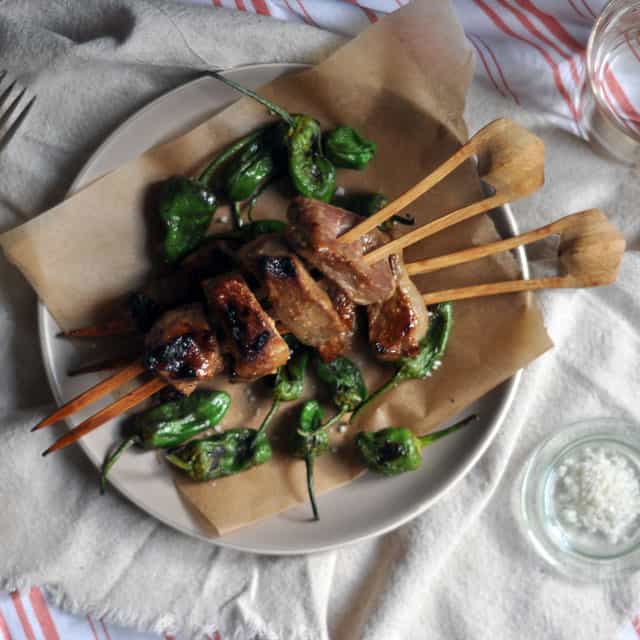 Cookbook Giveaway!
Lastly, thanks to Chronicle Books, we're giving away a copy of Aida's book to one lucky duck reader! Just leave a comment on this post, letting us know why you deserve to win. We'll randomly select and announce one winner on Monday at 12 pm PST on our Facebook page.
Miso-Marinated Beef and Charred Shishito Pepper Skewers
*serves four
adapted from Aida Mollenkamp's Keys to the Kitchen
For the miso marinade:
1/4 cup of white miso paste
2 tablespoons of brown sugar
2 tablespoons of low-sodium soy sauce
2 tablespoons of brown rice vinegar
1 tablespoon of sugar
1 teaspoon of toasted sesame oil
6 cloves of garlic
1 tablespoon of water
For the skewers:
2 pounds of sirloin or New York strip steak, trimmed of extra fat and cut into large cubes
1 pint of shishito peppers
1 tablespoon of toasted sesame oil
kosher salt
freshly-ground pepper
1. Combine the marinade ingredients in a blender and puree until smooth. Set aside 1/4 cup of marinade and toss the meat in the remaining mixture. Transfer to a container with a lid and refrigerate until ready to use (up to 24 hours).
2. Thread the meat on metal or wooden skewers (if using wooden skewers, make sure to soak them for at least 20 minutes prior to grilling so they don't burn).
3. Toss peppers with sesame oil, salt and pepper. If using an indoor grill to prepare the meat, heat a large cast iron skillet over medium-high and cook peppers until charred. You can also spread them on a rimmed baking sheet and broil until charred. Otherwise, thread them on skewers and grill alongside the meat, basting with reserved marinade.
4. To prepare the meat, lightly oil an indoor grill pan and heat over medium-high. Grill skewers, turning occasionally, until charred.
Musical Pairings: Flying Lotus – Until The Quiet Comes + Miso-Marinated Beef and Charred Shishito Pepper Skewers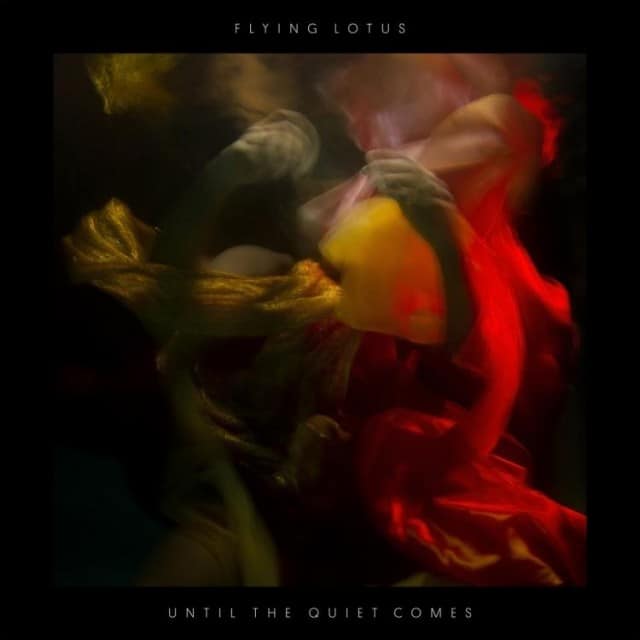 More on the Turntable.