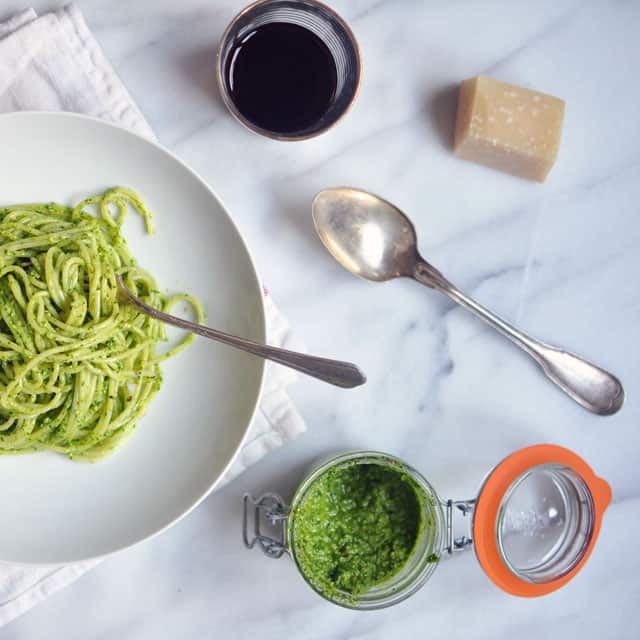 Lucky. It is a word that we throw around without giving it much thought. Luck is a relative term, defined by those who are lucky and those who are not. In the grand scheme of things, we who have food on the table every night are lucky. Some of us are luckier; some have bigger kitchens, more cars, land, a job we love, a job we hate, an orange tree in our backyard, three really good friends, one really good friend, a sibling, a pet that feels like family, family nearby, family far away, good health, bad health but good doctors.
I happen to think that most of us are luckier than we think. But it is easy to forget.
When you have one really good friend instead of three. Or a well-paying job that is only so-so on the fulfillment scale. This past weekend, my 30th birthday, I found myself grappling with my own state of being. I hosted a picnic with a handful of wonderful friends, family, and lovely people who I have only recently met. Neko was a good little baby. And then she was not. My Sunday night and Monday were a series of frustrations. I found myself crumpled on the ground on several occasions, hosting a pity party for myself. All that stuff I had written when I started this post last week was thrown out the window. I felt defeated, wounded, and entirely incapable of seeing just how lucky I am.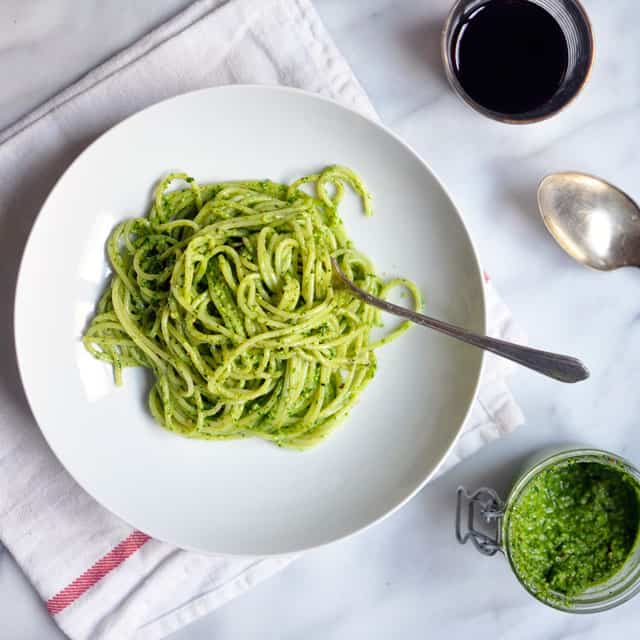 The thing about luck is that it is perceived. Much like happiness. I find it interesting that luck is defined as: good fortune, advantage or success, considered as a result of chance. Because I actually think that being lucky has nothing to do with chance, and everything to do with mindset. Imagine feeling lucky to have an opportunity to take a vacation to Hawaii, or being able to spend a night at home with your husband while your parents babysit, or being accepted into the college of your dreams, or having your book published. I could go on and on. The point is, we are all lucky in one way or another. And most of it has very little to do with chance.
I am lucky to have once had the opportunity to live in Italy, where I packed on 15 pounds worth of pasta and gelato. I have, over the years, forgotten how much I love all things doused in pesto, and when the June issue of Bon Appétit arrived at my apartment, with a gorgeous bowl of green-flecked pasta on the cover, I had a beautiful revelation. This pesto, which I adapted ever so slightly by using green onion instead of chives, is the sort of thing that takes a box of spaghetti to a new level. We've been smothering it over homemade meatballs, and I imagine it would be fantastic tossed into a bowl of roasted veggies. There are a million and one pesto recipes out there — featuring different herbs, nuts, and oils — but this one might be a new favorite.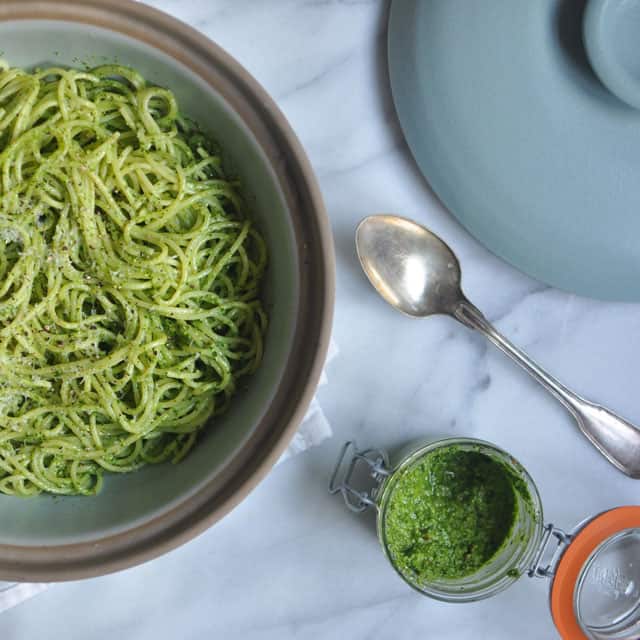 Spaghetti with Parsley Pesto
adapted from the June 2013 issue of Bon Appétit (Cook the Cover)
1 pound of spaghetti
1/2 cup of unsalted almonds
4 cups of flat-leaf parsley leaves
3/4 cup of chopped chives or green onion (green parts only)
3/4 cup of olive oil
1/2 cup of finely grated Parmesan cheese
freshly ground pepper and kosher salt
1. Add the almonds to a food processor and pulse until finely ground. Next, add the parsley leaves, green onion, olive oil, and Parmesan cheese. Process until smooth, then season with salt and pepper.
2. Cook the pasta in a large pot of salted, boiling water until al dente. Drain, but reserve about 2 cups of pasta water.
3. Toss the pasta with the pesto in a large bowl. Add pasta water (no more than 1/4 cup at a time), until the pesto becomes saucy. Don't use all the cooking water if it's not needed. Season with salt and pepper and sprinkle with additional cheese, as desired. Pesto can be stored in an airtight container in the refrigerator for up to 5 days.
Spaghetti with Parsley Peso + Musical Pairings: The National Trouble Will Find Me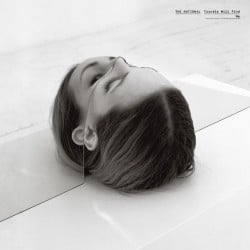 More on the Turntable.