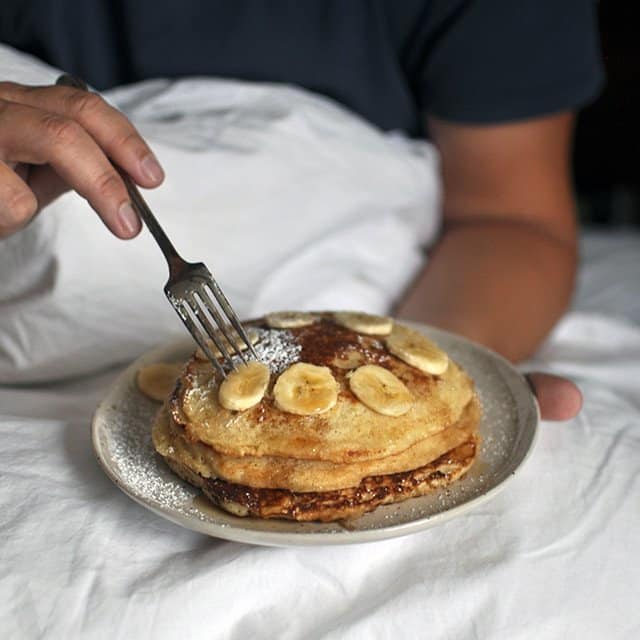 Mornings at our house aren't often spent lingering in bed. There's a fury to our starts: a toddler who demands attention (and breakfast or a snack, immediately upon waking), showers and coffee. Bed-making, and plan-making. Recipe-planning and grocery list-making. And that's the weekend. Rarely do I find myself home with nothing to do and nowhere to go. But I've been reminded recently, as I slowly recover from a week-long cold, that sometimes the best plan is no plan at all and a morning in bed is a gift worth savoring.
We were recently sent a beautiful bedding set from a new company in LA (Parachute Home) — it's designed in Venice Beach and made in Tuscany (!!). Our new sheets demanded a cozy family breakfast in bed. So that's what we did.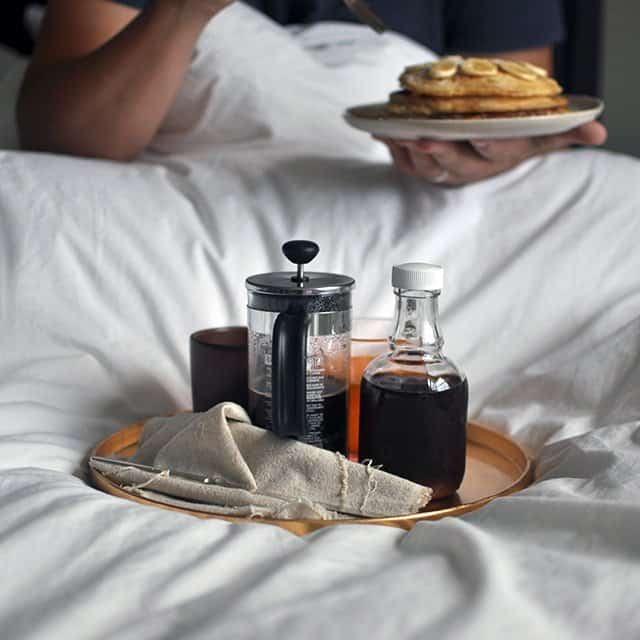 How to perfect your next breakfast in bed
Banana Pancakes with Powdered Sugar and Maple Syrup (recipe, below): I've been tweaking this recipe for weeks now and have discovered these pancakes please the entire family. For Neko, there are of course, bananas, and for me, a recipe that's easy enough to pull together even when I am only half-awake.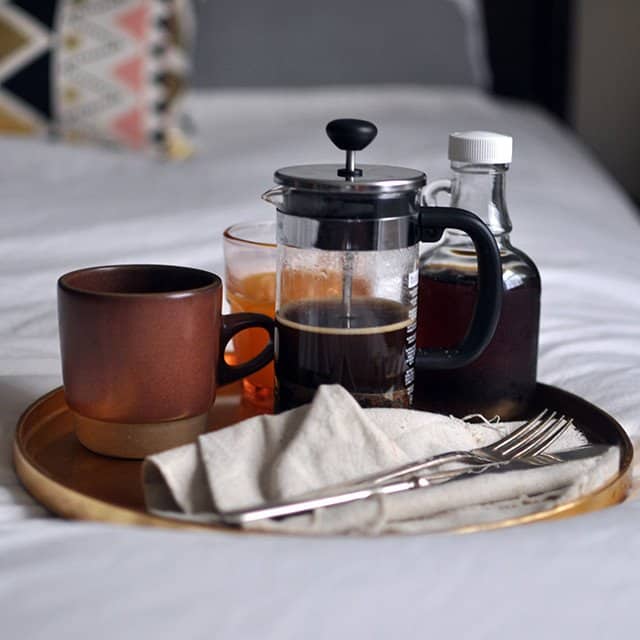 French press coffee: here is our favorite technique for making the very best French Press at home. I like this particular method for breakfast in bed because it's grab and go. You can even wait to press the coffee until you've actually served it. We have both a full size and mini French press for all occasions.
The maple syrup: there's something indulgent about a mini bottle of maple syrup for breakfast in bed. Our favorite is Noble brand, though I keep this small glass jar around and refill it with whatever we happen to buy in bulk (I primarily use maple syrup to make batches of granola every week or two).
The pajamas: the best part about eating breakfast in bed? You're still in your pjs! This pair is on my list. As the weather is finally turning cooler, nothing sounds better than cozying up in some flannel pj's, tucked under my favorite new sheets.
The tray: you'll want something sturdy enough to hold your coffee, condiments, and silverware. Our little vintage tray did the trick, though for future breakfasts in bed, I'm looking to upgrade to a bigger tray.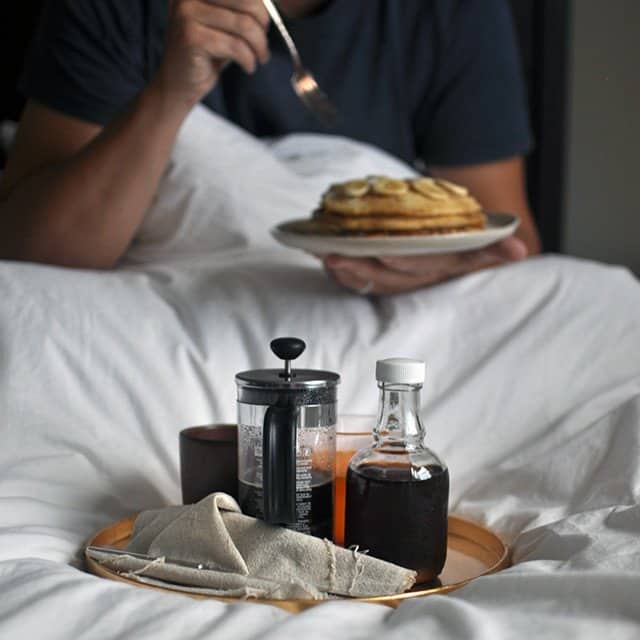 The soundtrack: we typically listen to music when we get up, so there's no reason not to turn on something fun to accompany your breakfast in bed. Why not play our Breakfast Mix or the Avocado & Bacon Mix (we've got your attention, eh)?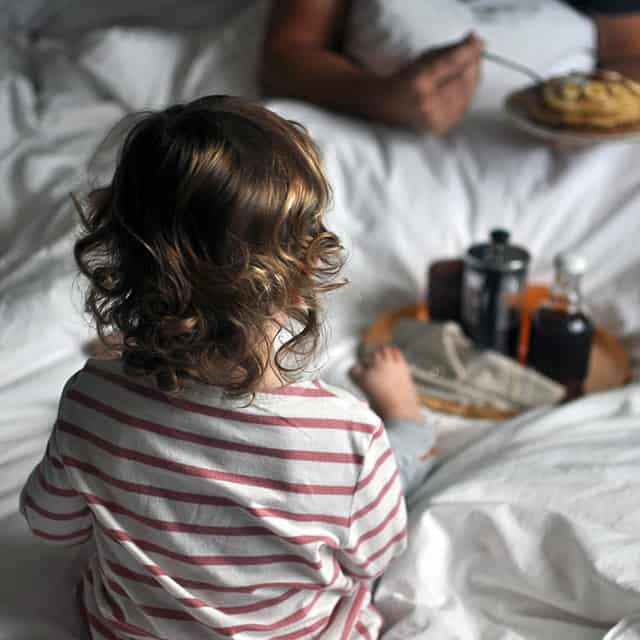 Need more ideas?
Check out all of our techniques for making coffee.
Make these Banana and Macadamia Nut Muffins or these Blueberry Buttermilk Muffins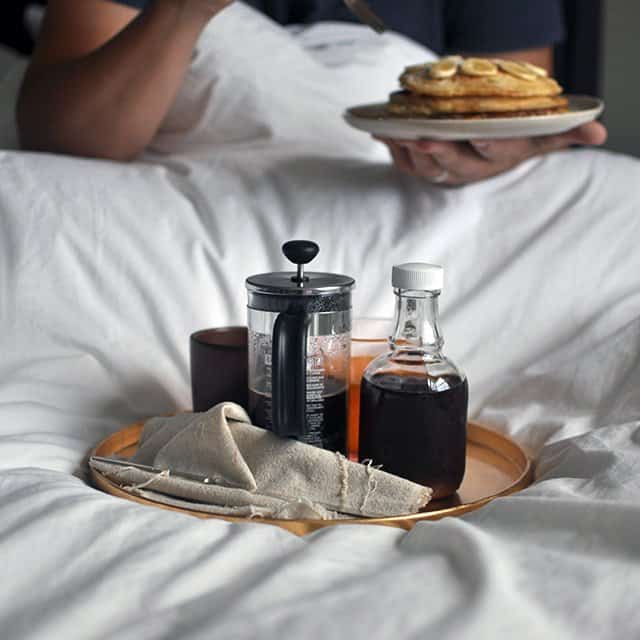 Banana Pancakes with Powdered Sugar and Maple Syrup
*serves 2
Adapted from this recipe
2 tablespoons of butter, melted, plus more for the pan
1 1/2 cups of spelt flour
2 tablespoons of sugar
2 1/2 teaspoons of baking powder
1/4 teaspoon of salt
1 ripe banana, peeled
1 cup of milk
2 large eggs
1 teaspoon of real vanilla extract
Maple syrup, sliced bananas, and powdered sugar for serving
1. In a medium bowl, combine the flour, sugar, baking powder, and salt.
2. Add the banana to a small bowl and use a potato masher to mash it. Next, add the eggs, milk, and vanilla extract. Whisk gently to combine.
3. Add the wet mixture to the dry ingredients, along the with the melted butter, and use a wooden spoon to gently mix just until the dry ingredients are incorporated (do not overmix so your pancakes remain light and fluffy).
4. Preheat a large non-stick pan or griddle over medium-high heat and add about a tablespoon of butter. Once the butter has melted and the pan is hot, pour about 1/3 cup of batter into the pan (more if you want larger pancakes). Cook until you see some bubbles forming on the surface of the pancakes and the edges feel set (about 2 minutes). Flip and cook for another minute or so, until both sides are golden. Repeat with the rest of the batter and re-butter the pan, as needed.
5. Serve pancakes topped with sliced bananas and dusted with powdered sugar. Serve along with your favorite maple syrup.
P.S. The most beautiful coffee mugs.