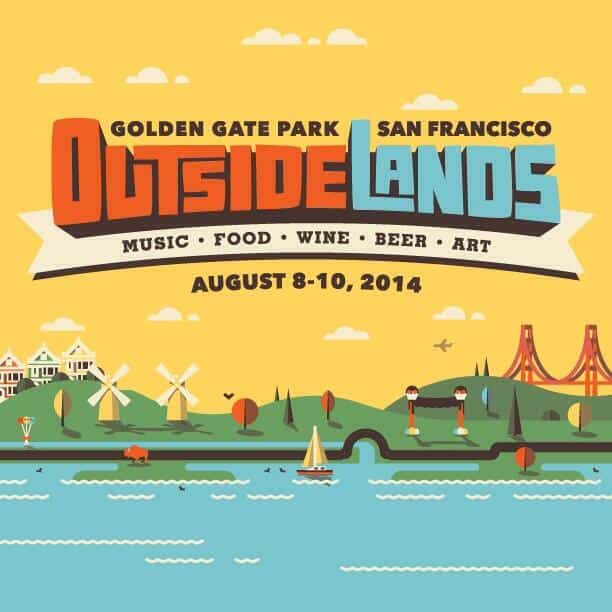 If you're making a list of the best music festivals in the world, San Francisco's Outside Lands must be considered. Not only has the festival previously hosted some of the greatest and most popular living artists in rock & hip hop (Radiohead, Paul McCartney, Stevie Wonder, Beck, Metallica, Nine Inch Nails, Nas, Al Green, Big Boi, Arcade Fire, The Black Keys, Jack White, Foo Fighters, etc), but it's also set directly in the middle of beautiful Golden Gate Park.
Add to that the additions of Beer Lands (an area dedicated to, and serving up, delicious craft brews), Wine Lands (an area where you can taste some of California's best wines), Chocolate Lands (anyone have a sweet tooth?), The Barbary Coast (want to watch Neil Patrick Harris do stand up during the middle of a music festival?), and a collection of some of the best foods San Francisco has to offer – and you have one of the most unique music festivals of all time.
Outside Lands returns to San Francisco this weekend and the lineup is as eclectic and exciting as ever.
For example, we're excited to see no less than four artists that we've previously featured in the Pairings Box making their Outside Lands debut: Mikal Cronin, Local Natives, Typhoon, and Trails and Ways. We're also incredibly excited to dance to Disclosure, rock out along with Dum Dum Girls and HAIM, and see indie rock legends like Spoon, Death Cab For Cutie, and The Flaming Lips live and in the flesh.
And, let's be honest, no matter how you feel about Kanye West you know he'll put on a memorable performance. Similarly, how often can you catch Tom Petty & The Heartbreakers live? In fact, if you're looking for me, just watch for the dude dancing to "Free Fallin'" with a Leonardo DiCaprio grin.
Personally, I'm looking forward to snacking on Del Popolo pizza for my third straight year, grubbing on Homeroom's gilroy garlic mac n cheese (again for my third straight year), and checking out Nombe's ramenburger. My only disappointment is that Outer Lambs (a highlight in the past) is not returning.
Anyways, our top picks for both food and music follows:
MUSIC
Friday:
3:40 Warpaint
4:30 Mikal Cronin
5:05 Chromeo
6:05 Bear Hands
6:35 Disclosure
7:50 Typhoon
8:20 Kanye West
Saturday:
12:20 Dum Dum Girls
12:40 Trails and Ways
2:05 Jagwar Ma
2:30 Christopher Owens
3:00 Local Natives
3:40 Tycho
4:30 HAIM
6:00 Death Cab For Cutie
7:00 Atmosphere
7:55 Tom Petty & The Heartbreakers
Sunday:
1:10 Woods
2:30 Lucius
3:10 Chvrches
3:30 Flume
4:20 Courtney Barnett
4:40 Spoon
5:05 Lykke Li
5:55 Gardens & Villa
6:10 Flaming Lips
6:40 Cut Copy
7:40 Gold Panda
BEER

21st Amendment
Almanac Beer Co.
Anchor Brewing
Anderson Valley
Linden Street Brewing
North Coast Brewing
Sierra Nevada (their custom Outside Lands Saison is usually a highlight)
WINE
Scribe
Preston
Navarro
Hess
FOOD
4505 Meats
cheeseburgers, chimichurri fries, chicharrones
Bacon Bacon
bacon fried chicken, porky fries
Beast and The Hare
lamb and shrimp mixed grill with romesco
Blue Bottle Coffee
(their New Orleans Style Iced Coffee is particularly notable)
Del Popolo
margherita pizza – crushed tomatoes, fresh mozzarella, basil
Homeroom
gilroy garlic mac and cheese
Humphry Slocombe
scoops of outside lands signature flavored ice cream
Namu Street Food 
"real" korean tacos: bulgogi marinated beef and marinated chicken thigh
Nombe 
ramenburgers, sushi burritos, rice crisps
Rich Table
dried porcini doughnuts
Woodhouse Fish Co.
shucked raw oysters, bbq oysters, clam chowder, lobster rolls